I have a lot of catching up to do in this blog. So look for some updates on music, film, wine, art and food. Here is the first of 4 entries of the 4 best meals I had ever had in my life. This one in a worker's neighborhood in Sicily.
One of the main objectives of my visit to Sicily with my friend Brian was to procure an inexpensive but stylish tailored suit, or vestito al mesura as the Italians call it. When we went to visit the tailor we had trouble communicating. My Italian was still very much under construction and Google translate wasn't always as helpful as we had hoped. Communicating sizes and styles of suits wasn't always so easy.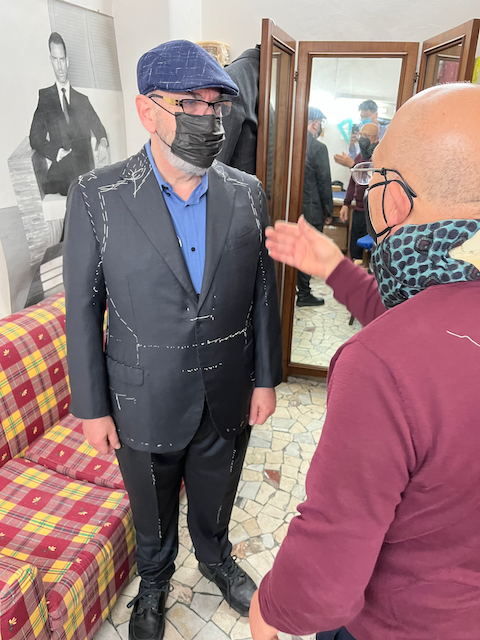 But we all three kept at it. In our second from last fitting, we asked the tailor for a recommendation for lunch and he mentioned a restaurant we found very difficult to find. The restaurant was, as far as we could tell, was Trattoria di Gaetano. 
After some searches on various search engines, we found this place: Trattoria Don Turiddu di Gaetano, which was on the street the tailor said it would be, Via Musumeci in Catania.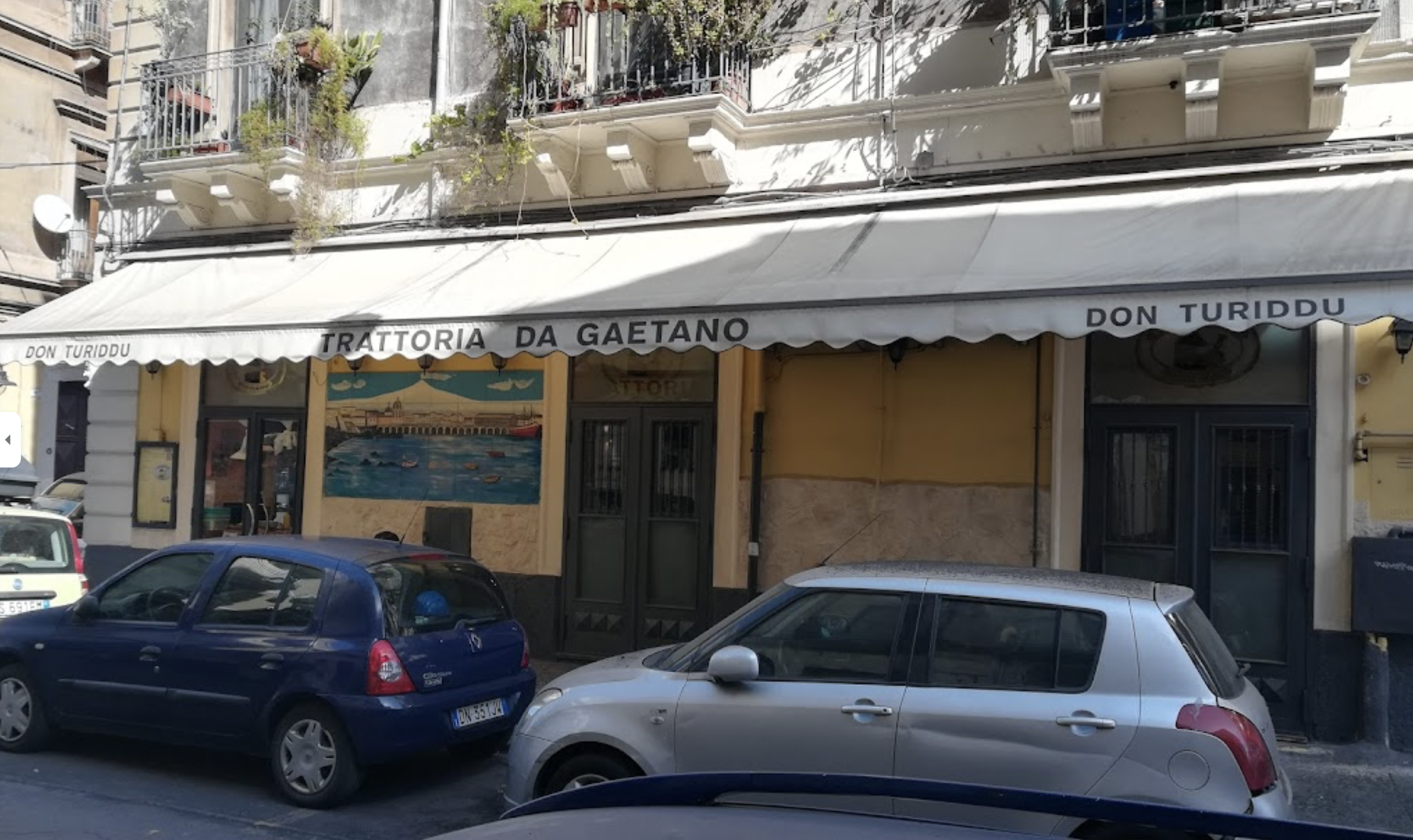 We went to the restaurant. And the owner told us we were 20 minutes too early for lunch, we could either come back or have a seat and wait until they were ready. We opted to stay at the restaurant, a little afraid we might lose the table.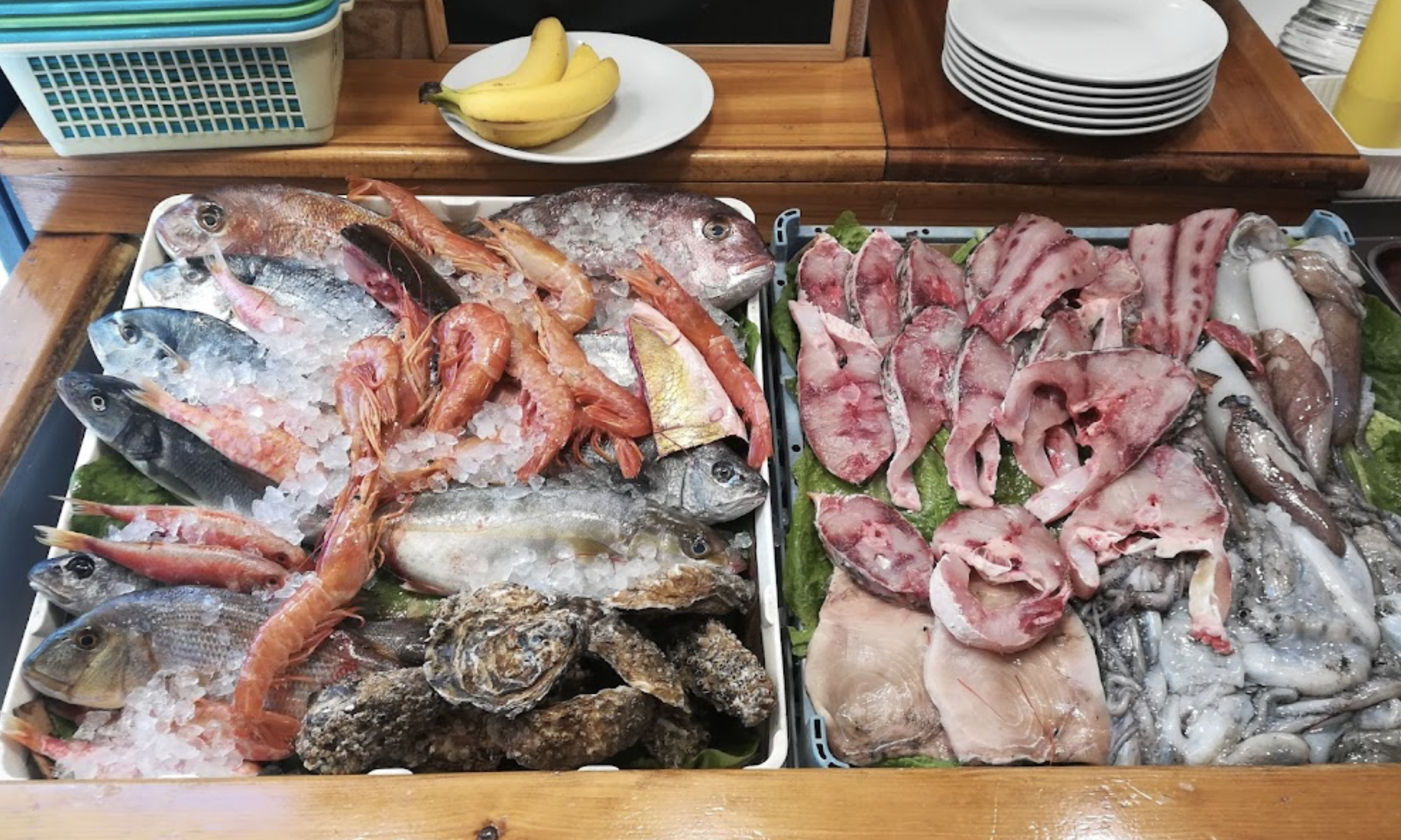 At the anointed 12:30 the elderly owner came to our table and proceeded to recite the menu in Italian. It consisted of lots of things, including a plate of raw fish, a plate of fried fish, and other various antipasti.  He suggested an antipasto misto. Never mentioning the price. And when asked what we wanted for wine, he already answered with Vino Bianco.
He then explained the primo courses, and Brian took a shellfish pasta. And I picked a vague fish pasta, I barely understood what he said but I noted it was the only dish he interjected 'e buono' (it's very good) during his menu recital. Then he suggested a plate of mixed grilled fish for a second and we said let's stop with the pasta and if we can go on will go with the grilled fish. Again no word of how much it would cost ever took place and I violated my rule of never ordering without asking, succumbing to the old man's enthusiasm. Little prepared us for the meal that would follow. First came a plate of raw fish, and I assumed there was a communication breakdown and this was all he had recorded what we ordered.
Out came a plate of raw marinated shrimp, octopus, anchovies and sardines. It was a generous completely fresh and brightly flavored dish with just lemon juice, parsley, and a sprinkling of salt.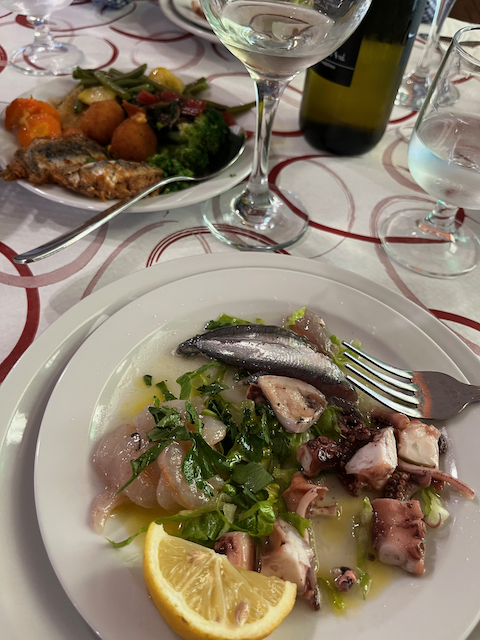 I was thankful we didn't get the complete fish sampler. Then came a plate of the most stunningly fresh clams sautéed in olive oil and garlic. Look carefully at the picture, the clams are teeny tiny. They only come from Sicily, and they tasted so wonderful. It did not prepare us for the best mussels I had ever eaten. Mussels sometimes have a slightly strong taste, these were fresh and light without even a trace of fishiness. These mussels must have been caught that morning, they tasted so fresh.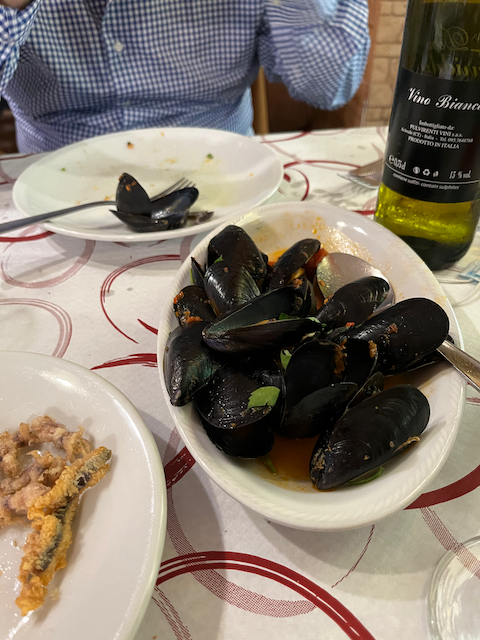 I was hoping the bill would come soon, but instead a plate of fried small fishes, including the most delicate and tender calamari—so small I felt like I was eating a small calamari child. They were incredible as was the other mysteriously small fried fishes.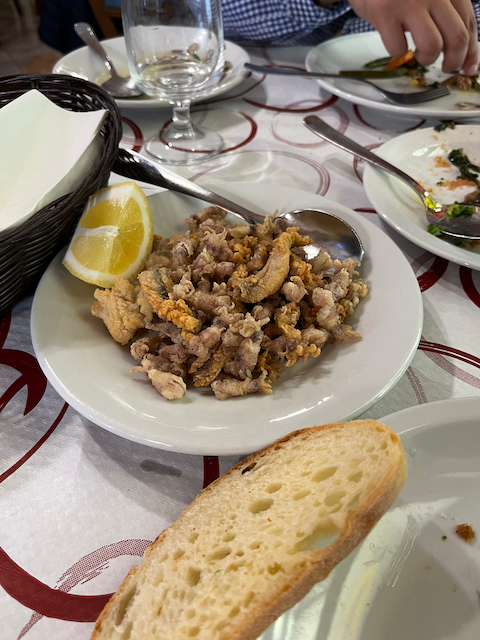 Completely full, Brian and I wondered how much the bill was going to come to. We were sure, as two American tourists we were going to get fleeced for at least $100. The food was so amazing we didn't care.
The pasta came. The shellfish pasta of Brian's was a delightful sweet (no sugar) tomato and  fresh shellfish with a touch of garlic.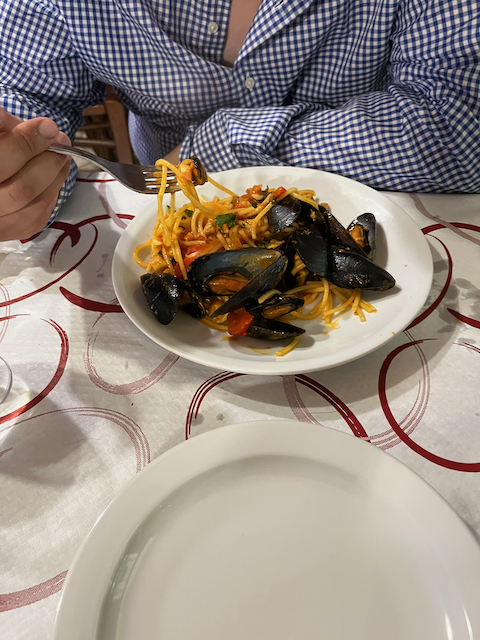 My dish looked like what fish they needed to throwaway that day. It looked like a splatter of random overcooked fish. But nothing prepared me for how delectable, delicious, deep and flavorful the pasta was, it was the best seafood pasta I had ever had. It was kind of like the richness of a Provencal Soup de Poisson with a rich shellfish broth and a bright tomato sauce, It was an incredible layered and wonderful dish.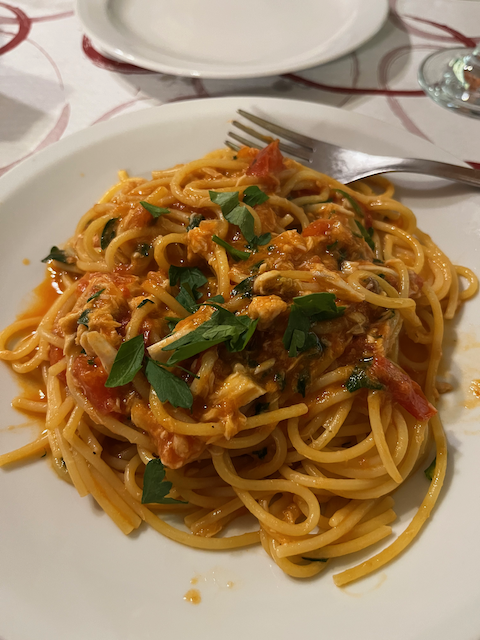 Thank goodness we did not order the grilled fish we had no room to possibly eat anything else.
About the price: The grilled fish would have been included in the price fixed menu of 25 euros.
They also gave us a free sorbet and coffee to top off the meal. I left on a cloud 9 of sensory please unsure how we were going to find the energy to walk back to our hotel.