Our trip to Sicily was an amazing adventure, I will try and give some of the highlights of our trip, out of sequential order. I already related my finest trattoria experience and here is my initial impressions of Sicily.
I was never in Sicily before so I was prepared for anything … so I thought. Arriving at the Catania airport was a bit irregular but trying to find the rental car was a big challenge since there were many competing signs for the various car rental agencies. We finally were able to find ours. There was a huge line for the rental cars. Which gave us plenty of time to read this sign: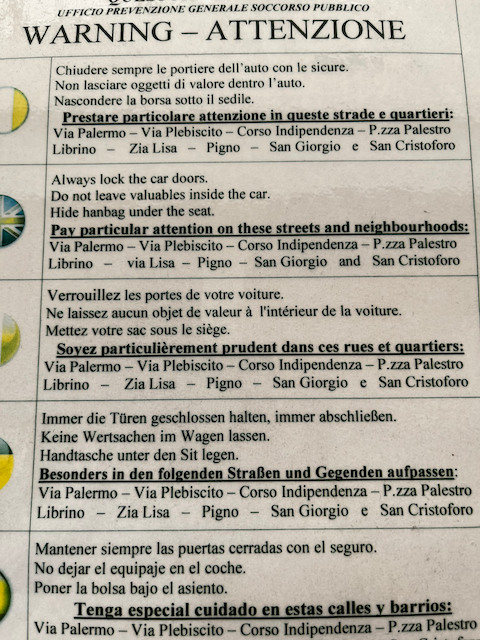 Already I was on my guard. Having seen too many American gangster films where the mafiosi claimed Sicilian background I was braced for a confrontation with the rental agent and indeed with every I would meet.  Nothing could have been further from the truth. Instead of an Italian version of the pushy New Yorker, I met some of the nicest and kindest people. I can say in my entire trip there was not a single moment when we were not met with grace and kindness even when we patently did not know what we were doing.
Having said that, little prepared me for the onerous chore of driving through Catania. This picture really does not do it justice this looks far too regimented.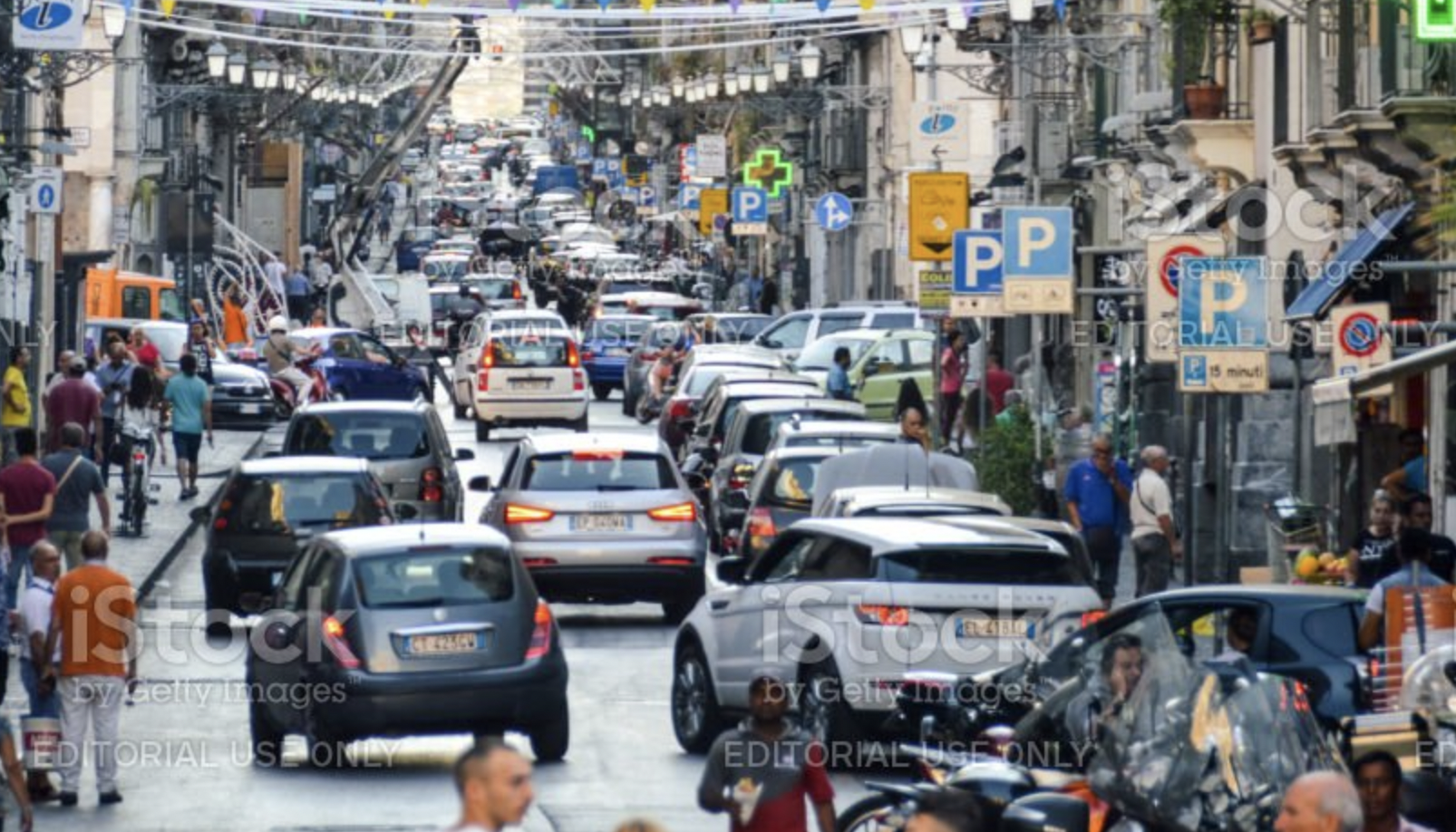 Having driven there for over a week I can honestly say that I have no idea what is meant by a stop sign, except it clearly does not mean "Stop." The driving was extremely intense but after a while a pattern emerged. If you assertively took turns your cutting off people almost bumping them was respected. If there was more than 3 feet of space, cutting in was allowed. At most unmarked intersections it appeared to be right of way but some times it was right of the fittest, you caught on pretty quickly which it was by the behavior f the car. And as chaotic, lawless and overcrowded, you hardly ever heard a horn honk and never a fender bender to a scratched auto (in traffic). Looking at parked cars almost everyone was scratched but I must admit my rental escaped Catania, Siracusa and many other micro cities unscathed. Below you see some pictures of the typical streets in Catania. Some of the on the list int he Car Rental's warning sign. But neither Brian nor myself ever felt in the least threatened.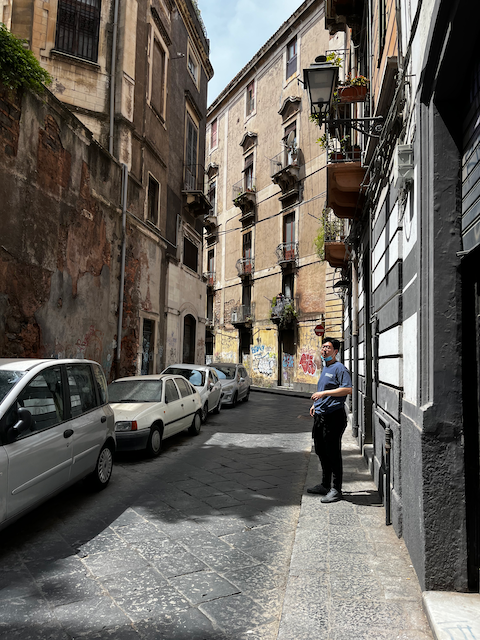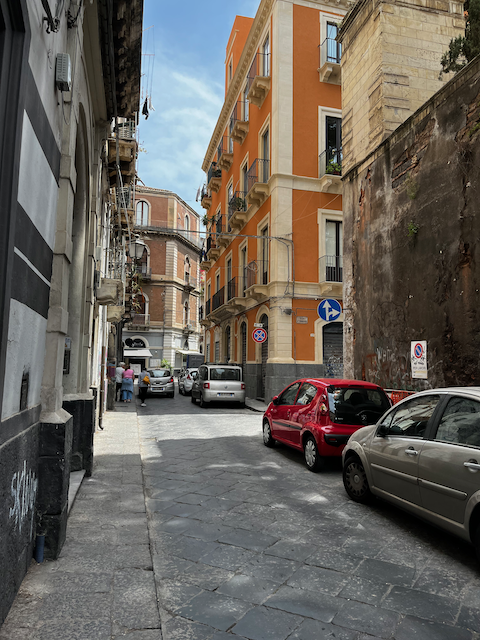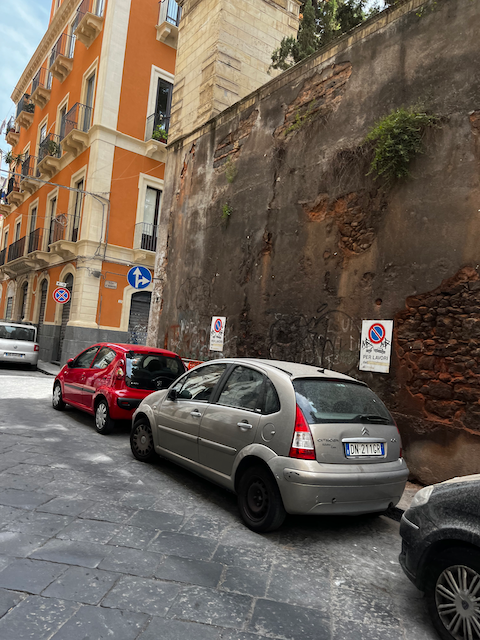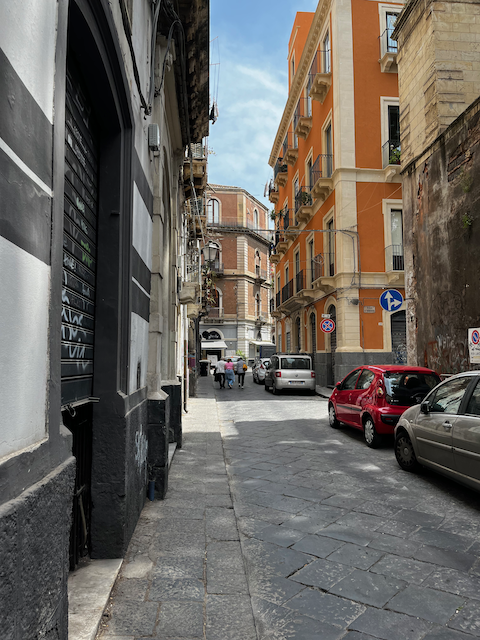 Finding good food was particularly challenging in Catania as there as many restaurant very willing to cater to tourists. Unlike Bologna, there were not many restaurants popular with the locals, but when we found them, we found some of the best food. This restaurant below claimed a 'Michelin recommendation" which it clearly did not have judging by their sparse pasta and overcooked fish. So Catania was a touch nut to crack, but once you learned to stay away from the tourist locations, you did pretty well.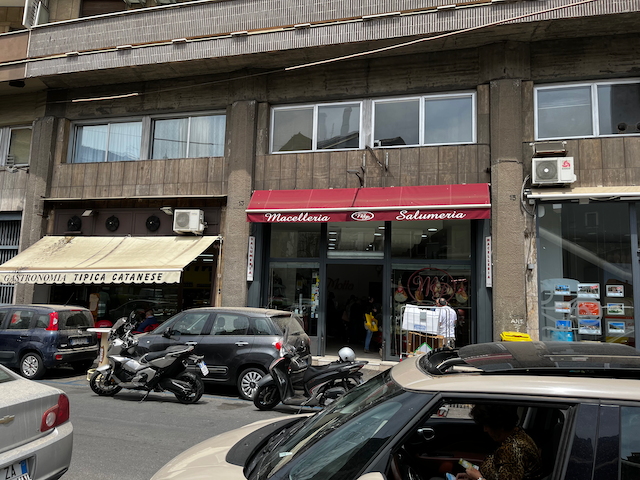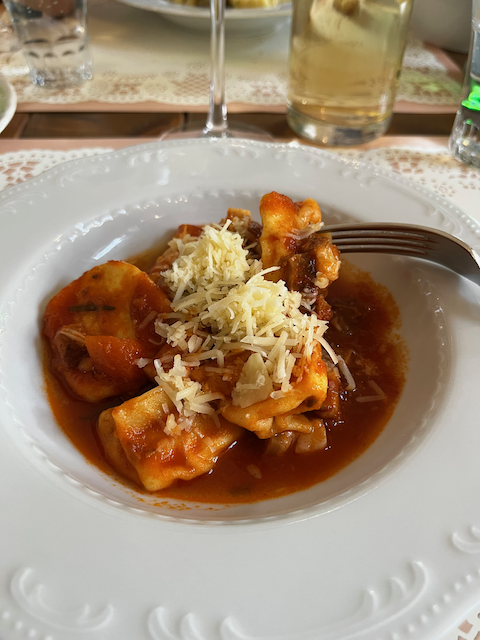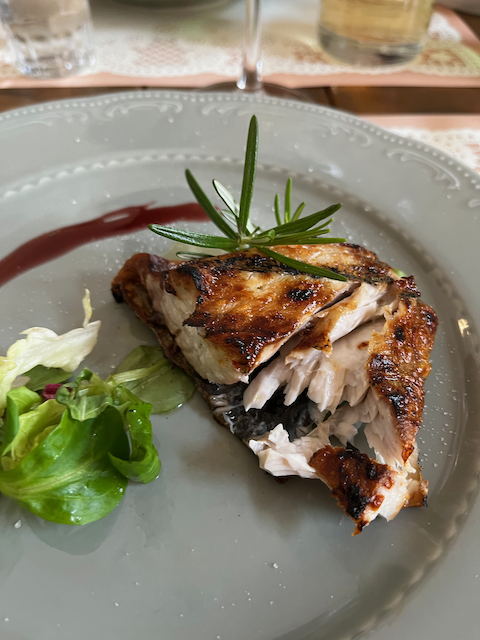 Here are some of the more charming street scenes of Catania. It is a wonderful place to walk and as I said almost everywhere we went we met nothing but very kind people. I think one of the surprises of Catania was how integrated it was. There were many more Africans as customers in restaurants, owners of find stores than I had seen in Bologna.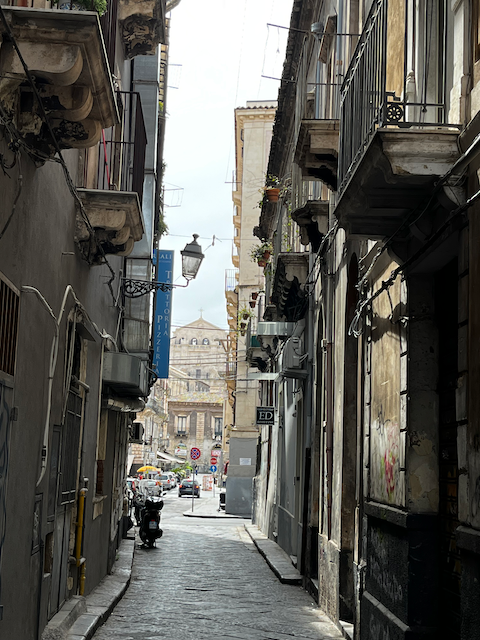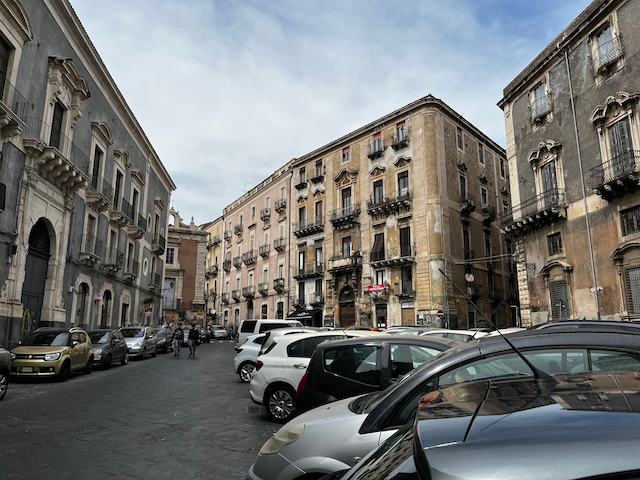 We went to meet our first visit with our Tailor who would make our custom tailor suit. Earlier, in Bologna, we went shopping for fabric. Our Tailor complimented us on our selection. But it was also clear he had a very broad selection of cloth as well. But by providing our own we saved many weeks in procurement.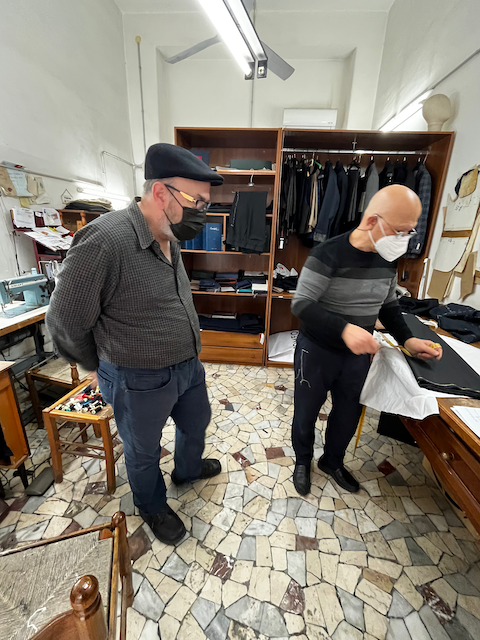 He took our initial measurements with a surprising alacrity. But I guess he knew his stuff.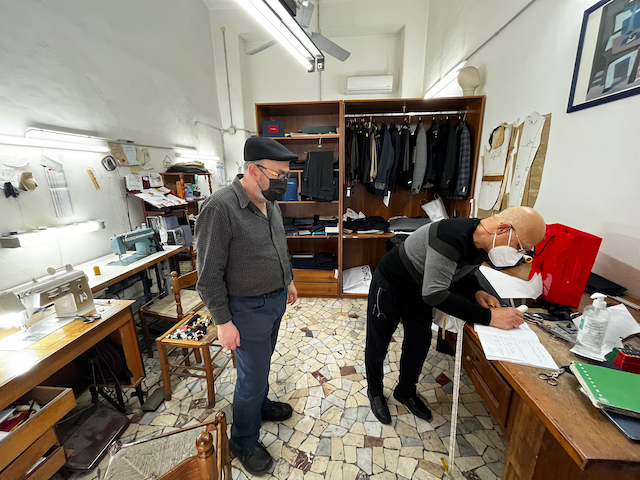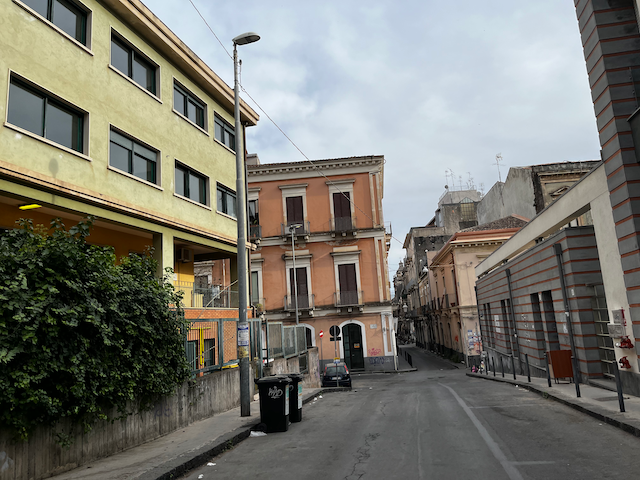 In our walk from the tailor we searched for a nice cocktail bar, and ended up in a tourist location. But they made fine cocktails and were quite friendly.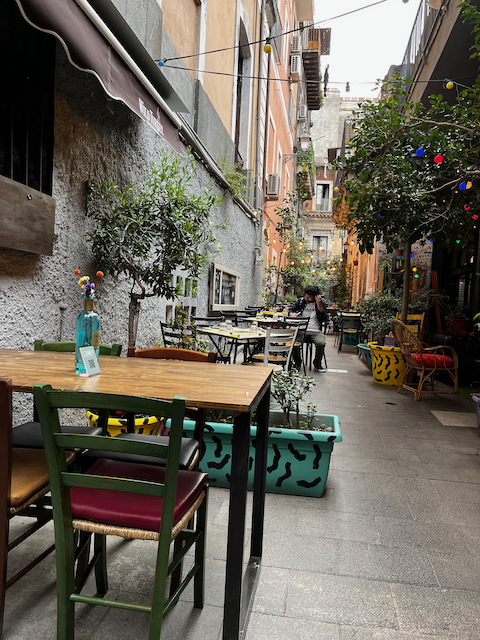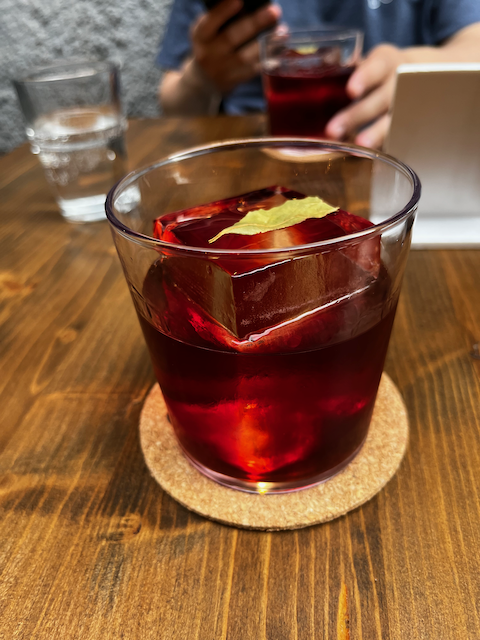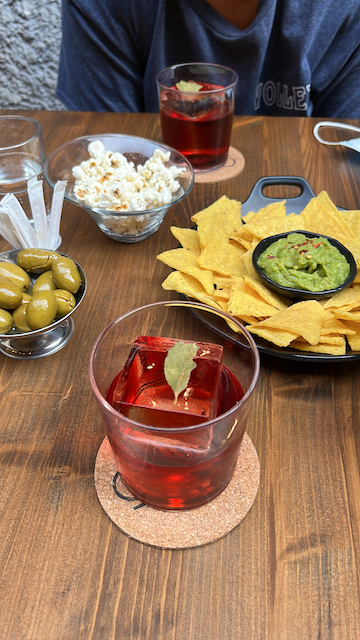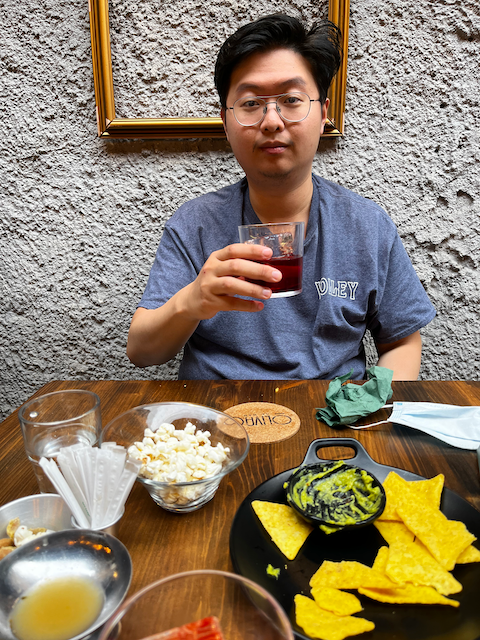 After our cocktail I went to a store to buy a new hat (I lost mine a few days before). I tried on a Panama hat, which looked surprising okay. I might seriously consider one, depending on the comments I get here. Instead I ended up with a nice cap like I usually get except it was an Italian brand a summer thin and blue color (not pictured).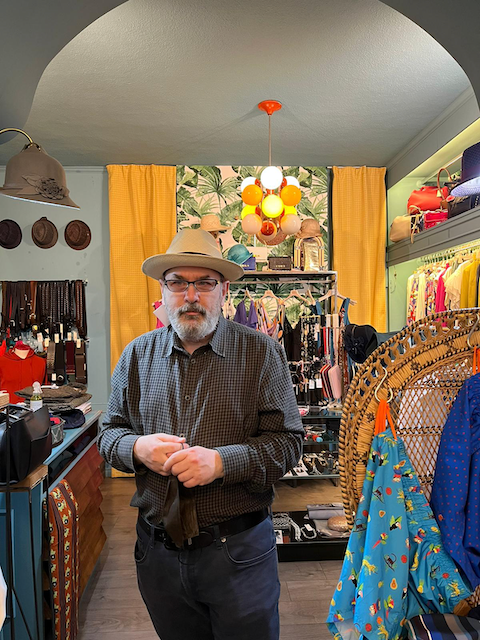 And of course we had to round off our visit with a real Sicilian cannoli — and it was amazingly delicious. Crisper and more ricotta flavor (meaning also less sugar) than our American counterpart. But these cannoli's come in many flavors for tourists and those are quite syrupy sweet.  But so ended out first day in Catania.