This post is updated with extra photos courtesy of Brian Ng.
With a title like that it is hard to imagine how one can pull off a meal like that. Well, in order to do that a chef must transcend their genre and hit something universal and that is exactly what Osteria Francescana did. First, it was all made possible by my friend Brian, who defied all odds and instead of waiting months or even a year, scored reservations by calling the restaurant long distance every day for two weeks to see if there was a cancellation and within 2 weeks we had the coveted reservations. At the restaurant there was a couple who had been trying for almost 2 years due to covid. So, thanks to Brian's ingenuity and perseverance we were about to have the best Mels of our lives.
Originally, I was not really prepared for the evening. Okay, it was a Michelin 3 star restaurant that everyone wanted to get into; what Michellin three star isn't? But when I told my italian teacher I was going to Francescana that evening, she informed me that it was one of the 10 best restaurants of the world and read me an article to that effect. Well, that put the bar pretty high and I was not ready to accept such a pronouncement. Meals I remember to this day include: Au Crocodil, Acquarello, Lai Sing (Chinese Michellin star restaurant in Zeist), Zubi Cafe, Chez Panisse, Rich Table, Akademie in Heidelberg, Il Cibreo, Harris's restaurant, De Goldene Sonne, the Golden Mushroom, the Four Seasons, and the list goes on. 
So how did Francescana achieve this: though undeniably inspired by a culinary tradition but informed by an incredible culinary genius (Massimo Bottura) who could put things together that are just unthinkable but when presented seem perfectly natural (much like my designs).
First the Ferrari Museum in Modena
But because the restaurant was in Modena, our day started in a local museum: the Ferrari Museum. I am not much of a car fanatic, but nevertheless when confronted with amazing design it does indeed impress. I have to say it wasn't much of a museum aside from the cars, some of which were "never shown before" (I think I was suppose to gasp when I was told that). But nevertheless it was a fascinating look at the great Ferrari designs through the ages.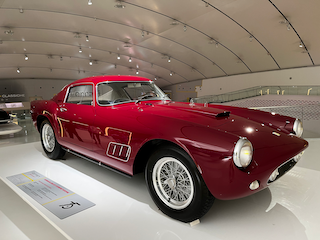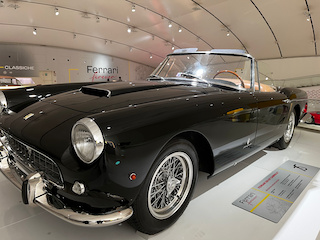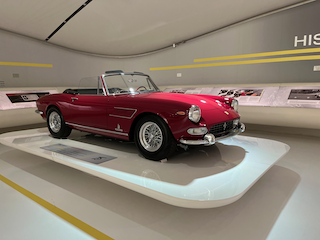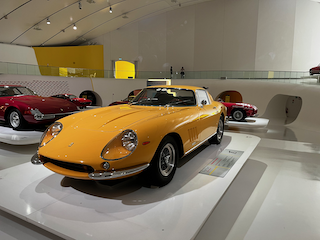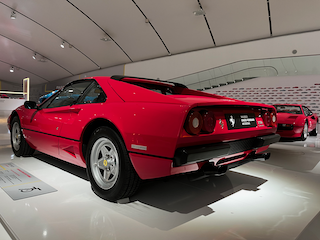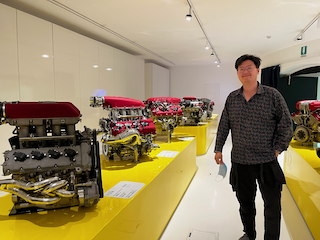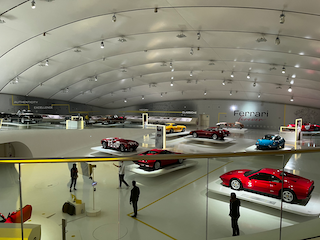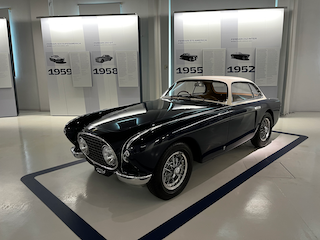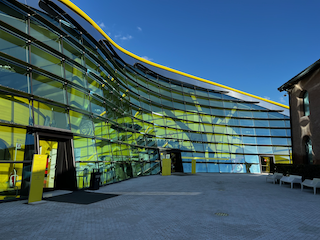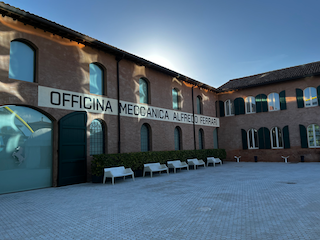 And to think, this company used to be owned by Alfa Romeo.
Back to Francescana…
We walked into the restaurant and were surprised to find large communal tables for 8. It was with great trepidation that I entered because it did not escape my attention that most of the people were extremely rich American and British tourists.
Thankfully we were at a table with a Dutch couple (they're everywhere) on their honeymoon, a New York hipster couple cashing in some of their the stocks, and another couple that arrived late but were rational enough that they would not detract from the evening. Though I sense that with the wrong people there that evening this could really have gone really wrong.
The menu was in English, but that didn't really inform me about what were about to eat. My picture of it was a little fuzzy so I will list the 9 courses here (not including the many Amuse-bouches not pictured):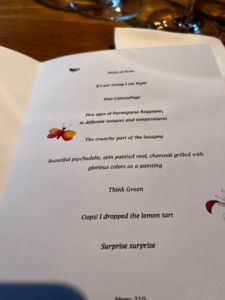 Pasta al Pesto
If I am wrong, I am right
Riso Camouflage
Five Ages of Parmigiano Reggiano in different textures and temperatures
The crunchy part of the lasagna
Beautiful psychedelic, spin painted veal
Think Green
Oops I dropped the lemon tart
Surprise
None of these dishes really were what they were listed except #6. 
#1 Pasta al Pesto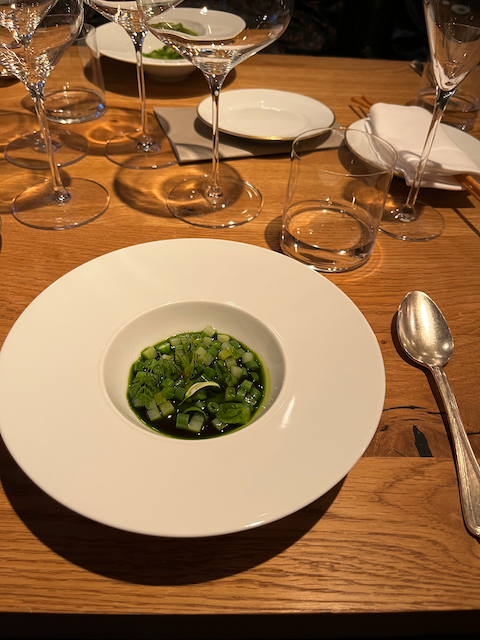 The Pasta al Pesto had not pasta but some chewy miso like substance at the bottom with small green vegetables herbs (and yes a leaf of basil) and then a "pesto" cream of many green herbs mixed together.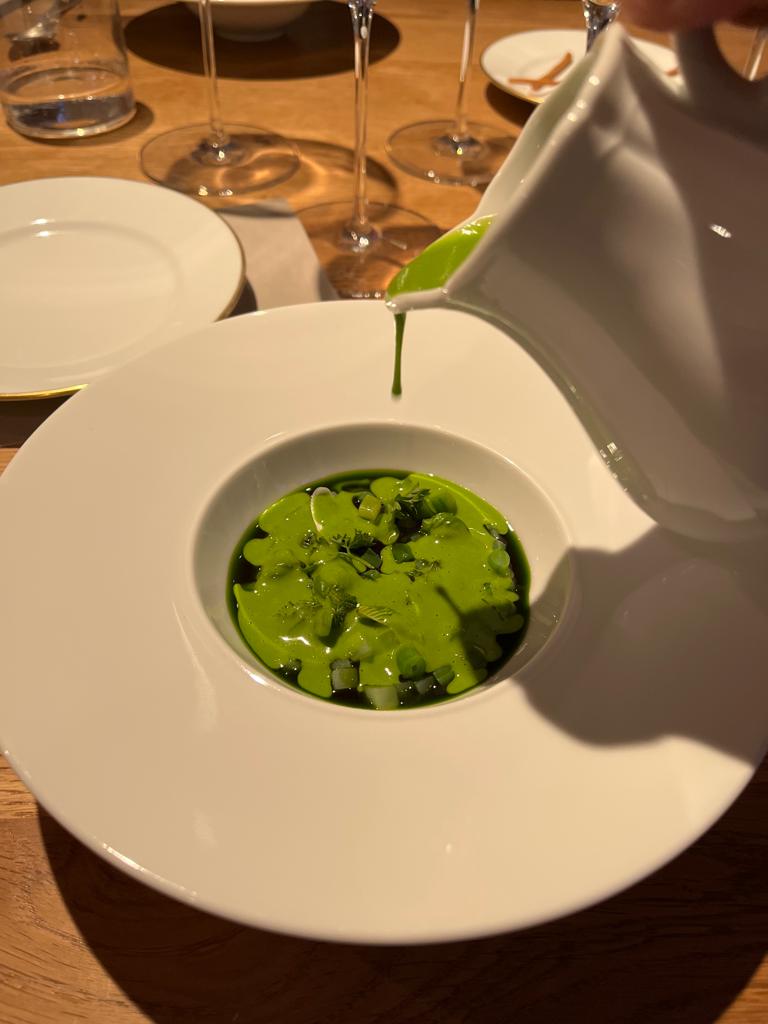 This dish set the stage for all that was to come. The dishes were layered with different textures. So depending on what you had in your spoon, the first thing you taste is the cream herbal infusion. Then comes the crunch of the vegetables and the chewiness of whatever was in the bottom. It was similar to a great bottle of wine in that it had many layers of flavors but in addition it had many layers of textures: succulent creaminess, fresh crunchiness, and a savory chewy—definitely not pasta or even solid but intangibly marvelous.
A word about the wine: the food was superb and the wine was fine but nothing over the top that was going to rival the food. They were all the best of Emilia-Romagna which are great wines but not world class and certainly not contending with the food for attention.
#2 If I am wrong, I am right
This was an unlikely grilled bacala with herbs served with two sauces, one that looked like flowers but tasted like a pumpkin seeds and other herbs (notice the drops of sauce resemble pumpkin seeds), and a creamier herbal sauce of herbs, ginger and coconut milk to go along with the fish.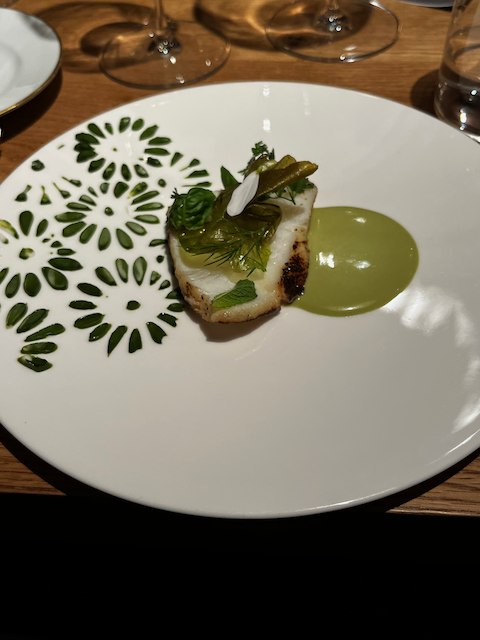 Again the multiple layers of the creamy sauces and the succulent fish with the grilled char to give it a little more substance on the edges, and the symphony of fresh garden flavors with the mild fish was absolutely surprising as it was delicious. There is a whole story about the name how its contradictory flavors work together, I'll save that story for Massimo Bottura to tell.
3. Riso Camouflage
Inspired by a story of Picasso, the rice dish is in three colors, brown, green and black. Brown for the earth using mushrooms, green for the planet (with again green herbs this time including cabbage, and black for the sea using various fish and squid ink. We were instructed not to eat them colors separately, even though they were not mixed. Instead we should put a little of each on the spoon.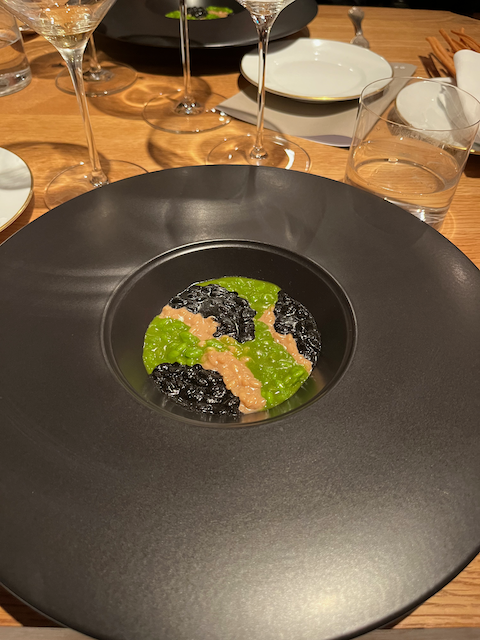 So, being the contrarian that I am, I tasted all three separately at first. And each was a solid risotto taste but nothing special. Nothing crazy wild about the mushrooms or the choice of fish or even the herbs, It was when you put them all together that your mouth exploded with flavors like a sip of an aged Alsatian Grand Cru. In a base of the risotto sparkled subtle savory flavors with acidity, freshness, and earthiness, it was truly like eating a great wine.
4. The Five Ages of Parmigiano Reggiano
I didn't realize this, but Massimo Bottura, the chef-owner of Francescana, made an international reputation on the Food Network with this dish and everyone in the room was waiting with gasping breaths to try the famous Five Parmigiano's.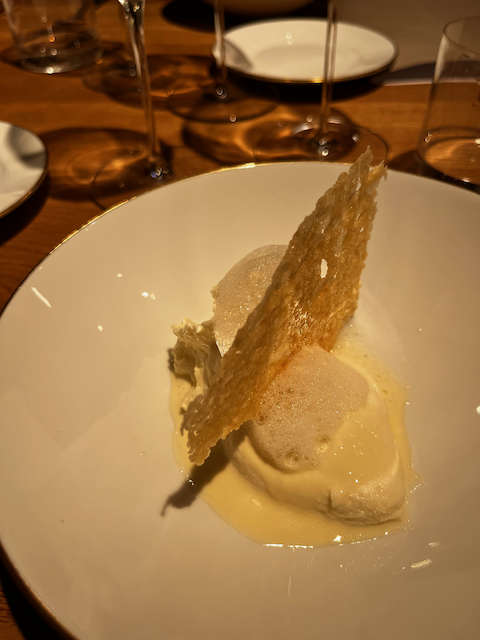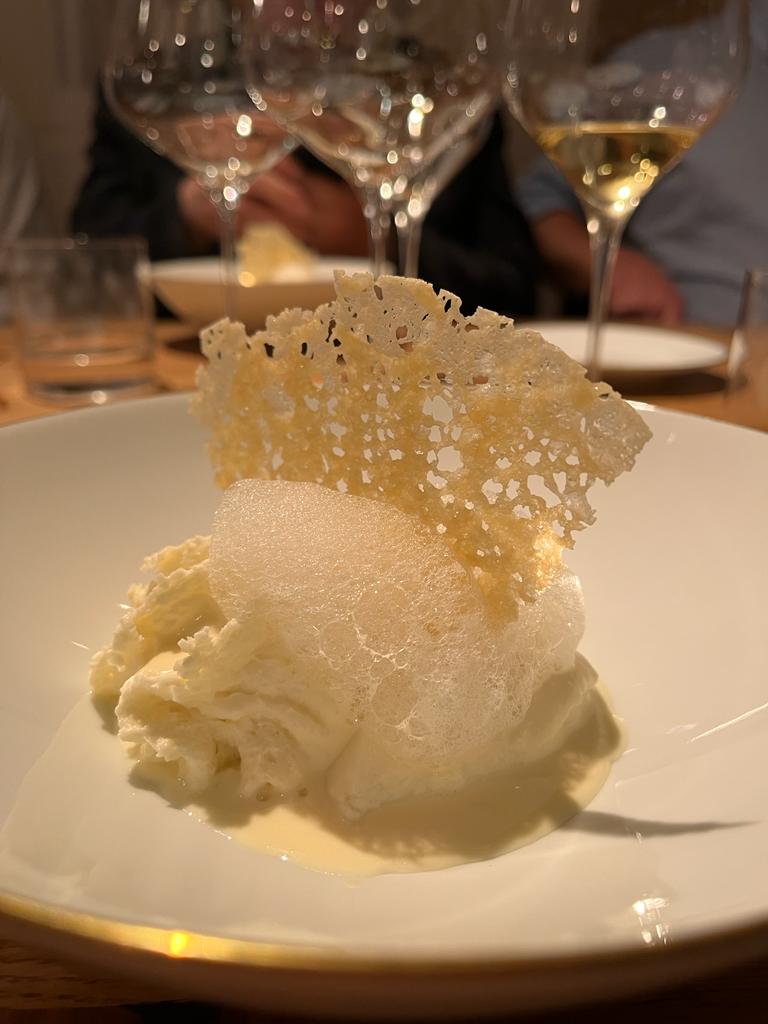 Two of the five I recognized from Acquarello even though their execution was different: a crunchy cracker made of fried Parmigiano. And at the base of the dish a kind of parmigiano budino-like quiche-like thing. On top of that was a parmigiano cream and on top of that a parmigiano foam. The lower you went down the dish, the younger the parmigiano and the lower the temperature. 
Like with the Risotto there was a solitary base, though this time it was the taste of parmigiano instead of the rice. All the intricate flavors of parmigiano of various ages come together in a single dish with a multiplicity of sensations (temperature and texture). To keep the dish from being one-tone was the seeming dissonance of the various textures crunching and melting in your mouth. Here the variety was only subtly in the flavor and more in the various physical aspects of the dish.
5. The Crunchy Part of the Lasagne
By now, Massimo's wife had shown up to introduce all of the remaining dishes. She apologized for being late because a traffic accident in Modena (which also caused many others to be late). Apparently, when Massimo was a kid everyone wanted the crunchy edge of the lasagne so he wanted to make a dish that was just the crunchy part of the lasagne. So he took 3 colors of pasta and rolled them together and instead of boiling them blow-torched them in a way that the resulting pasta resembled—very mildly—the consistency of kroepoek or Indonesian shrimp crackers. This pasta was then mounted atop of a "whole cow" bolognese sauce, made exclusively of the white modenese cows of the area. There was also a dollop of the local cream atop of the ragu.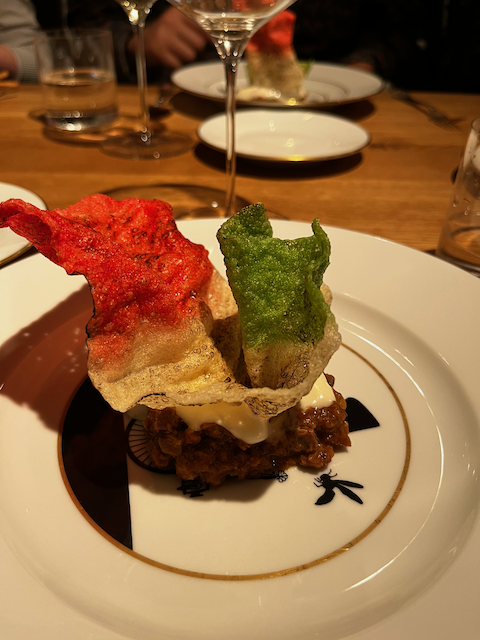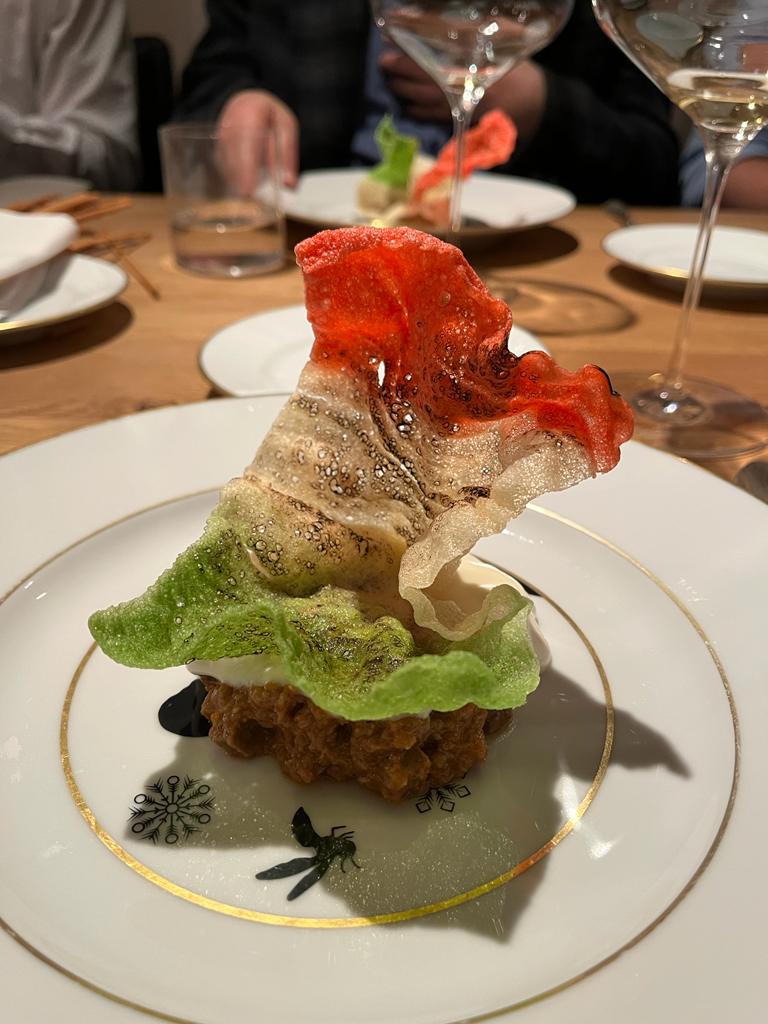 There was this expectation of the lasagne and instead it was a crunchy cracker atop one of the richest bolognese sauces I ever had. It was extraordinarily rich. The was the alternating crunch of the pasta with the gooey sauce which internally had a variety of different meat textures going on. It was my most anticipated dish but my least favorite though still extraordinarily fascinating. With this, I could say I was done and had my best meal of my life but we were not finished…
6. Spin painted veal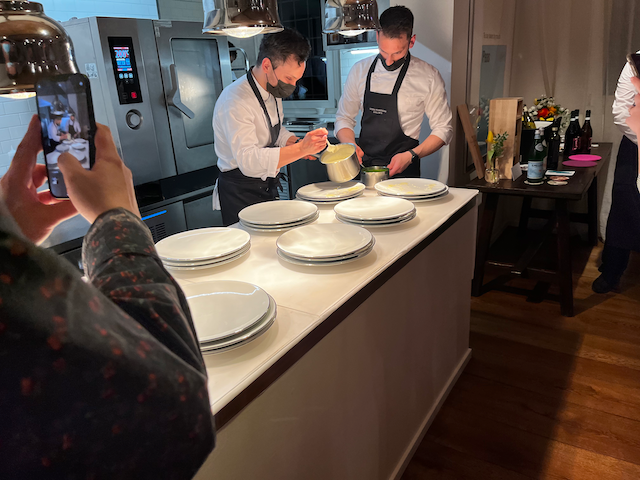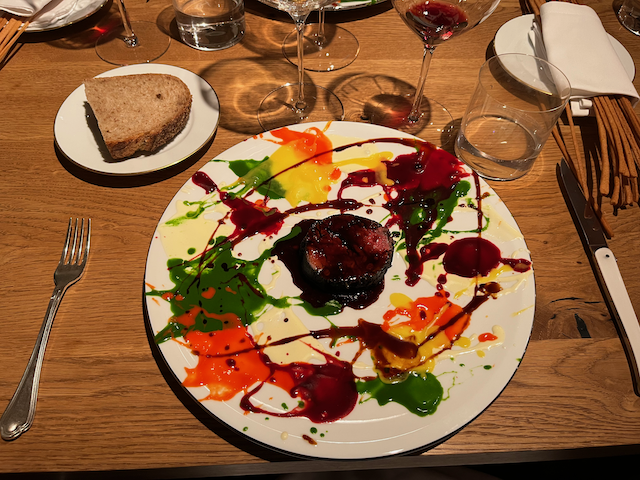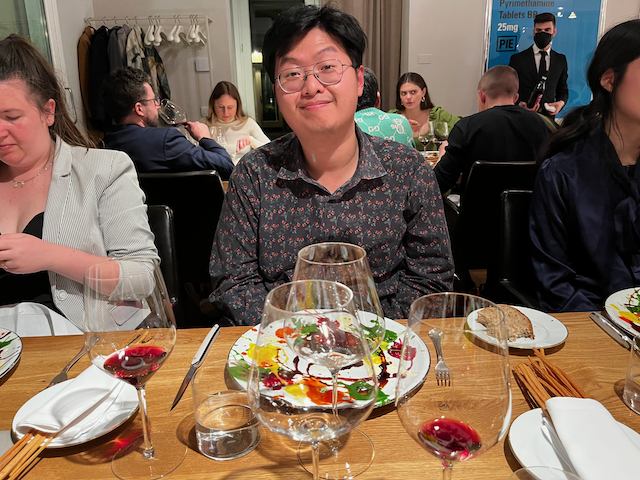 The dish was put together like a Jackson Pollack painting as the video below shows. Lord only knows the intense amount of labor that just went into the preparation of these sauces that were simply virtuoso composition of sweet ones, spicy ones, vegetable ones, herbal ones, they were mind boggling in their sheer variety when if you got just one of the sauces for your perfectly grilled veal you would have been perfectly happy.
7. Think Green
The look of the dish and one might assume it was the salad after the main course. You would be wrong; it was a desert.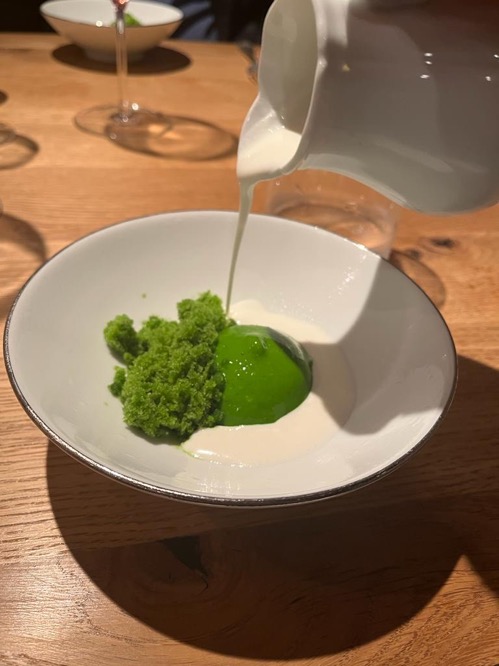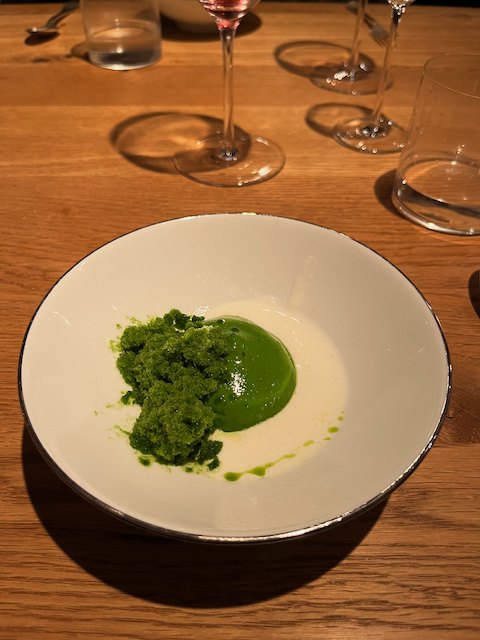 This is a dessert I find very difficult to understand, it is definitely made of a cream of vegetables and sorbet of herbs but with the right sweeting it was an incredible light and palette cleansing dessert.
8. Dropped lemon tart
Inspired by Massimo's favorite artist Damien Hirst (the art hung in the restaurant) he created a lemon tart that was the recreation of a lemon tart that had actually been dropped in the restaurant.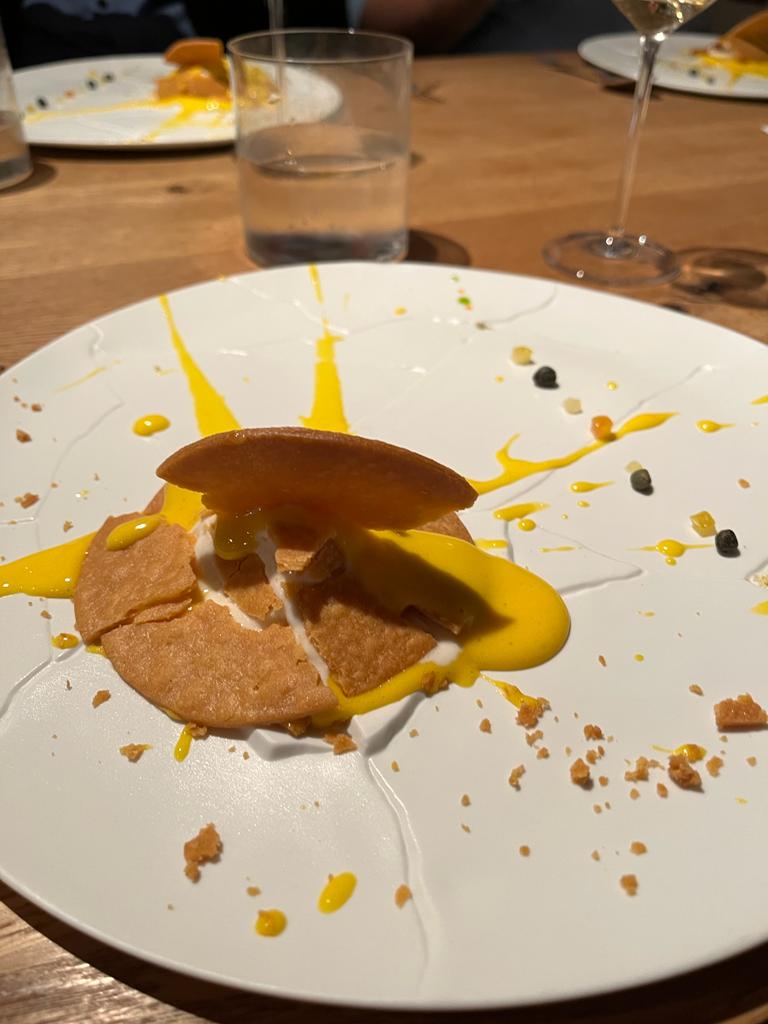 I must say this seemed a tad gimmicky for what was served which was a cracked piece of tart crust draped with a silky yellow lemon sauce. I always found lemon tarts too sweet, not this one. I don't know what lemons were used but the dish was rich with lemon flavor but not overly sweet.
9. Surprise
The surprise was actually Massimo's mother's recipe for tortellini in cream, an extraordinarily typical bolognese dish. I did not take a photo of it however let me bring you a slight digression:
Here is the bowl of tortellini com crema parmigiana that I just made.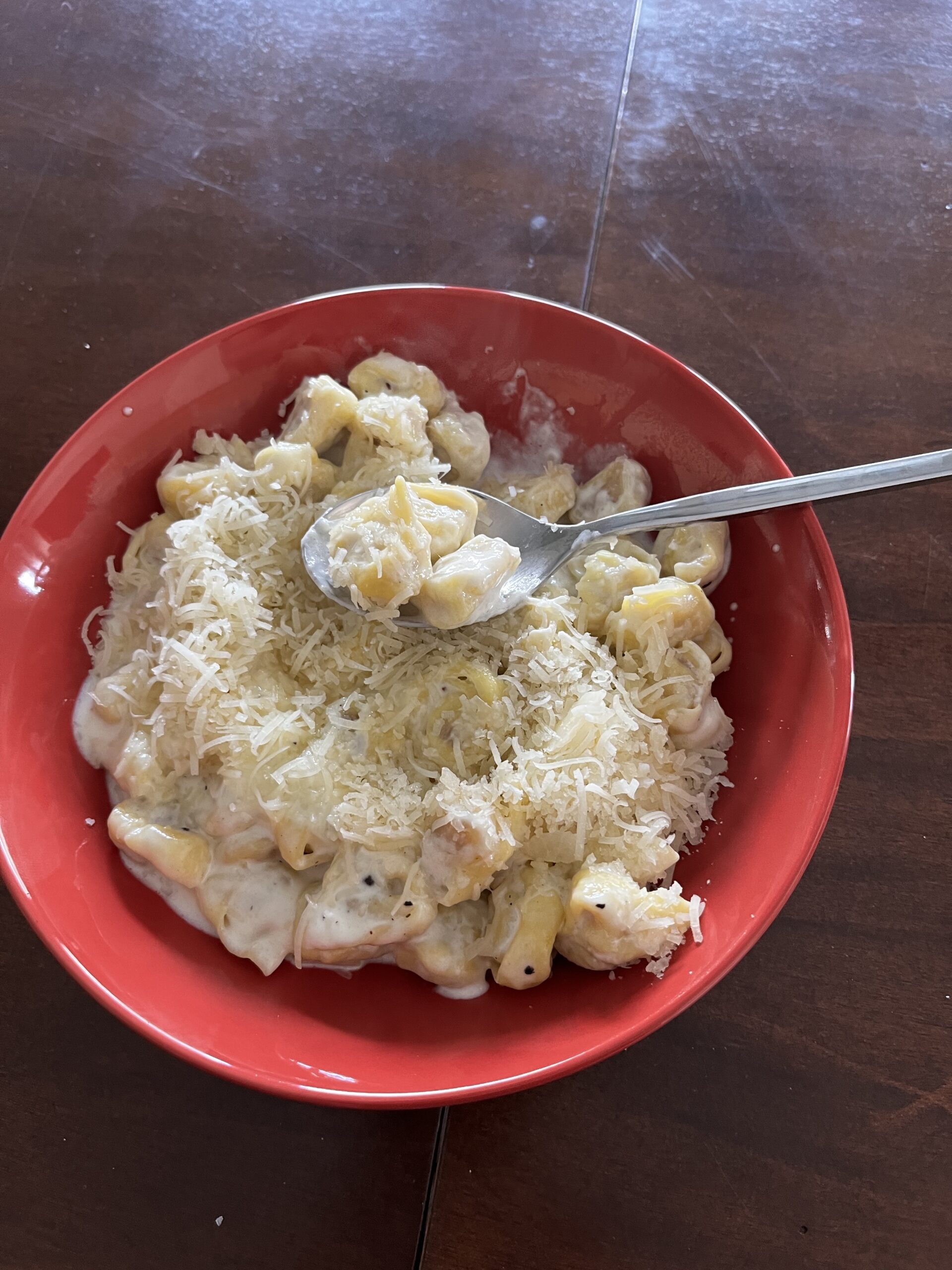 I wish I had some nutmeg but I don't (still lots of things to buy for my kitchen). Still freshly crushed pepper sufficed. This dish has just 4 ingredients: tortellini, cream, parmigiano and pepper. It is amazing. And I am so enamored with Bolognese fresh tortellini and can't believe I ever lived without it. The amazing thing I have learned about eating fresh tortellini in Bologna is the unique texture of it. You cook the fresh tortellini for roughly 2 minutes (put the tortellini in boiling water when they float to the surface start the timer). After the 2 minutes the outside of the tortellini are not al dente they are cooked slightly soft but the interior circle of the tortellini is extra al dente giving the tortellini a kind of tenderness in the beginning and a little bite to it at the end. I cannot help but think that  this simple culinary design was the childhood inspiration for our Massimo Bottura..okay back to the Francescana
Thanks to Brian, I now have a picture of the surprise (and his was frothy and mine was not and mine was overrun by a truck of parmigiana):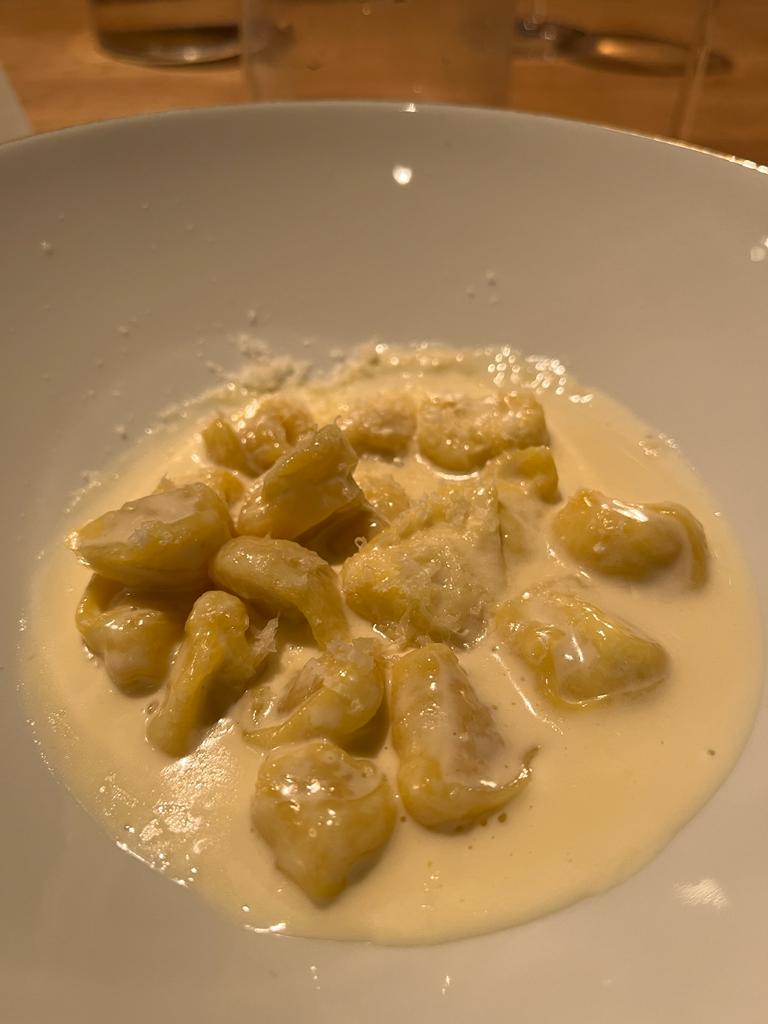 10. Caffé
The end of the meal was espresso and some small pastries. The pastries symbolized something but by then I was too sated and over-stimulated to know anything except each bite was amazing.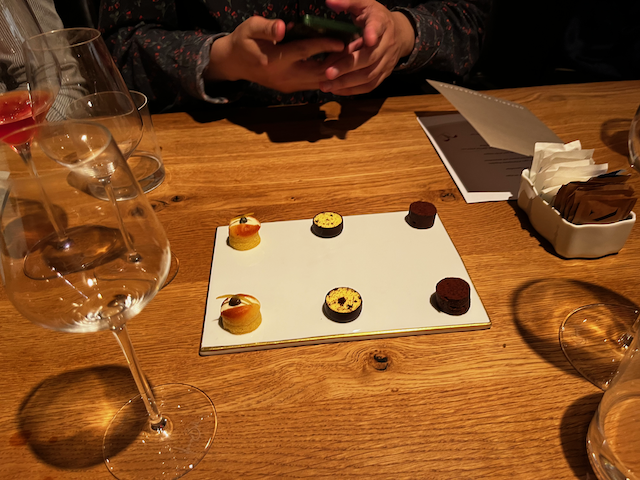 Time to go home. We drove outside the restaurant and there was a massive traffic jam to the freeway. In an impulse I turned the opposite direction and at the first road made a left turn figuring I would get to the freeway eventually. The road left turn road turned out to be a windy one lane street where I played dodge 'em cars with real cars until the road finally widened and something that looked awfully familiar, like the road I had meant to avoid, was coming into view. However, the road then turned parallel and I began to pass all the traffic and ended up on the freeway very quickly.
When we got home, we parked the car outside of the office of the Building Trade Union, and somehow didn't notice this beautiful mural before.