What do you do on a snowy day in Bologna? Today it started to rain but ended up snowing—very nicely.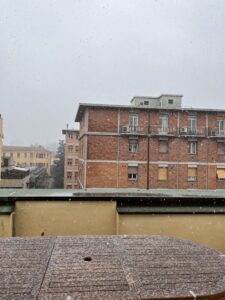 But I came across an interesting bagel recipe. It seemed simple enough to make the dough. Once the dough was made I could ignore the rest of the instructions as I knew better how to make a bagel, having made thousands of dozens of bagels in my life time, actually since every Saturday in high school I made about 3,000 dozen, including bagels I made on the rest of the week, I probably made close to a million dozen. Anyway, following the recipe, here is how they turned out: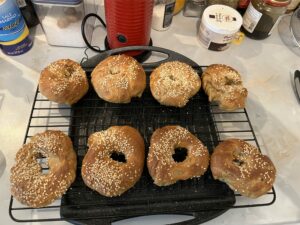 And here I put on some cream cheese and it tasted superb. A little too bread like, so next time i will reduce the rise time. But it tasted like an excellent bagel—a little over malted but that was because the recipe called for sugar instead of malt so I had to guess how much to use.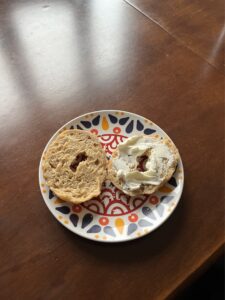 I can know make my favorite comfort food whenever i want it, that's nice. a small batch of 8 bagels is ready in about 2 hours.
Now I have to venture out into the snow for smoked salmon…