Sagre is an Italian word for a festival. It is a kind of cross between a low-brow foodie event and something like a state fair. Like the Gilroy Garlic Festival, a Sagre has a single theme. The theme is a celebration of some type of famous local cuisine. They have Sagre's for almost every type of food in Italy: soup, pasta, artichokes, hazelnuts, truffles….and porcini mushrooms. 
I looked last Friday night at the Bologna Today website and it mentioned a Sagre del Porcini. It started Saturday night. This Sagre's was a down to earth foodie celebration akin to an American county fair, except instead of corndogs and prize pigs: it was prize porcini mushrooms and a 3-course (actually 7 different dishes) all made with Porcini mushrooms. The Sagre was taking place in a small village called Castel del Rio (no relationship to Brazil). It was about an hours drive away. I have to admit, going to this small town where I would certainly be the only English speaker was a little daunting. But, nevertheless, I love porcini mushrooms, my Italian is getting a little better, and I was also curious about this part of Italian culture, so I decided to go. 
Saturday evening, the drive was about an hour and ten minutes through the Romagna wine country to an adorable little village centered around a castle, called Castel del Rio. The drive was a lovely hilly drive through the Apennine mountains. I drove into the little village: it was tiny just a few streets centered around the castle.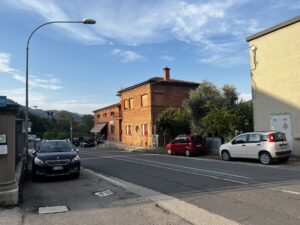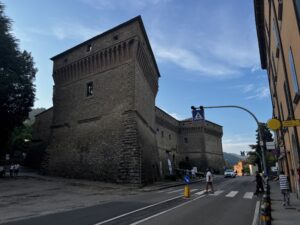 Upon arrival, I was surprised that the first thing I noticed was an American World War II fighter plane planted right in front of the castle.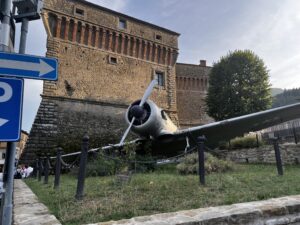 After parking my car, I walked back to the castle and was quite surprised by what I saw. On closer inspection the Castle itself house a museum of war, and the garden in front with the American plane was dedicated to the victims of the nazi concentration camps. That was really quite moving to see.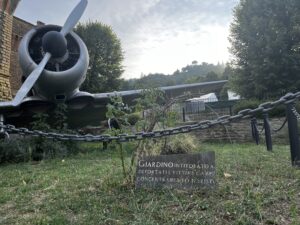 The museum was, gratefully, closed so I venture on through the village.
Walking through the streets, I heard two elderly couples speaking a local dialect. And I thought this might be harder to communicate than I thought.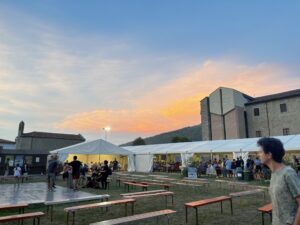 I arrived at the square, in back of the castle where the festival tents were laid out. There was already a long line waiting for the food or table. I didn't know what to do. There was a cashier off to one side so I walked over and asked her. "This is my first sagre? How does it work? Do I have to buy a ticket?" She explained you wait in line and you will be given a form. You fill in your name and table number and your order. Then you go to the cashier and pay for it and they bring you the food.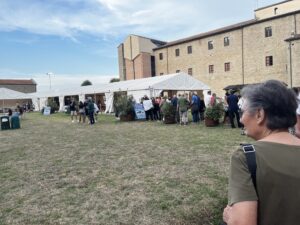 I waited in line, which was very long (and remained very long all night). Feeling very out of place, I was wondering if this was going to be okay. It was becoming clear that this was 90% locals, aka the entire village was there. The line finally started to move. Eating on my own in a weird tent with a bunch people I didn't know or really speak with, I was wondering if I should just leave. Luckily, I kept mulling this over until it was too late and I was handed my paper, pen and shown to my table. I was placed at the end of the tent. Two other Italian couples sat near my, but it was clear, like me they were not from the area. Everyone there seemed to know everyone else. And seemingly anyone with a teenage son or daughter was pressed into service as a server for the event.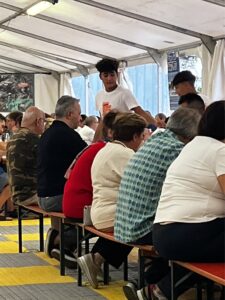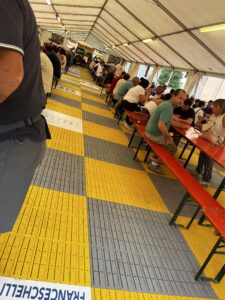 I saw the menu, the starter listed 3 choices, the pasta had 2 choices and the second course had two. I thought I had to choose, but it turns out you got everything: 7 different dishes all with porcini mushrooms.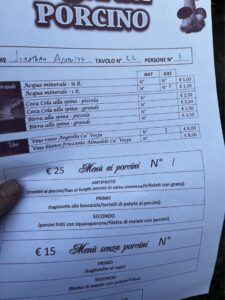 In addition to the food, I also order a bottle of mineral water and a bottle of their local Sangiovese, called Rubicone. The wine was unfiltered and chilled, but it was surprisingly well balanced and layers of dark fruit flavors with along berry after taste, it was a very lovely wine—and for 8 euros you couldn't go wrong.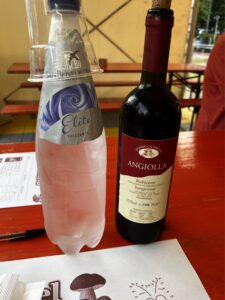 They first brought bread. And I was delighted that the bread was Pane Toscano along with some cracker that was a cross between a saltine and a rosemary focaccia it was absolutely delicious.
The first course consisted of 3 courses:
Crostini with sautéed porcini mushrooms
Porcini mushrooms sautéed in olive oil and topped with Parmigiano.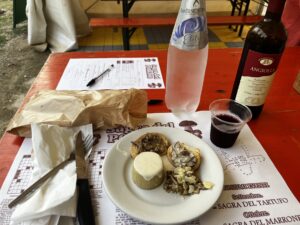 But I will save my comments for the third dish: a porcini flan with a creme de porcini. It was such a succulent and savory wonderfulness. It tasted light as a soufflé but with a very savory porcini flavor, it was absolutely divine.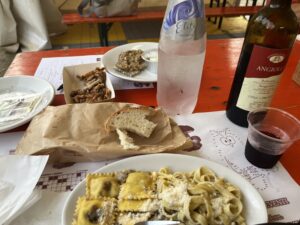 The first pasta was a potato and porcini stuffed homemade ravioli with a porcini ragú and the second pasta was in a —surprise surprise creamy porcini sauce.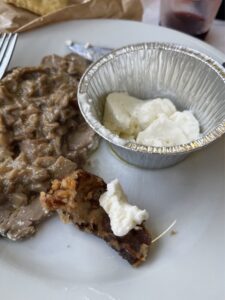 The dinner was topped with fried porcini mushrooms served with a Squacquerone cheese—a vey soft cheese similar to stracciatella, the filling in a burrata, but more custard like. The combination was delicious but so filling I could barely eat it. Then came a pork roast with sautéed you know what. I could hardly finish it.
After dinner, I walked around the festival for a little after the dinner, there were booths selling porcini mushrooms.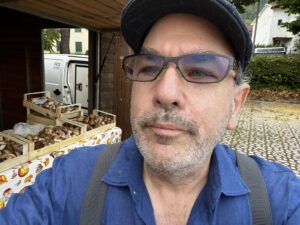 I bought a kilo of fresh porcini mushrooms for 20 euros. I also bought 100 grams of dried porcini's for 15 euros. I also noticed along with the porcini mushrooms they were also selling these strange red bulbous mushrooms. I was informed they were called ovuli. As I was ordering them, a man behind me said in perfect English: "slice them very very fine but don't cook them and put them on a salad: they are absolutely delicious!"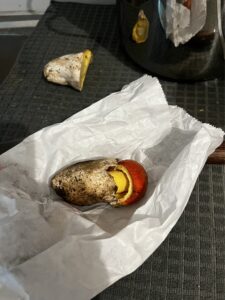 The next day: Now I have to find someone to come over and enjoy the mushrooms. Most of the my friends are out of town, so I have reverted to using a gay dating site, and connected with someone I had been chatting with and now he's coming over for some Porcini Risotto on Tuesday. But what to do with the others? If I can't find someone to join me for dinner I will have to dry them.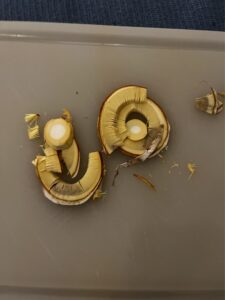 The ovuli's are already deteriorating and you can't cook them so I just sliced them and ate them, OMG, such a light delicate feel in your mouth and a sweet clear taste that is indescribable a musty sweetness with a little acidity to make it all clear on the palate.
So lacking finding someone, I am making a little mushroom ragú. Then, tomorrow, and the next day, and the next day after that I will add it to risottos, tagliatelle and who knows but it will be delicious.