(Note to Linda Watanabe McFerrin: yes that is a series comma in the title!)
First a note about the weather.
Rome: the highs were in the 90's with sweltering humidity (70+%)
Castel Gandolfo: the highs were in the low 80's or high 70's but with 70% humidity it seemed hotter.
So far in Genoa: it has been in the low 70's and balmy. Today the high was 74 but quickly went down to 72 as a san Francisco-like late afternoon breeze came in. (This breeze was partly because I was in Castelletto up in the hills, more on this later…)
I had a great start to the evening with a walk along the Antique Port and a aperitivo at a LGBT-dominated bar on the waterfront of the Ligurian sea. It's a nice terrace but because Italians are heavy smokers it gets a little obnoxious after a while. And you can smoke on terraces and outdoor cafes (but not inside and luckily inside is an option in Liguria because it isn't too hot). But this bar, Banano Tsunami, was only outside.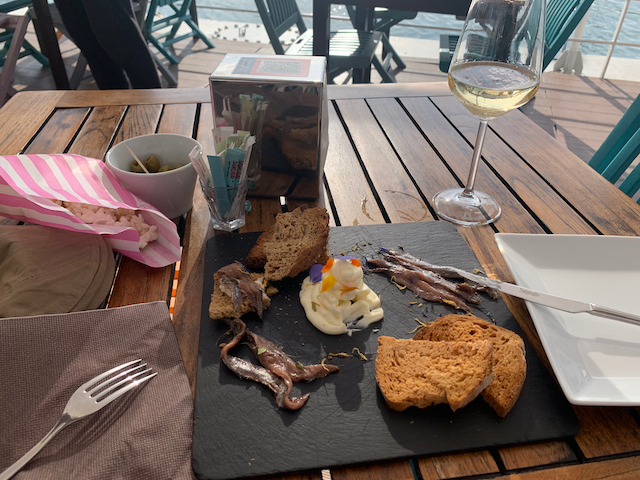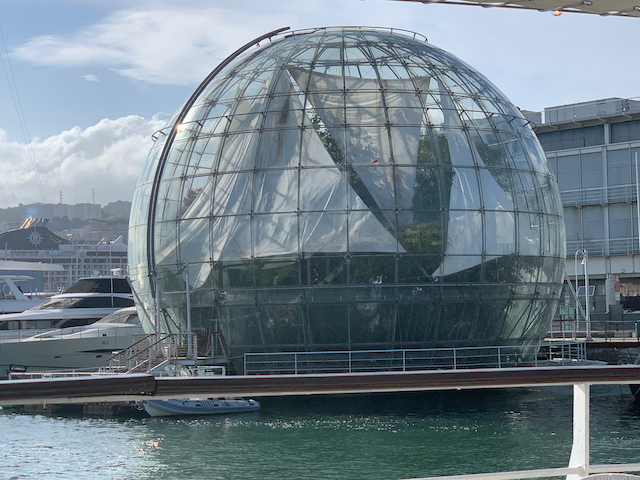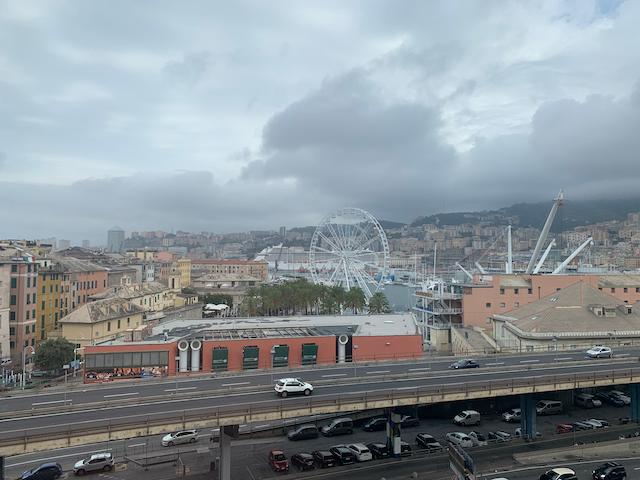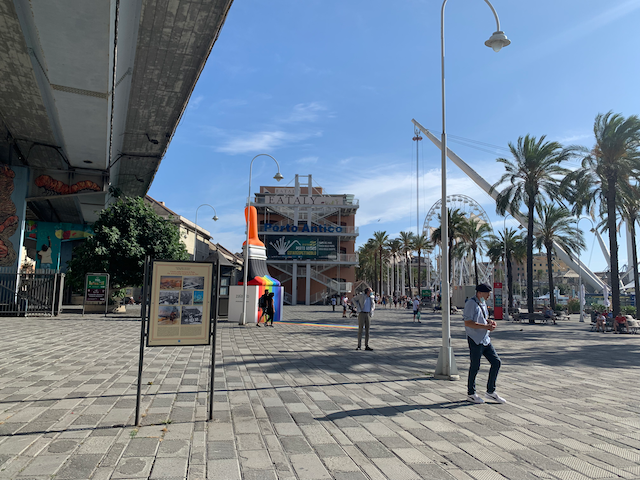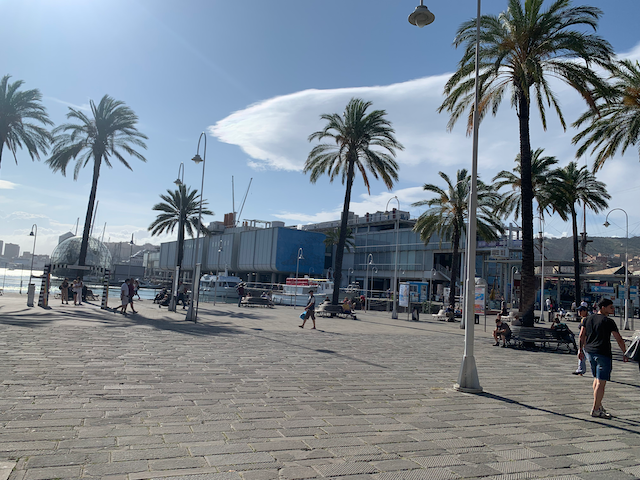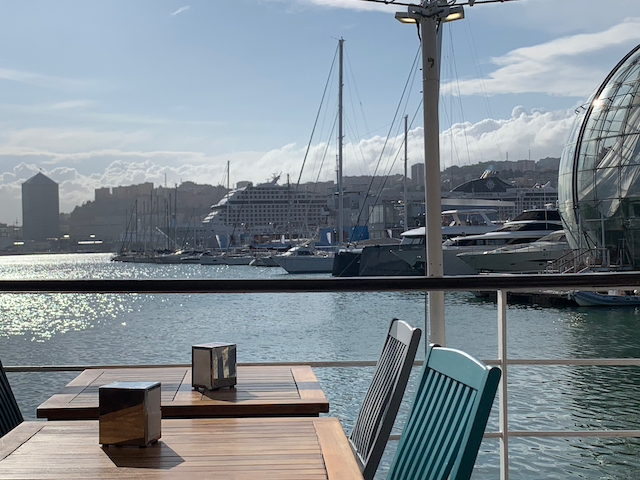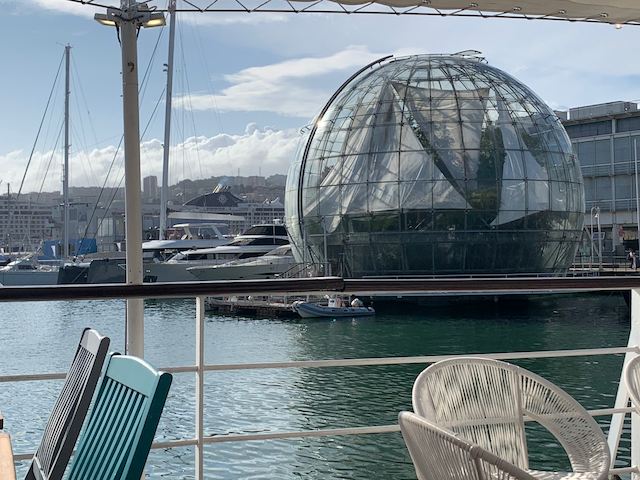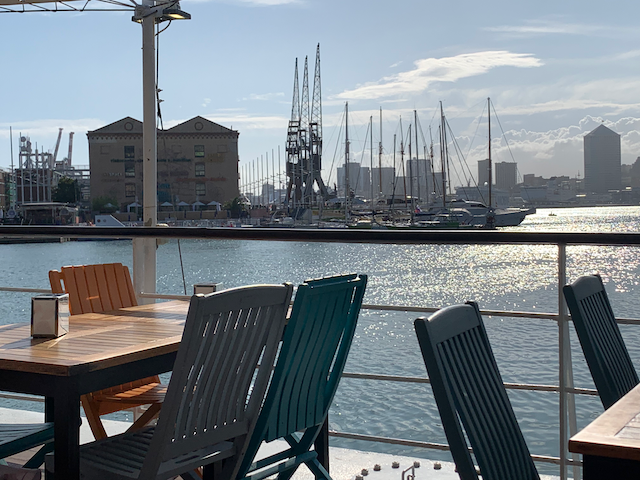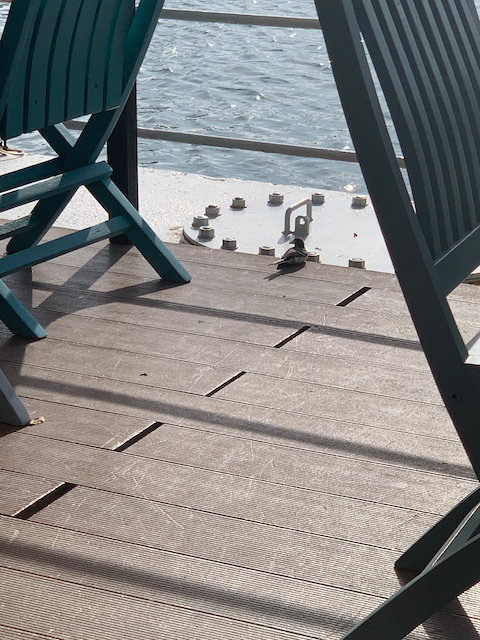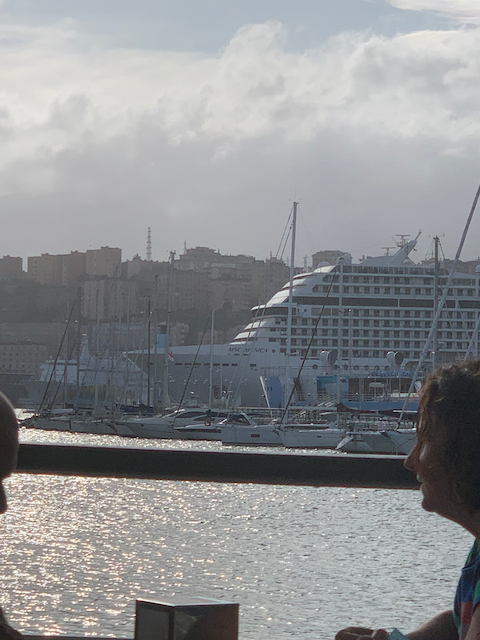 So after a delicious glass of Franciacorta, the italian answer to French Champagne (since unlike Prosecco it has two follow the "traditional method" and comes from a very special district in Lombardy). The wine had the flavors or champagne but missed the subtlety—but who needs that with a plate full of olives and anchovies. I can easily see this replacing my champagne tradition back home. After the glass of wine, it was time to hike to the other side of Genoa into a new neighborhood, a likely place I would live, called Castelletto which is up in the Hills of Genoa, in land from the coast.
Judging by distance I carved out 45 minutes for my trek. I set out across the harbor and into the historic center. I typed in my phone the address and it promptly reported that it would take about 13 minutes. Genoa is smaller than I expected.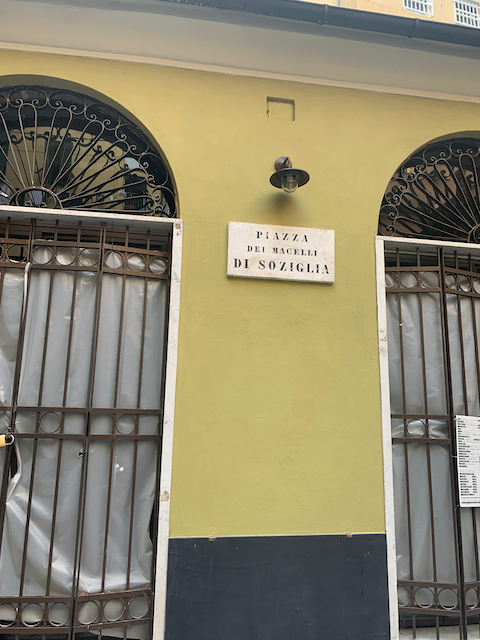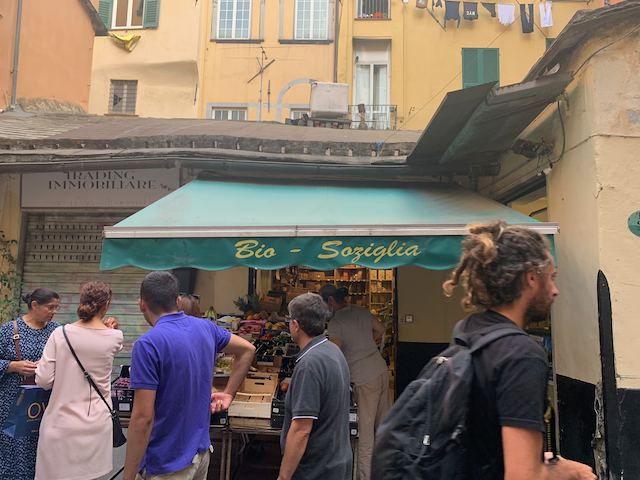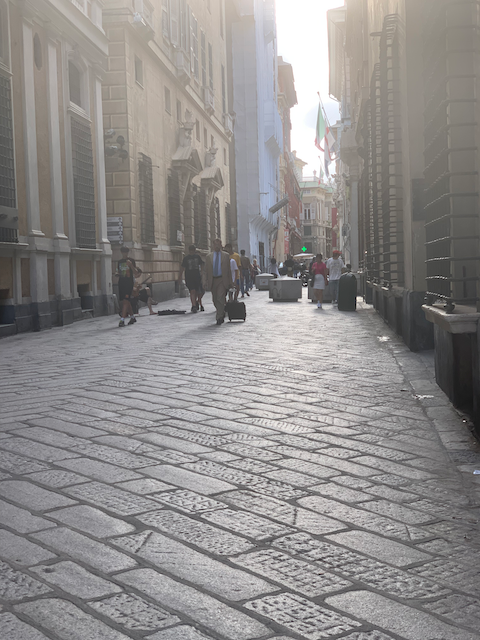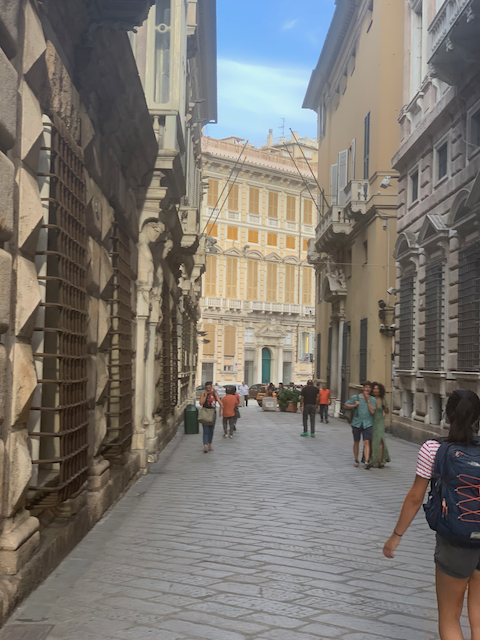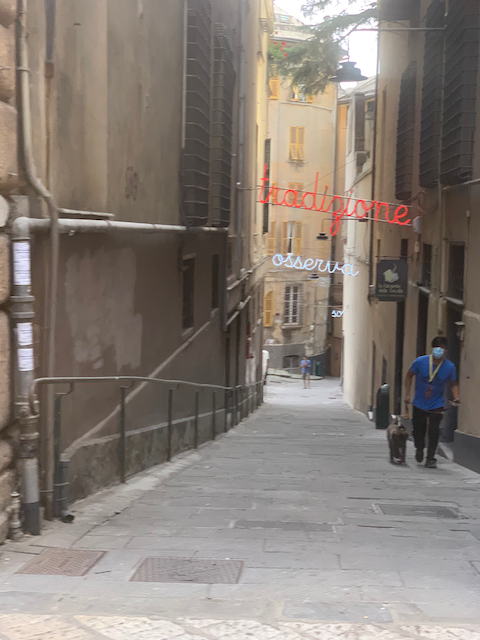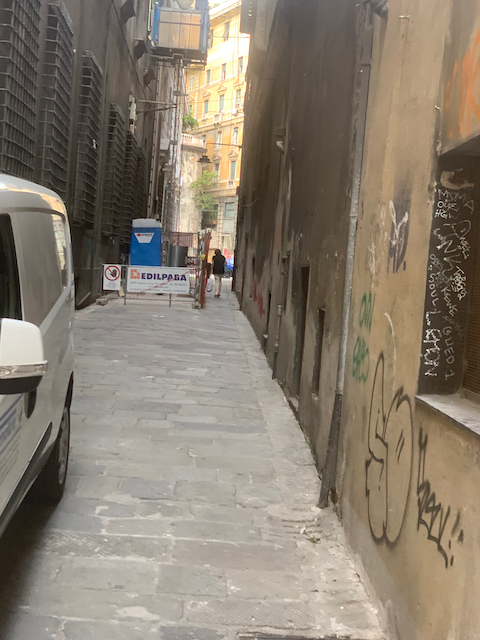 Again, the malfunctioning GPS made it very hard to follow. And after 8 minutes of feeling totally like I was walking in circles the message from the directions pops up: "you reached your destination." Now I wonder how I managed that.
What was the destination? It was the Nietzsche House. The house where my favorite philosopher and life inspiration lived in when he visited Genoa. There was no plaque and it did not say where I this huge building he lived but there you have it.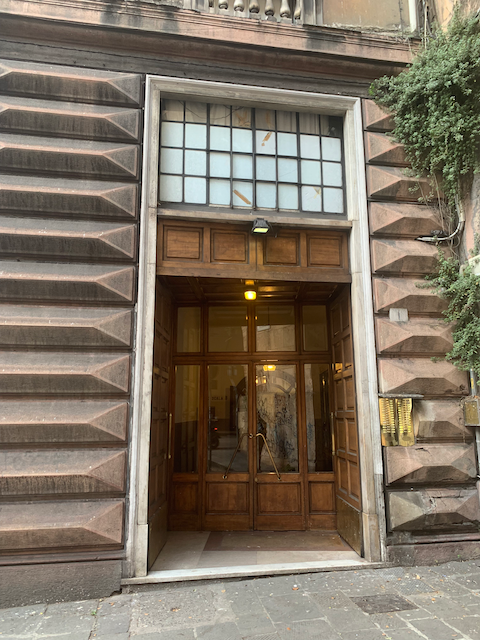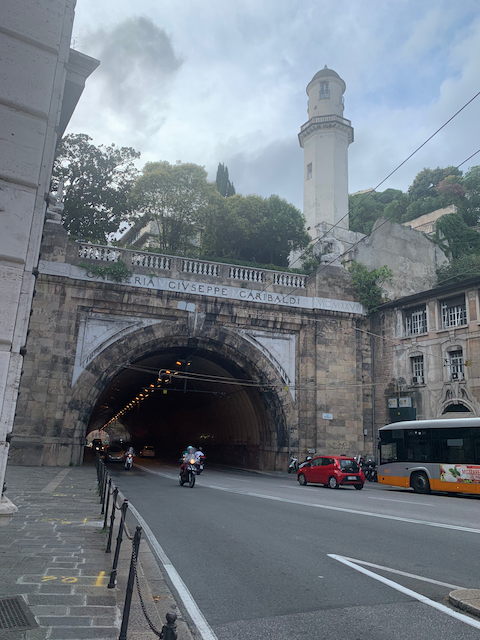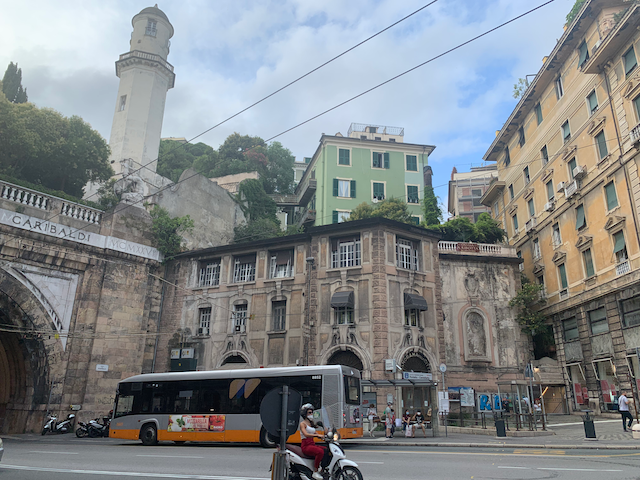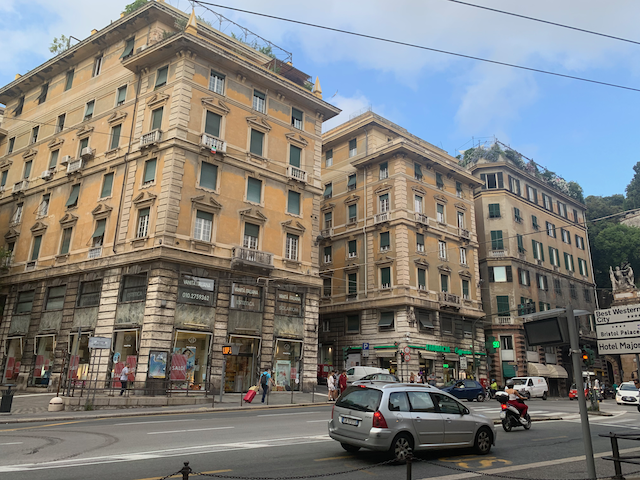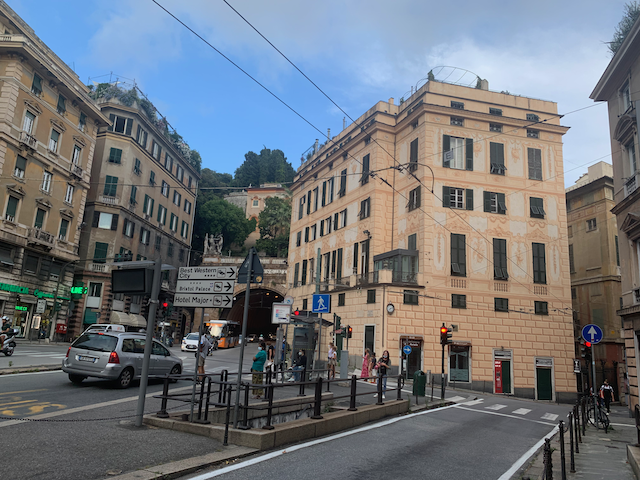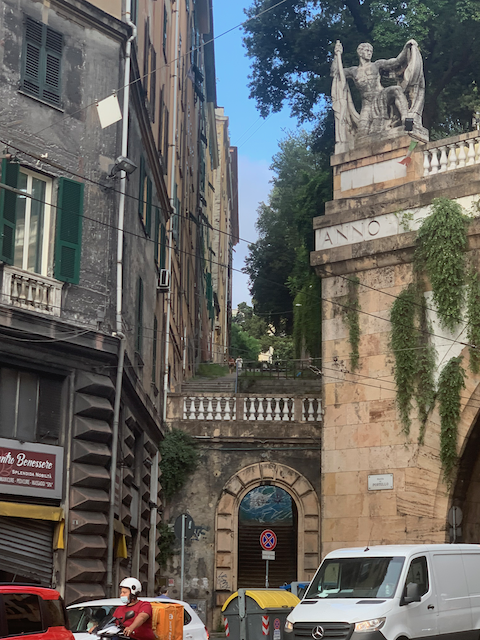 So now I took the next hour of time before my dinner reservation to walk along the Caselletto area as a possible place to buy a house. The area is in the hills and is accessible with help special elevators. The area was active with neighborhood cafe's. It had a feel very similar to a time when Minne and I went to a residential neighborhood in Madrid and there were bars that served both inside and over an entire piazza. The crowd felt open and friendly.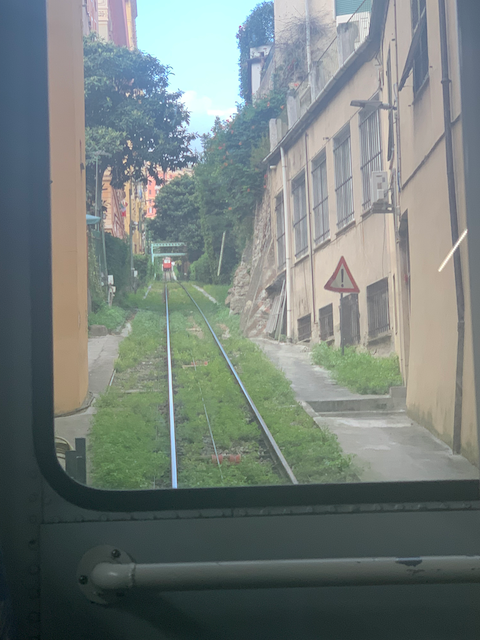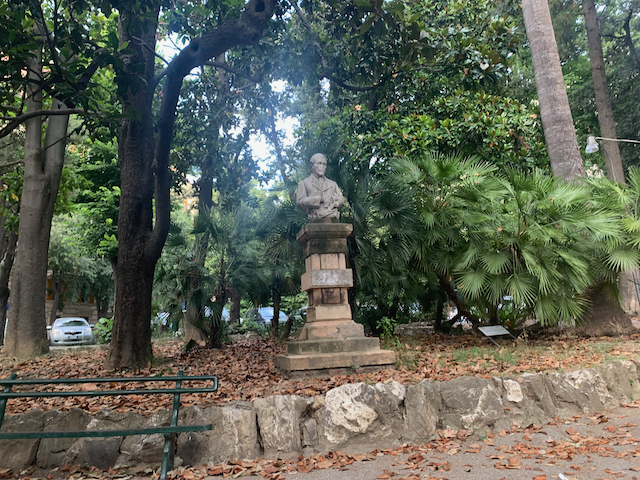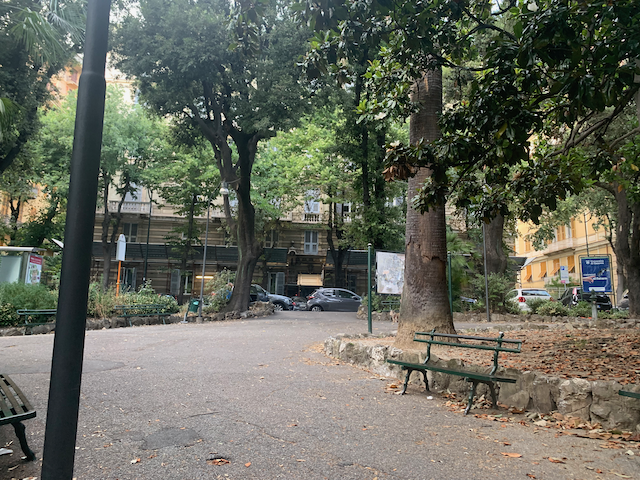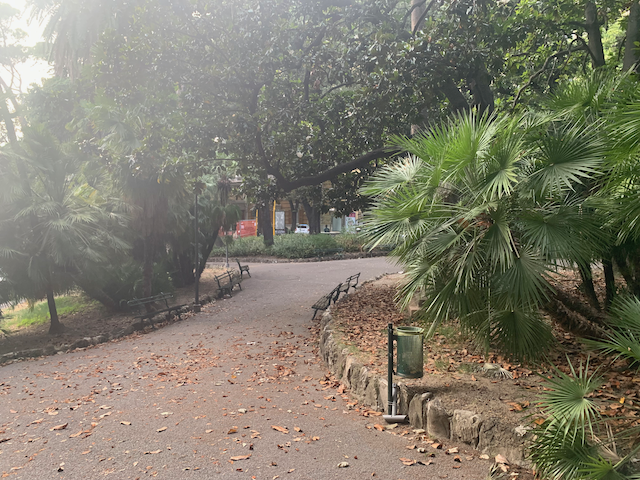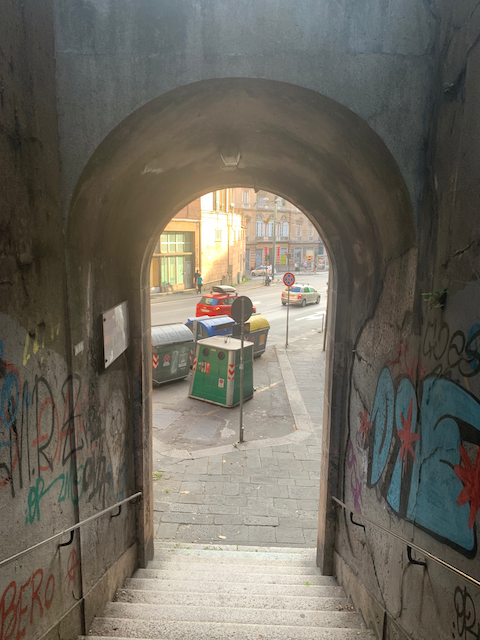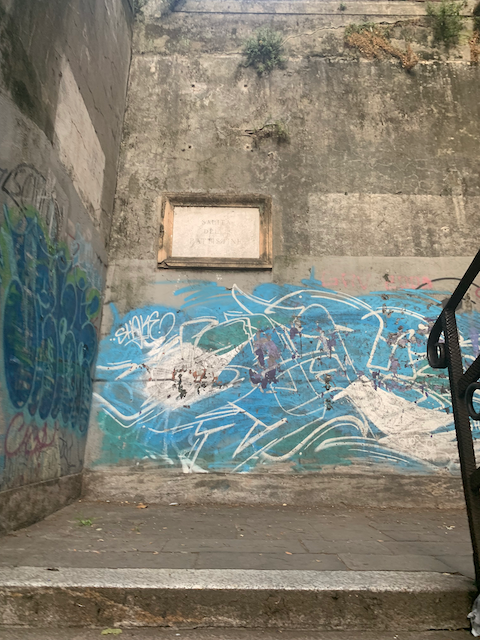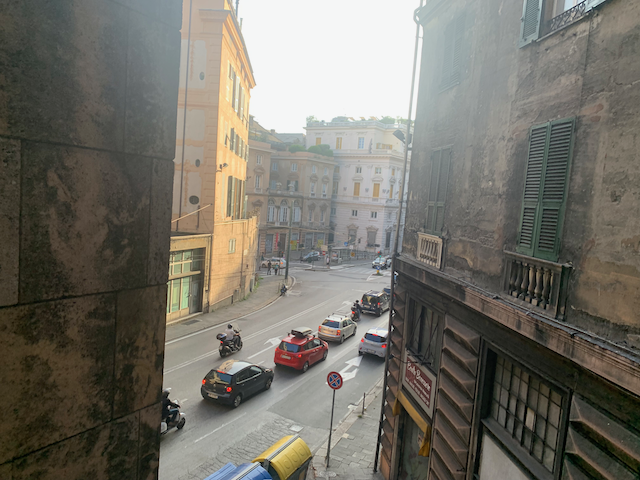 This was the elevator to the top of Castelletto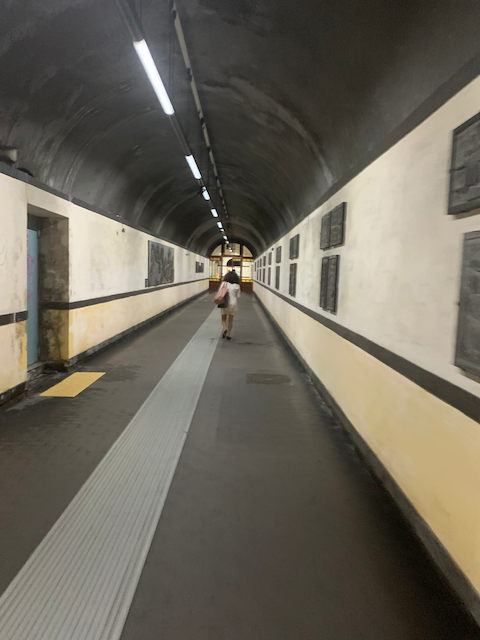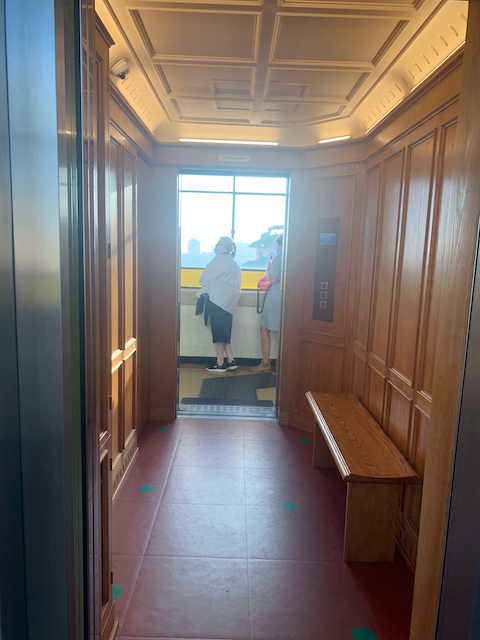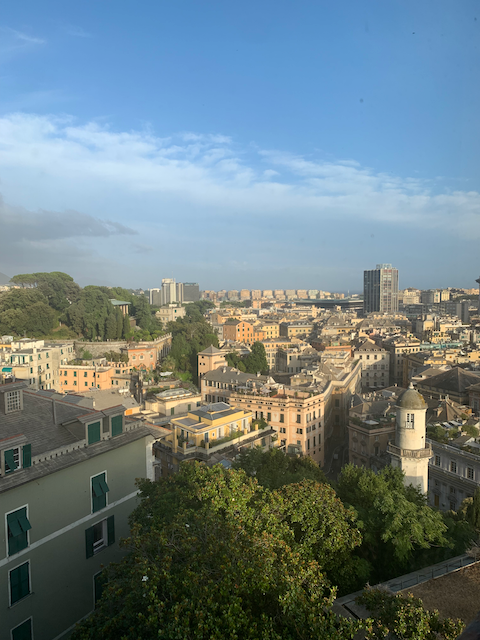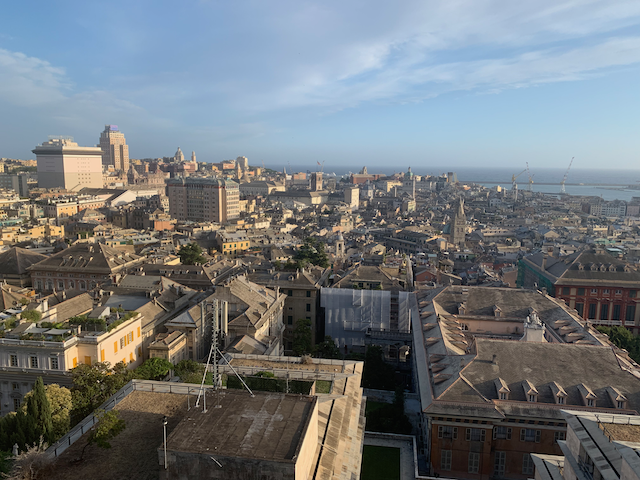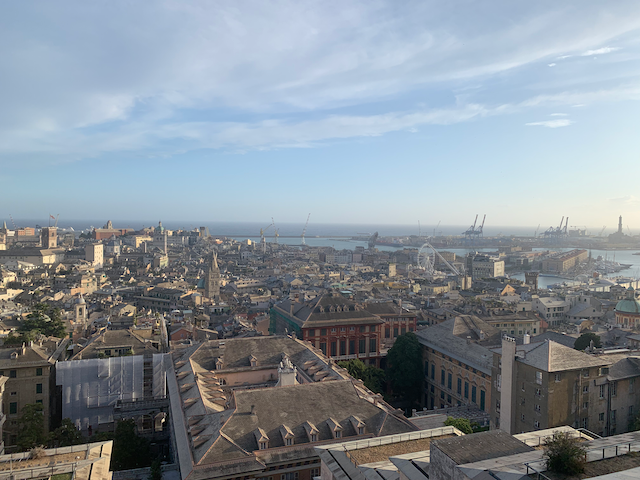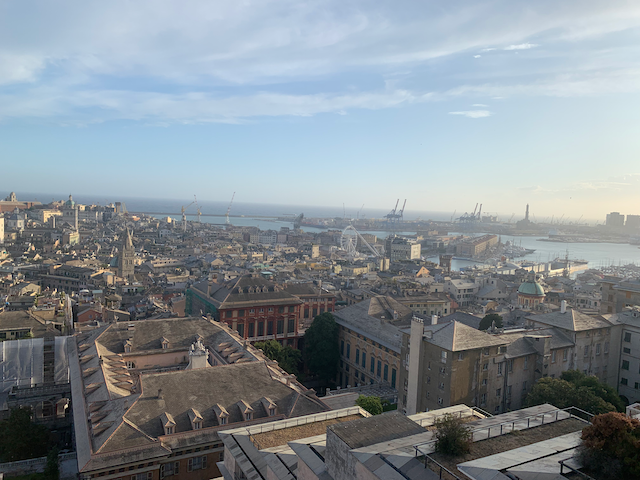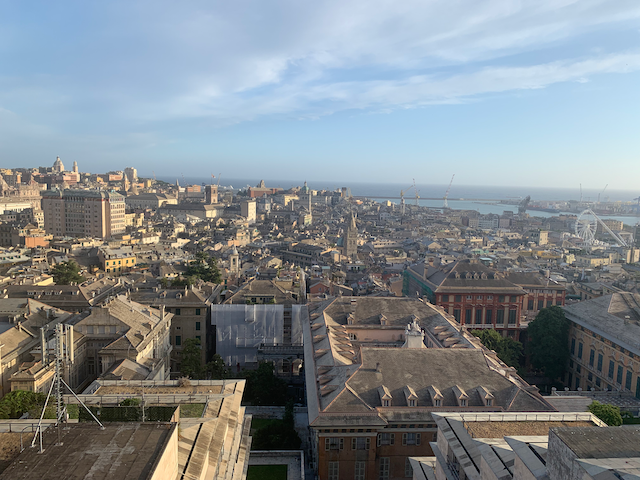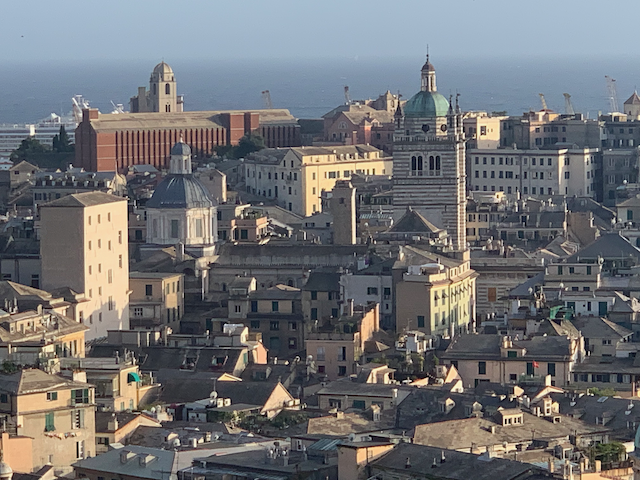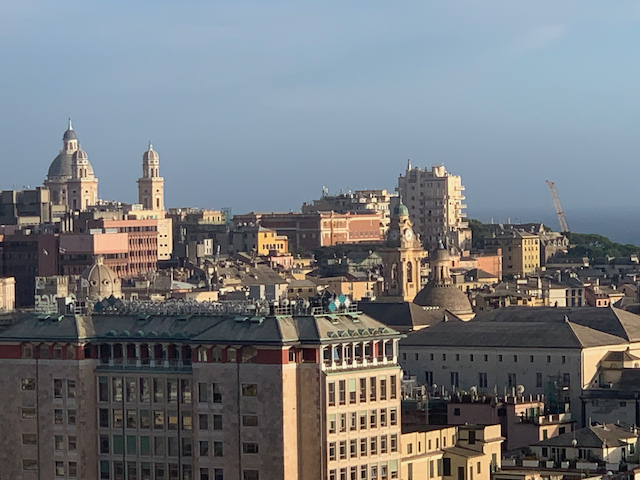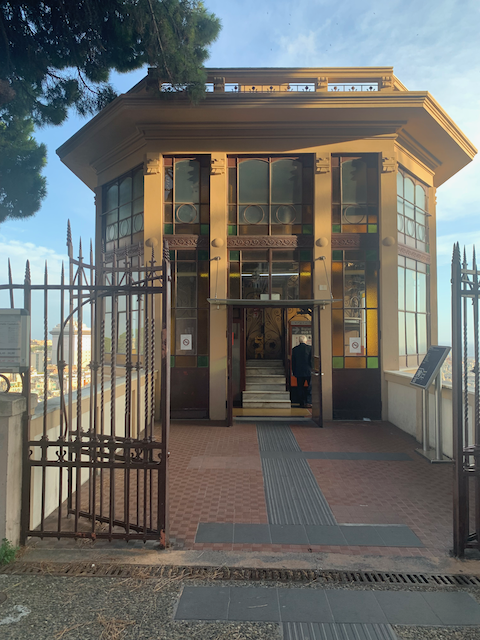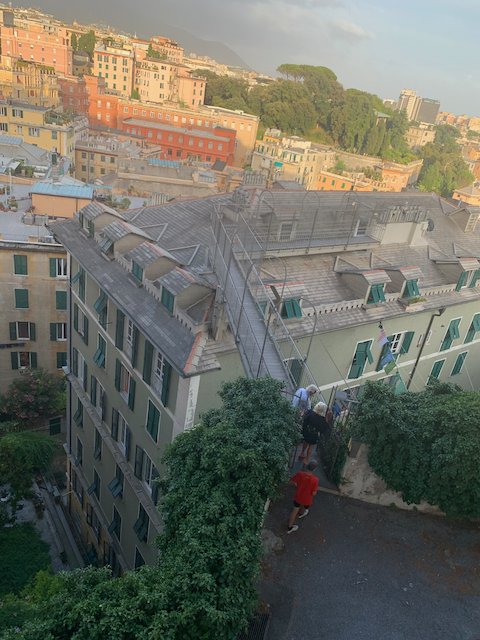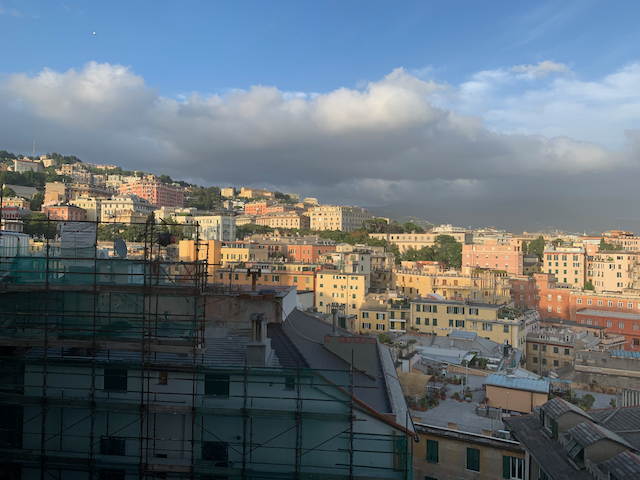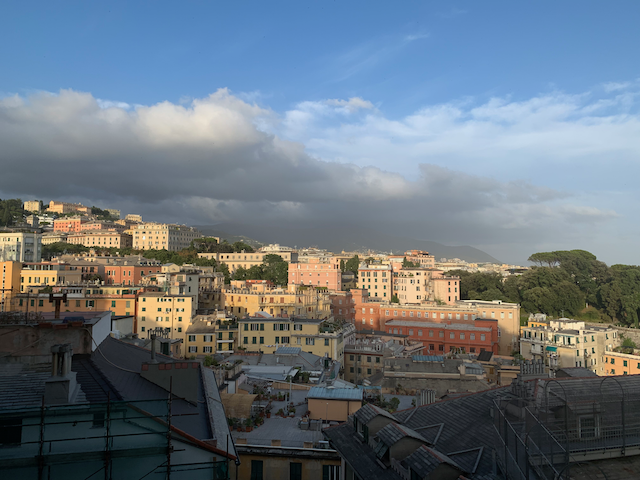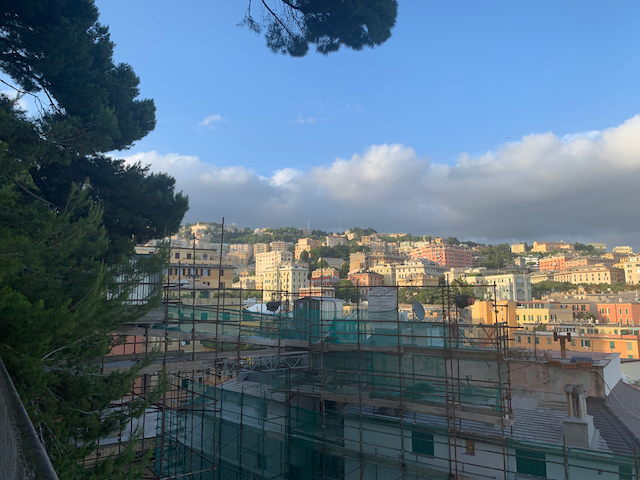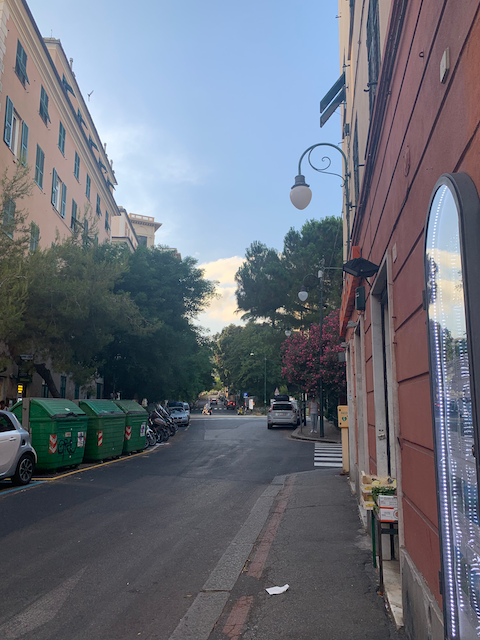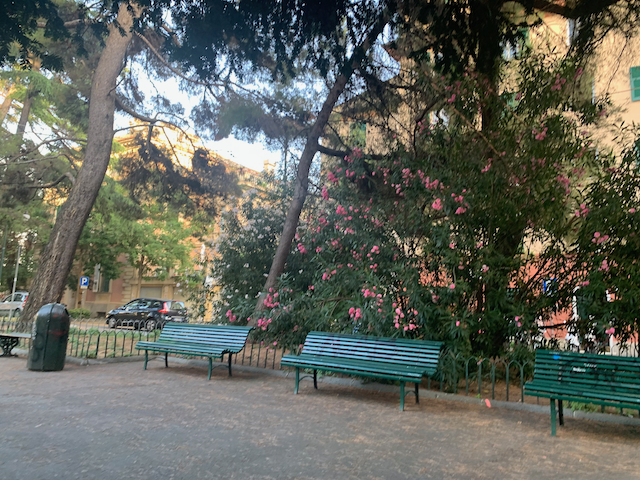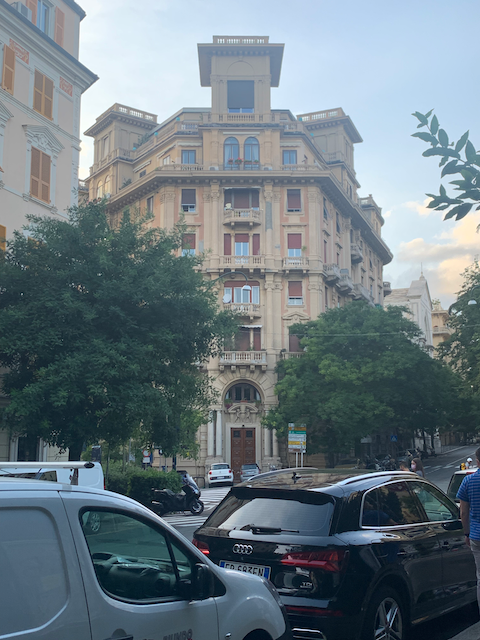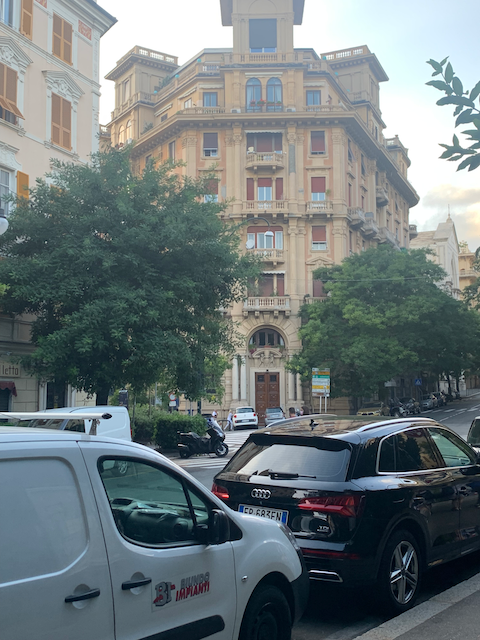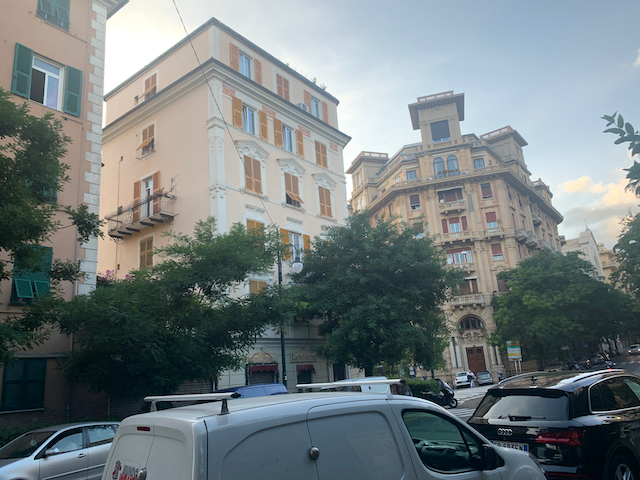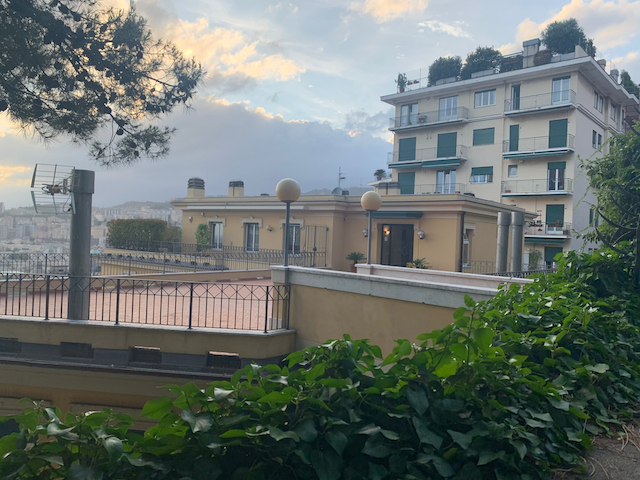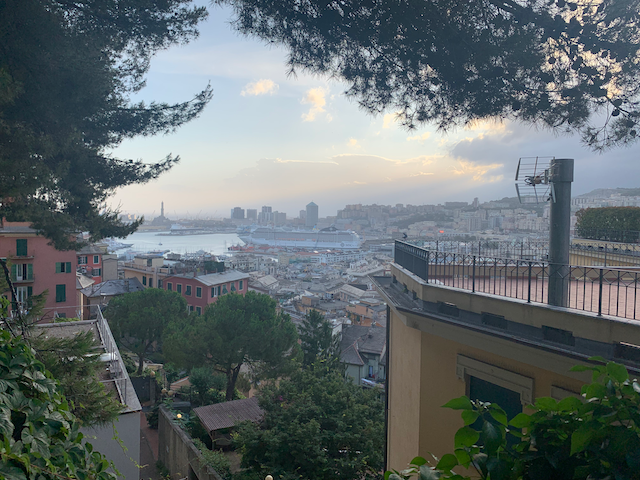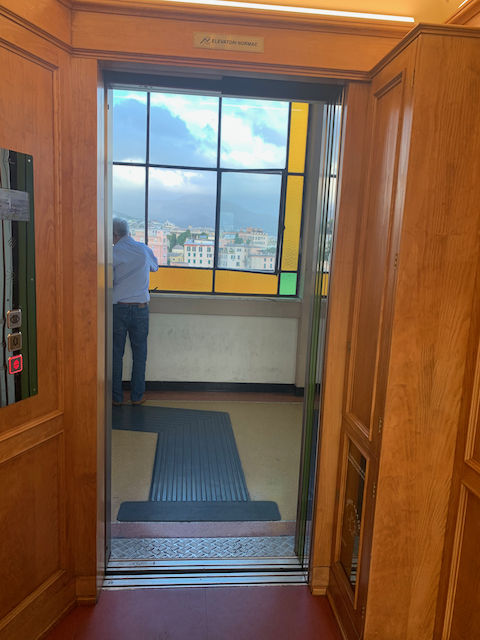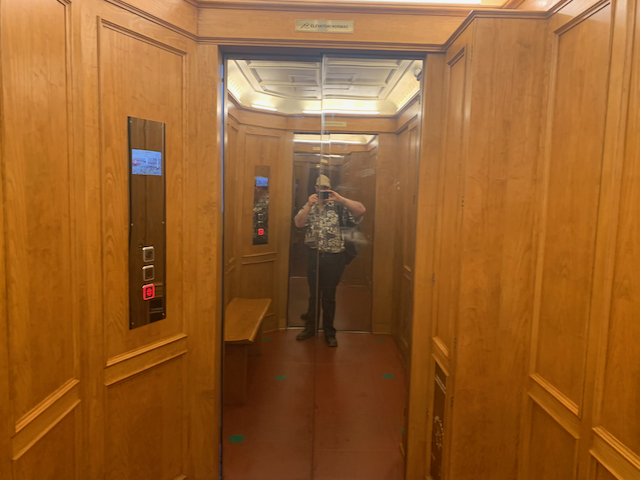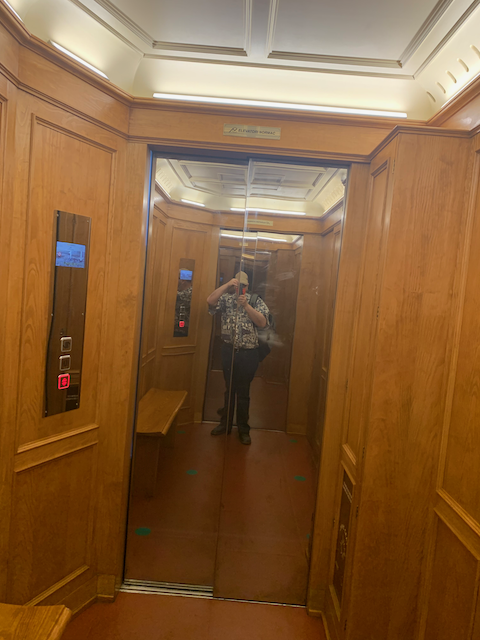 8:30 approached and dinner was as hand so around the corner from the Castelletto elevator was La Rune. For my dinner companion with the tourist advice, I thank Diane Cerra who recommended Trattoria Rosmarino. Now I can return the favor and heartily recommend La Rune. La Rune is extra-ordinarily friendly restaurant serving contemporary Genoan cuisine but with its obligatory Pesto with green beans (but no potatoes) and a few other Genoan dishes.
I walked in and I no sooner said I hav e a reservation for a table for 1 than the waiter said to me immediately "Ah Jonathan! Benvenuto!" He seemed extremely happy to see me, which was a wonderful feeling after being alone the entire day.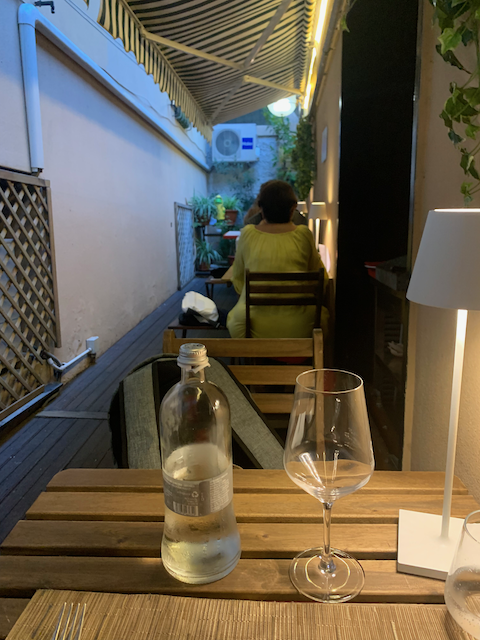 His colleague, a female waitress (the two were a team taking care of the restaurant) handed me the menu and told me she would be happy to explain anything (the menu was only in Italian). The man came to take my order and I asked "What is this?" I pointed to the first item in the appetizers which had no word in Italian, except Rucola, I could recognize. The man exploded with enthusiasm, oh that is fantastic that is the really our specialty of the day you really picked excellent dish." I didn't recall selecting it but he was so enthusiastic I could not resist. 
In taking my order I decided to have a glass of Prosecco to start and a bottle of the nice red wine and take the rest home. I did not recognize anything on the wine list and the waiter immediately suggested a Piedmont red, and shrugged at my suggestion a bottle and suggested a glass (for 5 euros) for me instead. I was touched with now something I see consistently on my travels in Italy and that is a restaurant's refusal to upsell you with your wine selection; and often offer cheaper alternatives—they like to push their house wines at 4 euros a quartino (a ¼ of a liter, often 6-7 euros for the half liter)
The waiter came to the table and opened a fresh bottle of Prosecco for me. The Prosecco was from Trento, and it was truly an amazing Prosecco. The glass had bright citrus flavors and a middle palette of peaches and a very clean citrus finish.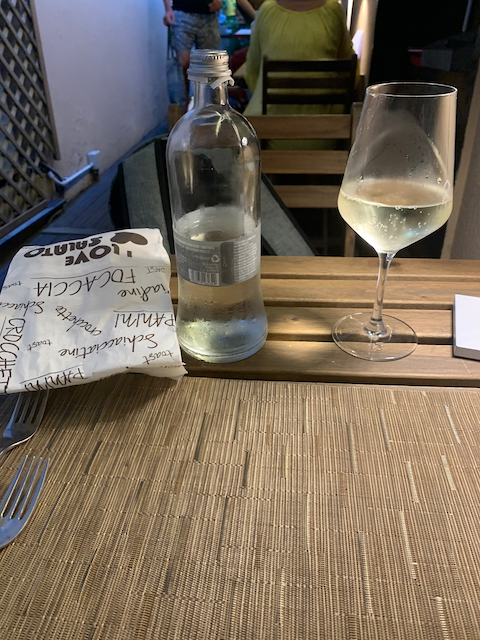 The fasona tartare was a very special steak tartare using special cattle from Piedmont (not Oakland) called fasona. It was not a French steak tartare it was hardly spiced at all, and sitting atop a delicate pastry-like pancake, you could savor the sweet and mild flavor of the beef. IT was sprinkled with a aged cheese I had never heard of and a sprinkle of Rucola and a very light touch of olive oil. It was the most lovely tartare I had ever eaten. Subtle and the taste of the meet was truly sweet—not in the sugar sense of the word but extraordinarily pleasant on the palette. As an appetizer it was nevertheless the most expensive item on the menu at 14 euros.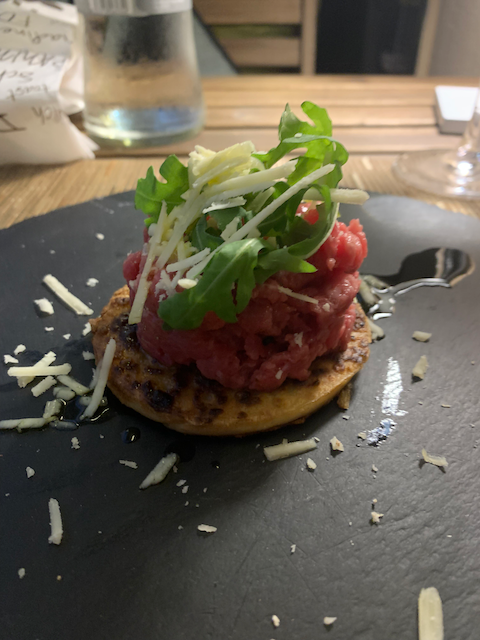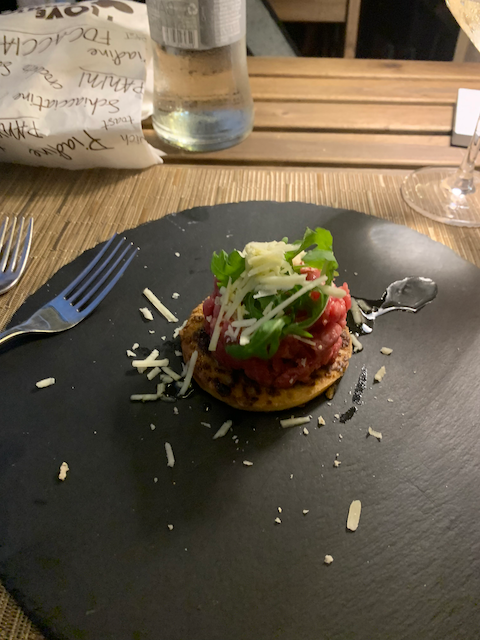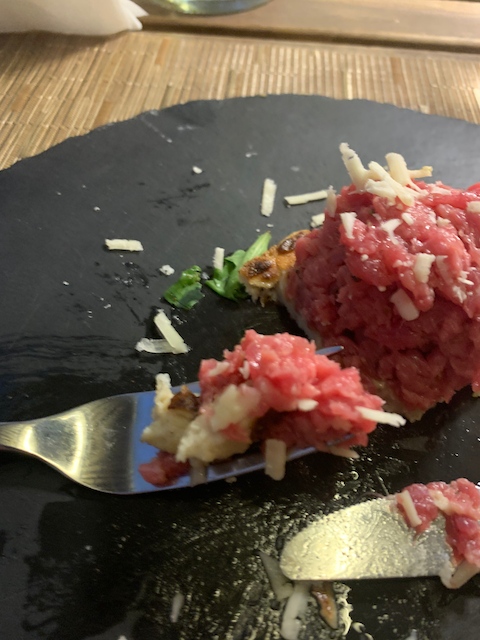 The next course was a seafood risotto. I was advised that the Ligurians like their risotto "all'onde" which meant it was extra soupy or watery. Well, that was a terrible simplified description. When I have usually had risotto, the dish is a whole the cream of the broth adheres to the risotto like a porridge for lack of a more delicate term. Here, the risotto was in an identifiable sauce. The al dente rice swam comfortable in a sauce that was distinct and so delicious I think it was the best seafood risotto I ever had and liken it to a more delicate version of the French Soupe de Poisson you could get just a few 100 kilometers east in Nice. 
All'onde isotto, you can see the sauce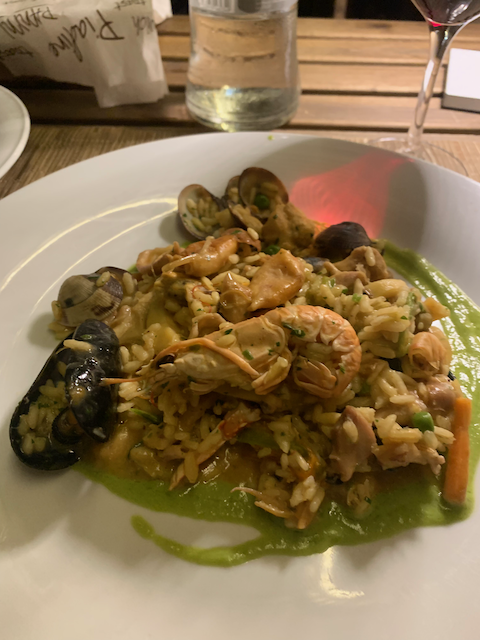 You can see the risotto sauce throughout instead of a more congealed entirety.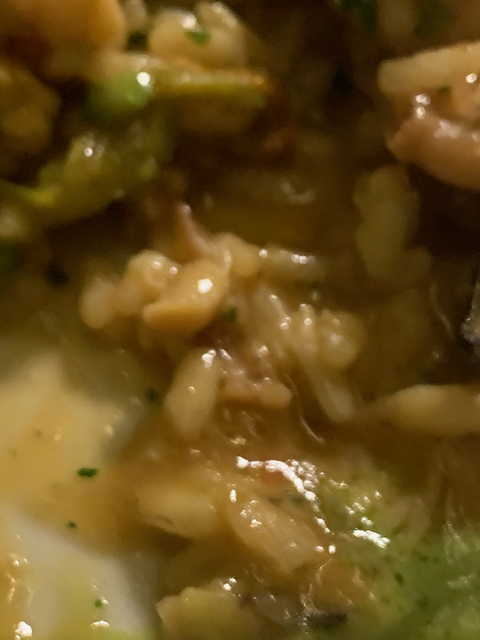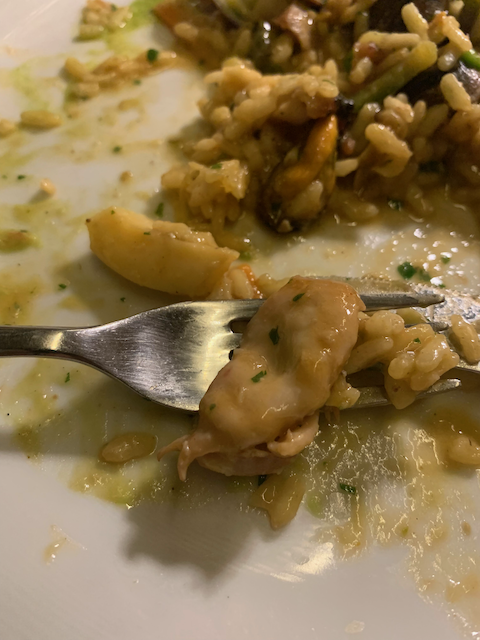 There were no prisoners.
I told the waiter I suspected I would be too full for a second course but would finish he risotto and see. He brought me the menu after the risotto and kindly prompted if I wanted to continue the meal with main course or a desert. 
I chose a desert called Semifreddo di pan dolce di Genoa with chinato caramel. Again the waiter almost shouted, "Fantastic! You have picked our specialty!"
What came were three little balls of ambrosia.  The Semifreddo is a Ligurian cross between gelato and whipped cream (very low calorie). Pan dolce, crumbled into it, is a sort of dense panettone served in Liguria during Christmas. The chinato caramel is a caramel made with an intense red kind of vermouth from Piemonte and with a rich wonderful flavor I would love to try and replicate at home.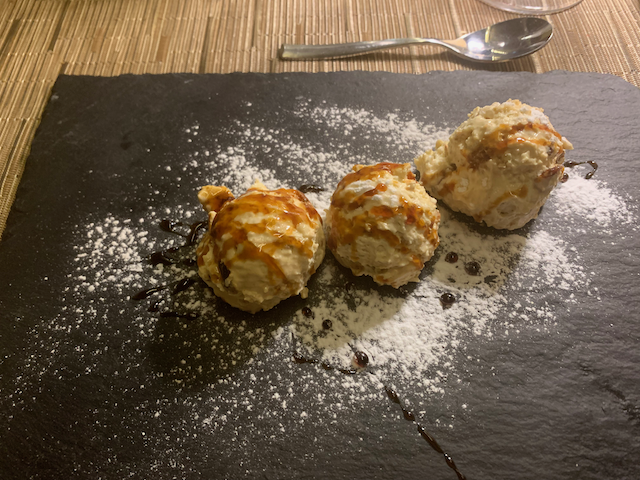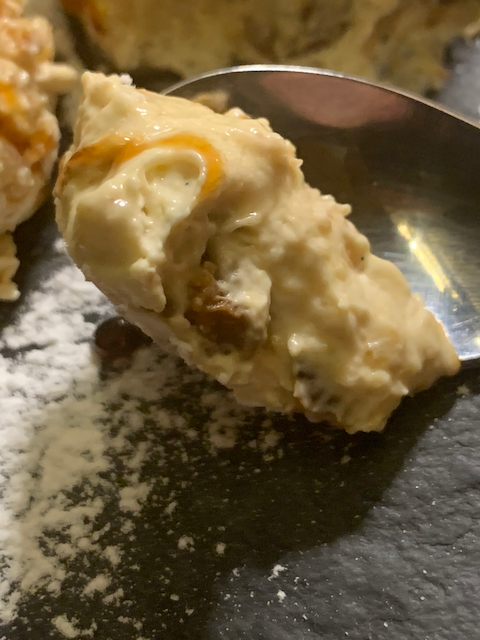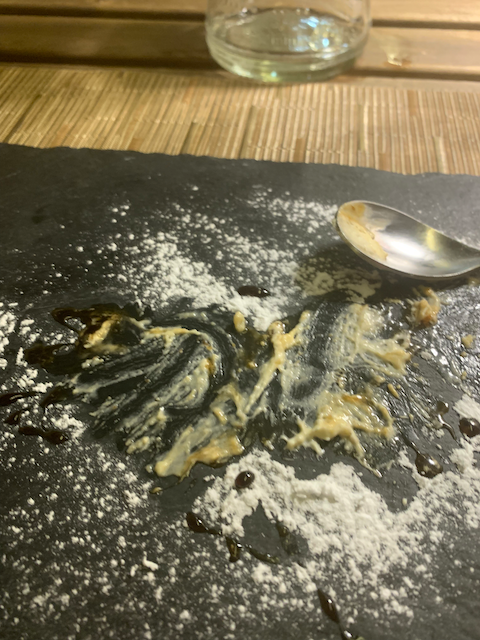 Fully satisfied, I had a great meal and just loved the charming walk back to my hotel with the city almost in sleep as the last of the late night diners and denizens of the few late night bars walked the streets.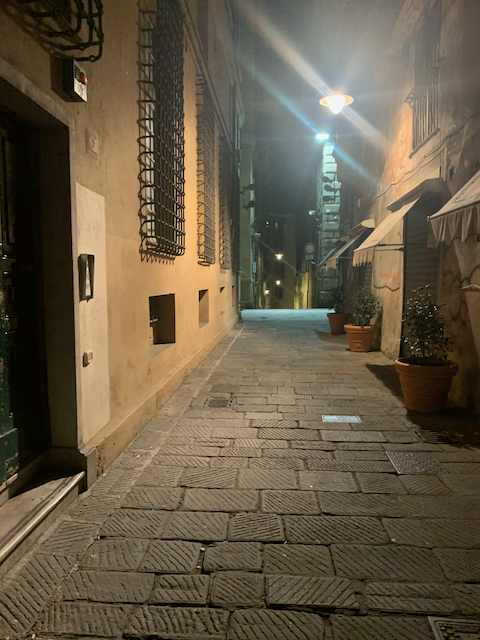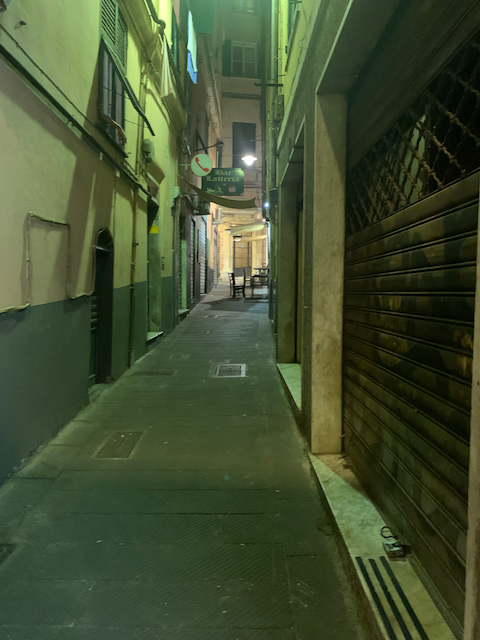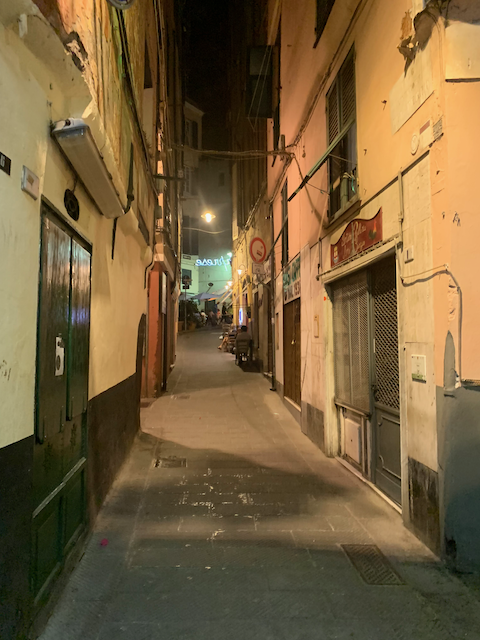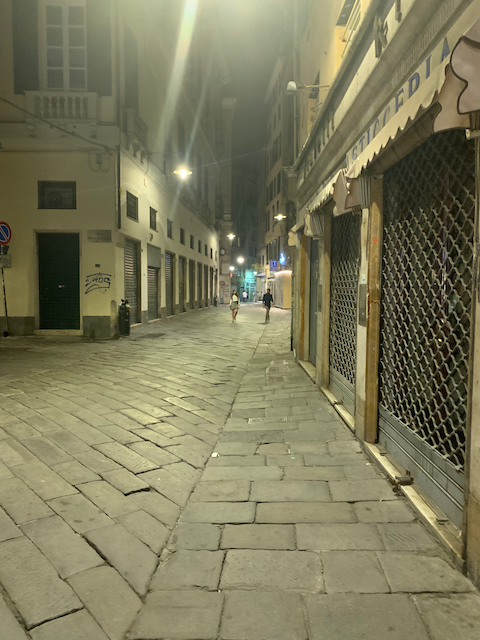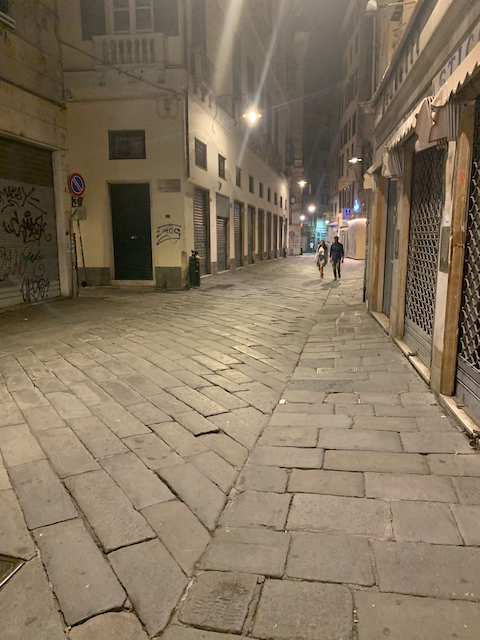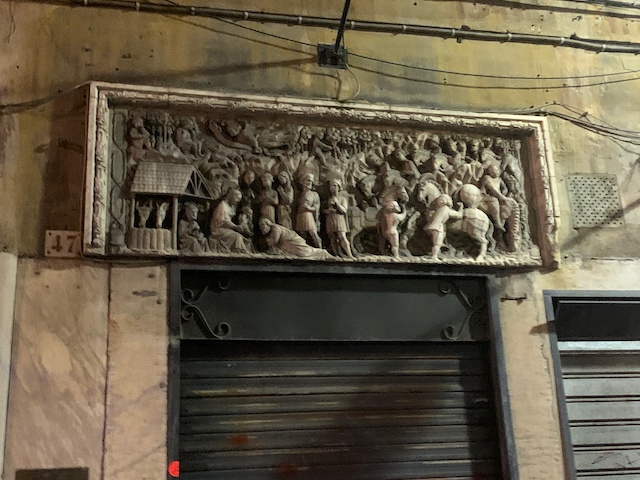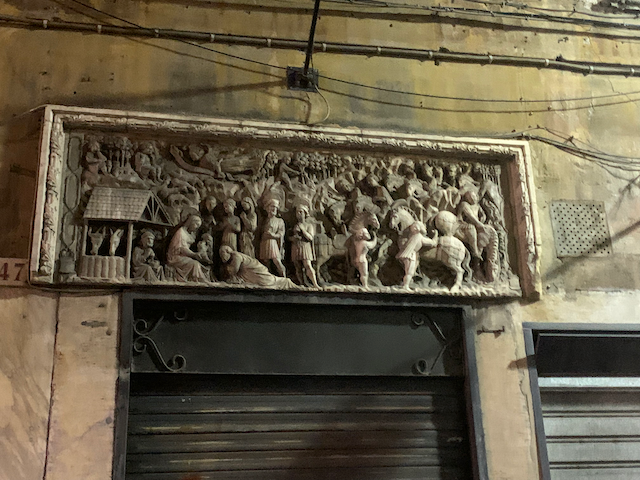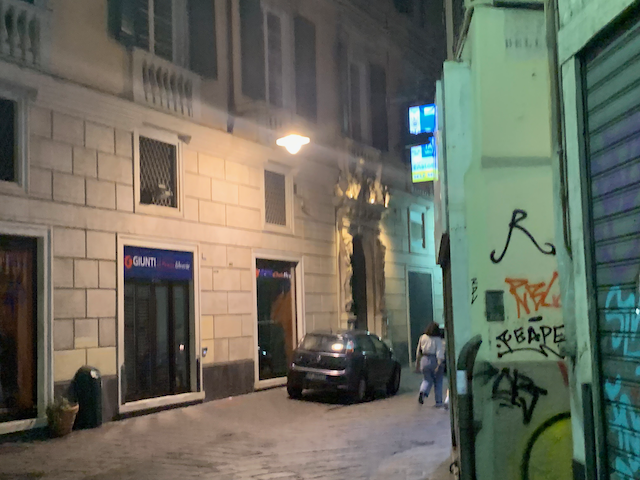 The Genoan version of an all night store.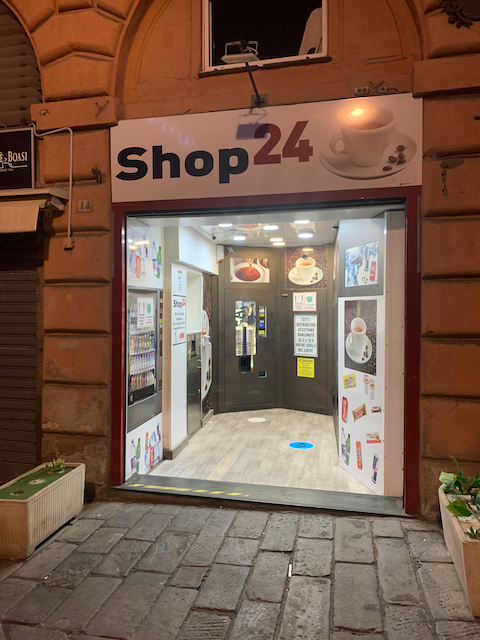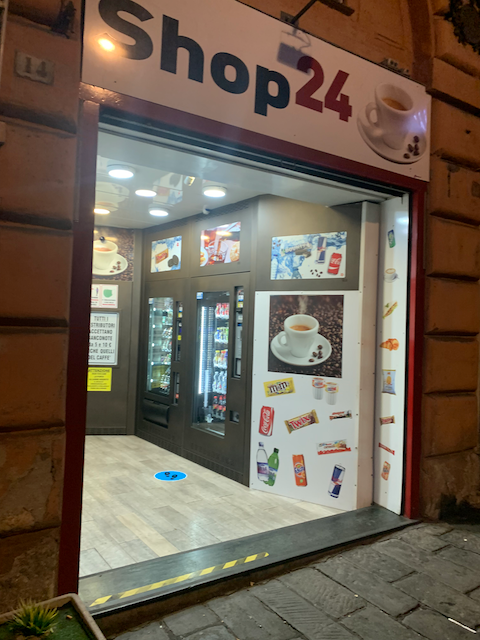 The busy port side stores empty at night.