I decided I would do the shopping for flowers myself. What a lark! What a plunge! Today I have to get a nice dinner ready for Minne and the girls when they arrive at 7 or 8 pm tonight. They think it is late but it is actually standard dinner time for the Italians (actually 8:30 is more like it). So I wan in the unenviable position of looking for the best focaccia bread in Genoa. I already knew the answer from my friend from Rosmarino, he told me. So off I went and it was again another beautiful walk. It was along a street that is a UNESCO heritage site as it is chock full of baroque palaces. But the streets is so narrow you can't take pictures of the facades. And the most beautiful entrance way is a Deutsche Bank!. Any way my travels took me to the bakery I was recommended: Il Forno del Ghia. So I needed to hit all the basics, so I went there for everything for dinner. The woman behind the counter became increasingly delighted by my order in my broken italian: focaccia and focaccia pomodoro (with fresh tomatoes not tomato paste) were the standards but when I went on to the torta di vedure, focaccio di recco and then farinata, she ended my order with: Bravissimo! No way did I cover everything as they had a bewildering variety of focaccia: with olives, onions, dried tomatoes from Puglia, something that looked like a glorified pizza, etc. And bread, and …
After this horrific endeavor, I was then forced—you all are going to pity me here—I was then forced to have to trudge my way through the dreaded Mercato Orietnale (which only means the east side of the city not oriental or eastern foods of which there are none, unless you call the Orecchiette from Bari, oriental. Not even a Turkish fig.). This market with its endless stalls, and cheeses, and meat and vegetables that make you drool …. Well you get the idea: suffering. 
Interestingly enough the first thing i found was the basil. And i was told they would never sell large leaf basil only small leaves for pesto. Large leaves are for–imagine contemptuous tone here: pizza.
I found some beautiful tomatoes [the kind I only find in italy (and an occasional one off in the heirloom tomato bin in Rainbow grocery)], hand made pansotti and gnocchi freschi, sage for butter (oops forgot butter) for the pansotti (tomorrow we are at a cooking school to learn salsa di nice so skipping it tonight—I mention this not to get struck down by the food gods for not adding the salsa di once to the pansotti, okay, we're copacetic?). And I apologize for this loud hum in the background it is a very loud air conditioner. Where was I? Stacchino cheese, pine nuts from Liguria (to take back home), prosciutto and mozzarella for Sarah and a roasted chicken. Sorry I have to put on some music to cover this noise excuse me….sorry that took so long (note the extra dot) I was thirsty. Pansotti is not the former SF opera director that is Luisotti.
Interesting thing happened when I went to the Mercato Orientale. I missed the street and was aggressively accosted by a beggar almost threatening (Italian or eastern european its hard to tell when they are aggressive). I realized I had to go back and I saw this same person more gently approaching others. And I realized I was getting this special treatment because I reacted vulnerably. So he came towards me aggressively again. This time, I slowed my steps and made no eye contact. It was a little intimidating but the square was full what as he going to do? He was about to step right in front of me and then thought better of it at the last moment and I slowly continued my gait. Street smarts is always valid everywhere.
I am going to get lunch—a presto……………
I am just back from lunch, pesto of course and a mixed salad. I saw when I came home I left the prosciutto out so before putting it away I decided to taste it to make sure it was still good. I have to say I did not know what I bought, except it was prosciutto crude and it was biologica—organic. But I tasted it and it was so heavenly, I never get so much flavor, sweetness and melt in your mouth consistency. I should tell you a little bit about this stall. They had all natural products and ancient Genoan foods. I started with the prosciutto and ordered too much because I didn't get my metric measurements back—I got 2 ettti which I thought was a 1/4 of pound—close it was ⅕ of a kilo! But my gosh is it delicious. Then she gave me a 100 grams of handmade butter. Then a salami, but it really threw me: it was tuna salami. Because he fisherman would cut the tuna away they could not sell and turn it into salami. I also got their local pecorino but they called it something else. And then she told me she would take off 2 euros because the ends of the salami are too dry to really eat. Why are people being so nice to me?–well beggars notwithstanding.
All in all for he entire escape I took about the same amount of money I would take to the farmer's market in San Francisco—and all that rich wonderful food was half the price of my market shopping in San Francisco.
All right now nap time and away the family..,… hope you don't mind the comma back there. Last note did you eat the stanchion? I can't find it anywhere.
And now in no particular order the photos …. ,,,,,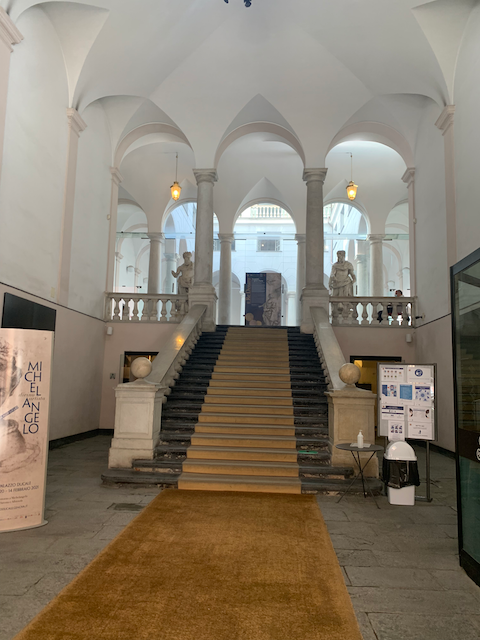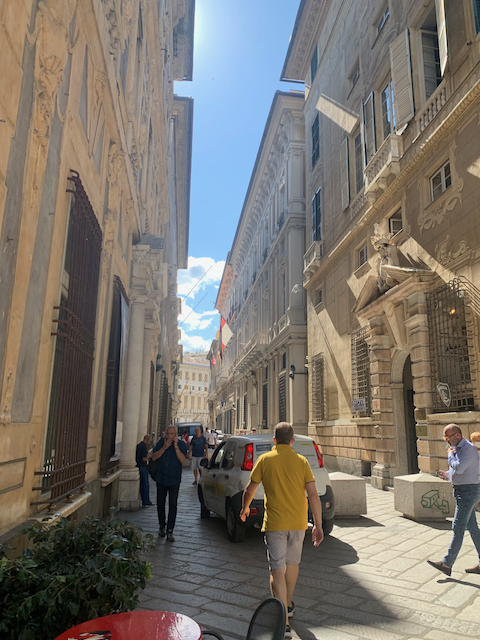 Deutsche bank: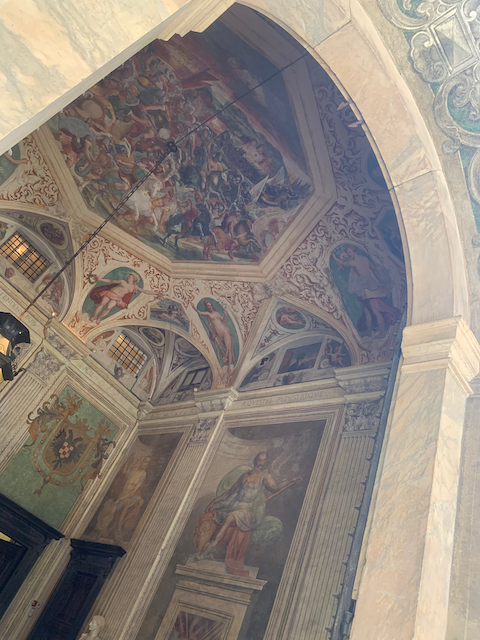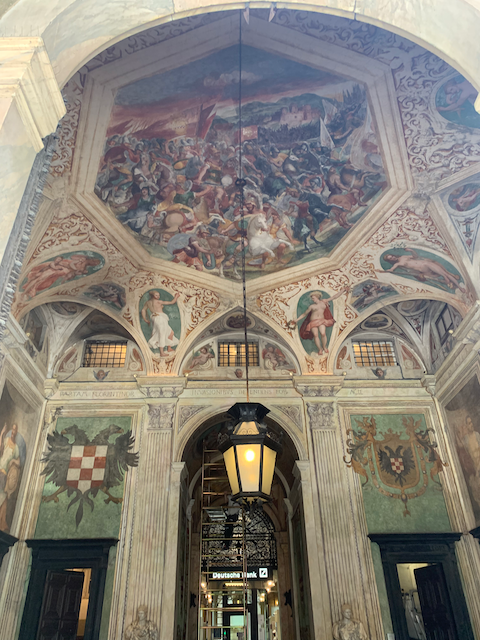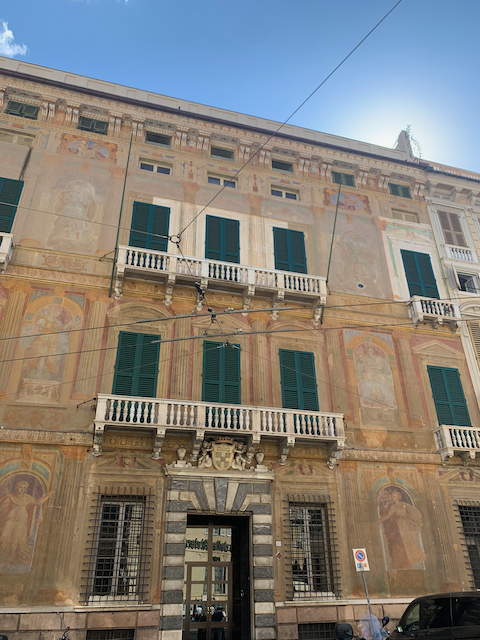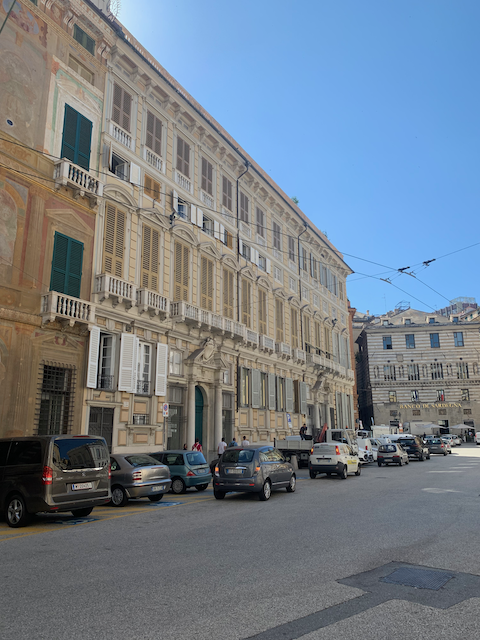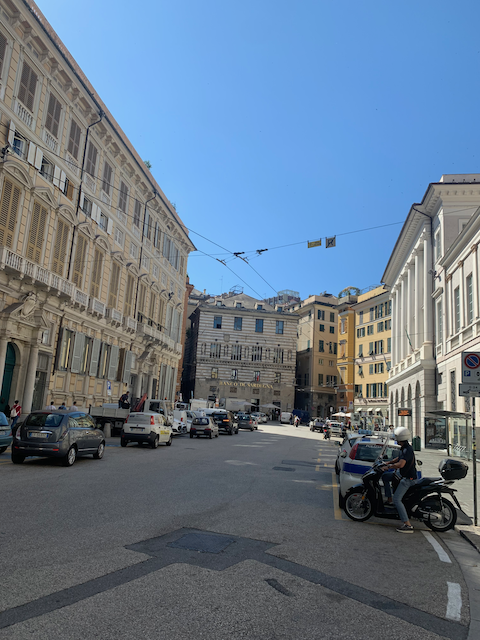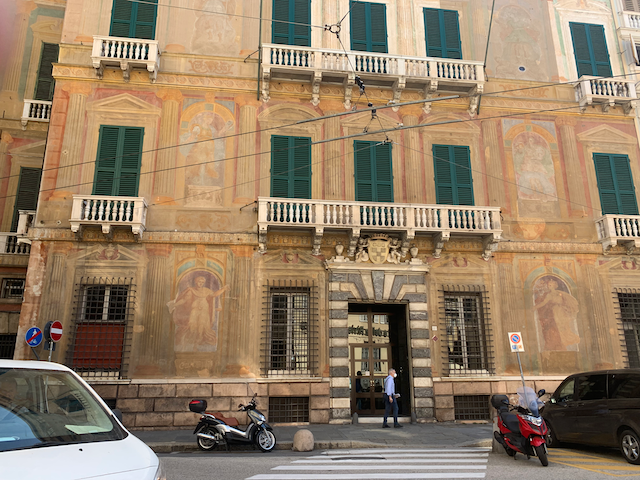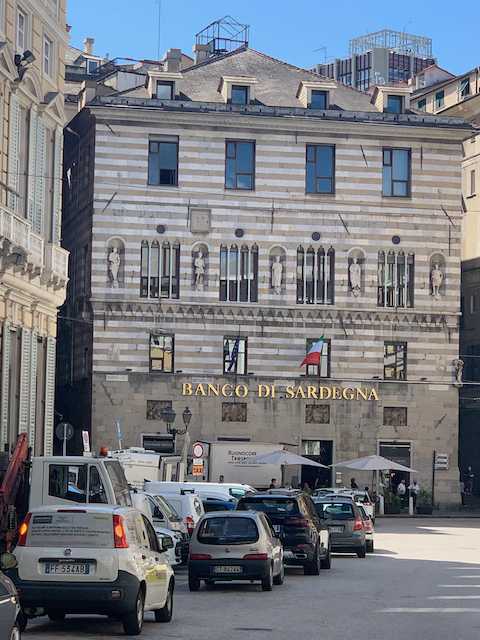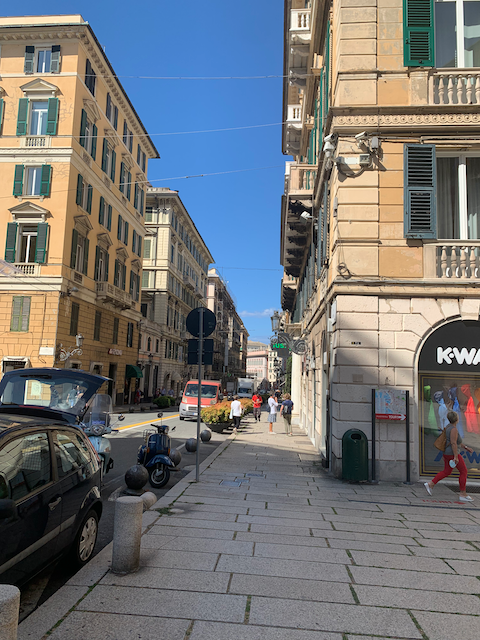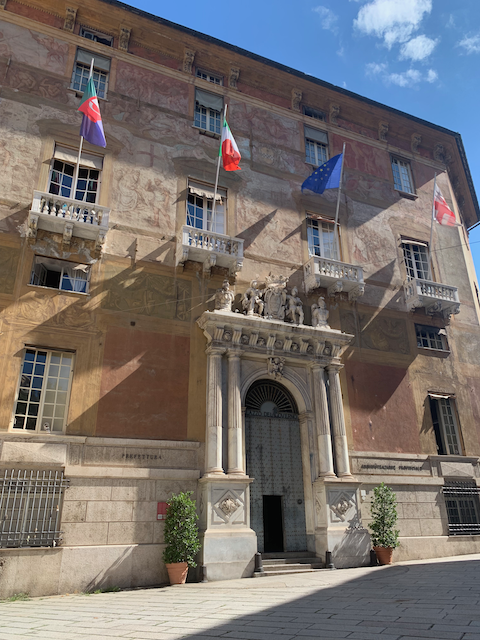 University of Genoa: "Connect to the future"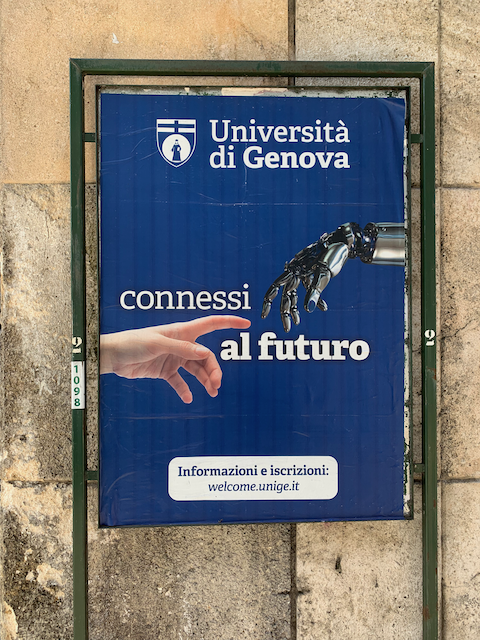 Go lost because of the notorious dual address system–I'd forgotten Diane warned me about this in Florence. Notice Number 33 is next to 97r (rosso)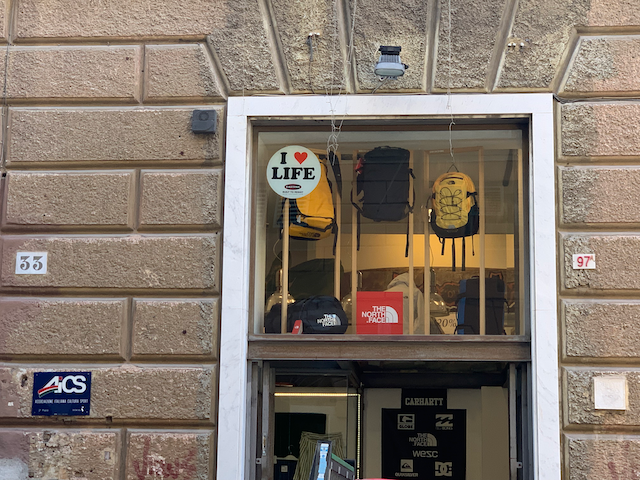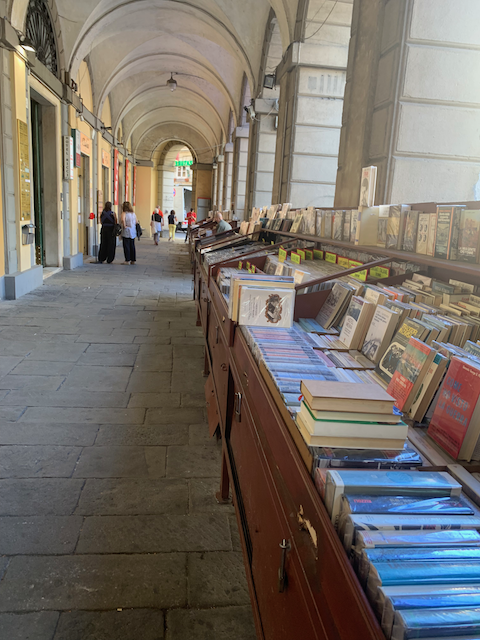 Ah Valhalla …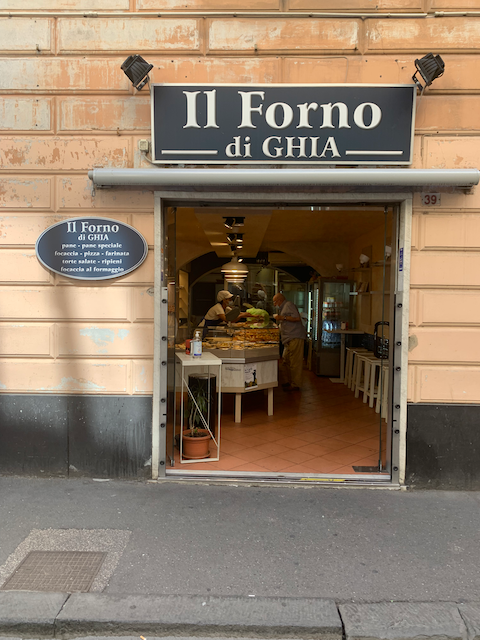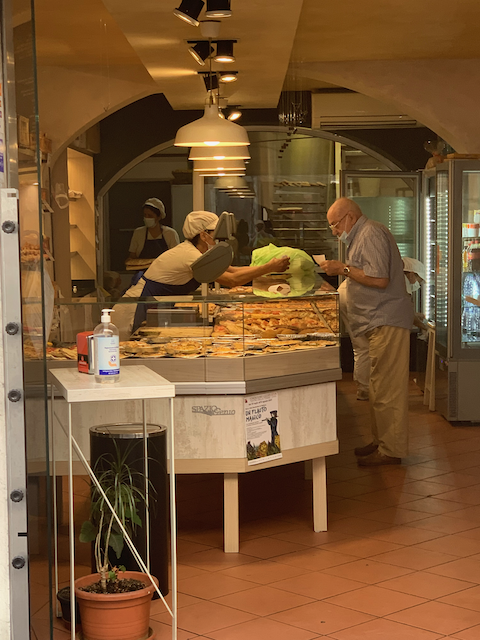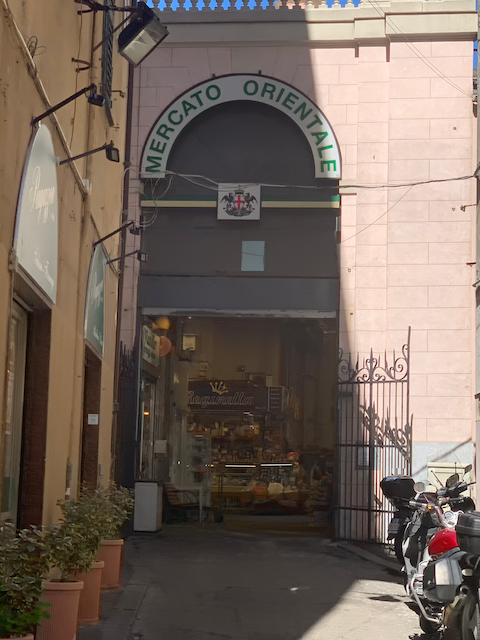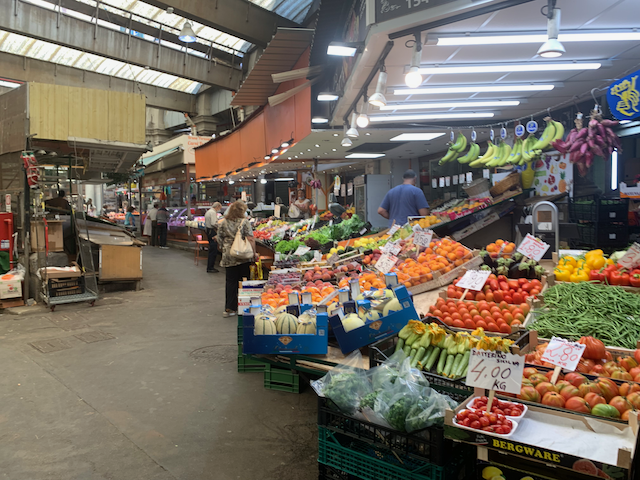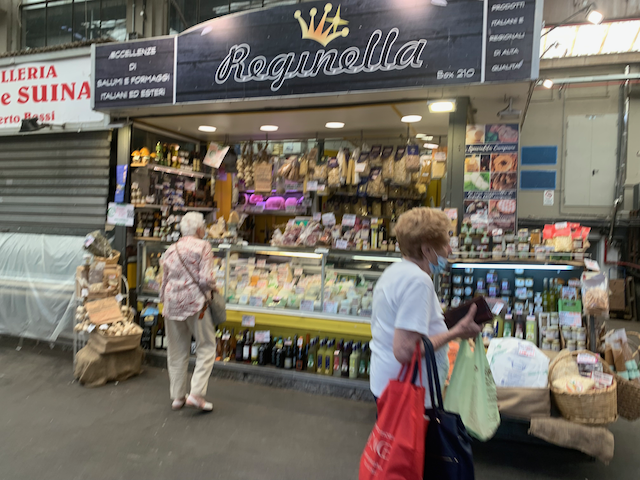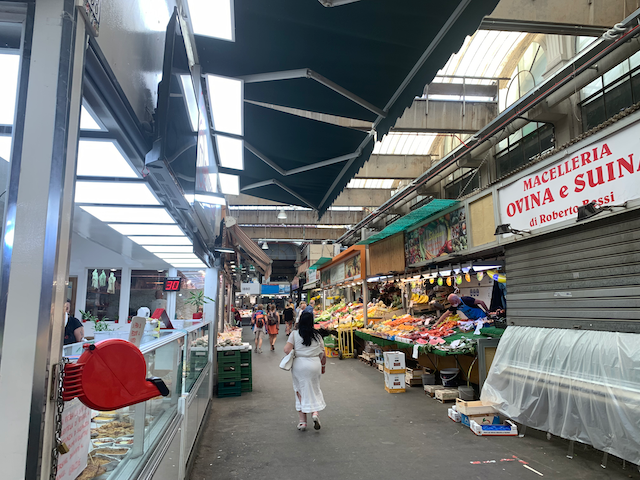 This is their food cort, like the second floor of Mercato Centrale in Florence. I left that for another day when I am with other people to enjoy.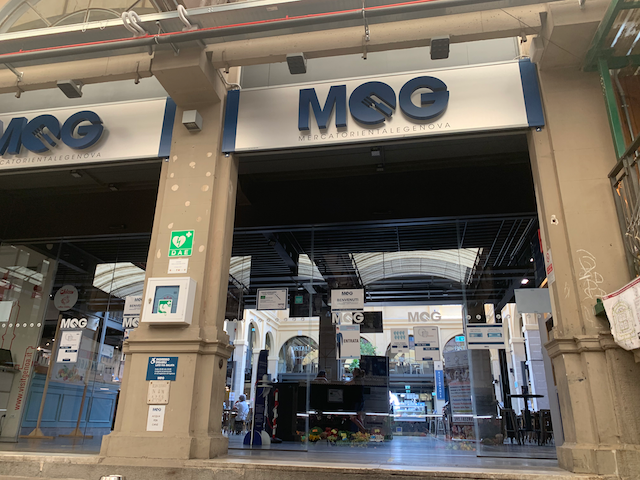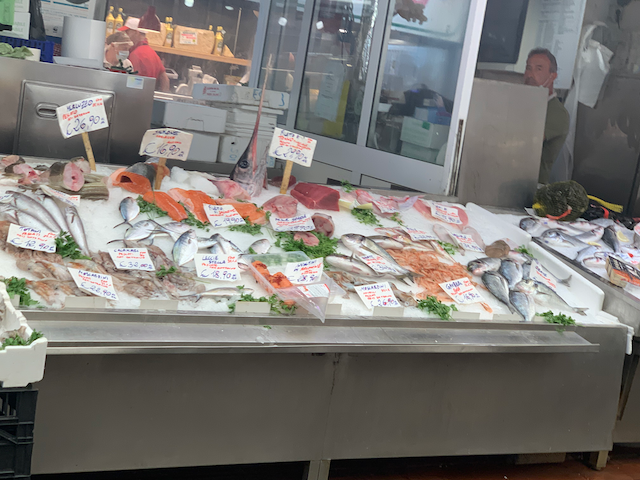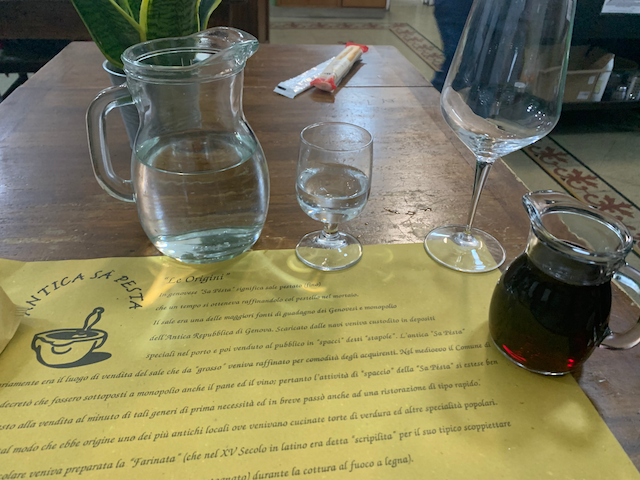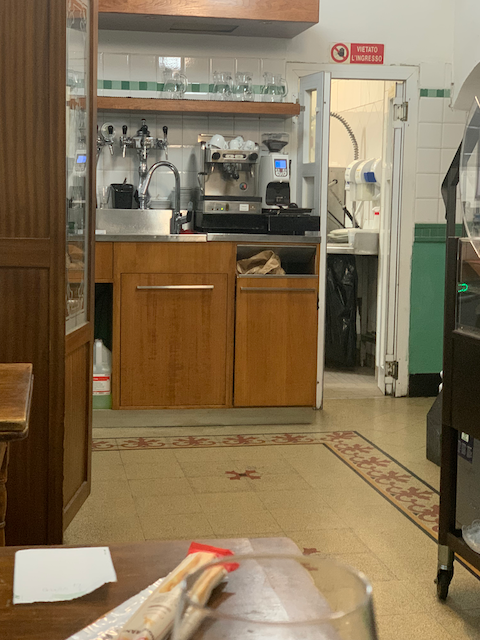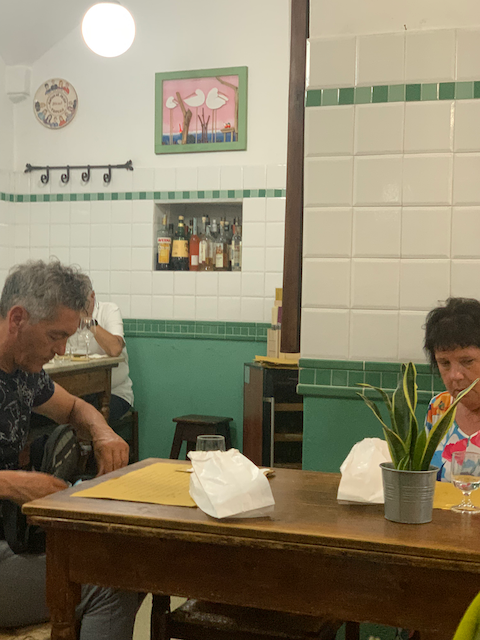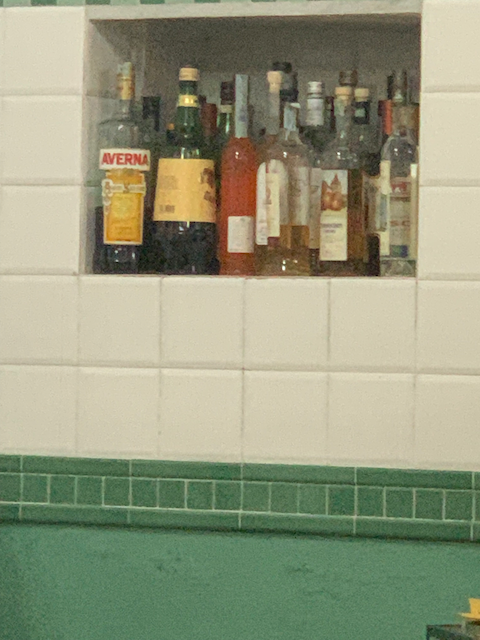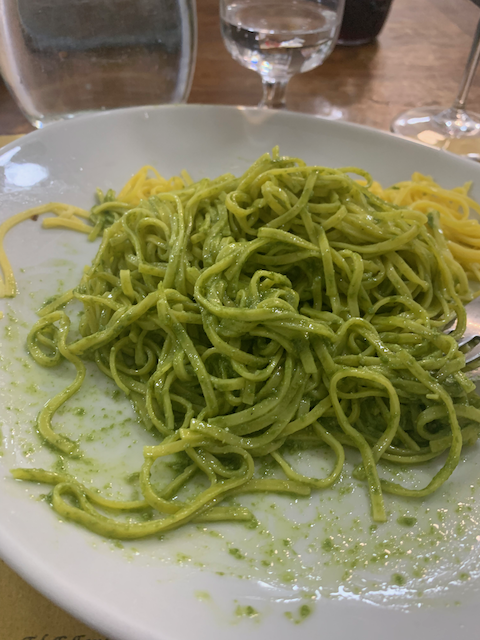 This pesto is much different that Rosmarino's less creamy looking (less cheese?) and thte basil is ground finer. The cook at La Rune, my dinner last night said never ever heat your pesto (add it cold to hot pasta) and if i add cream again he will come to my house and kill me.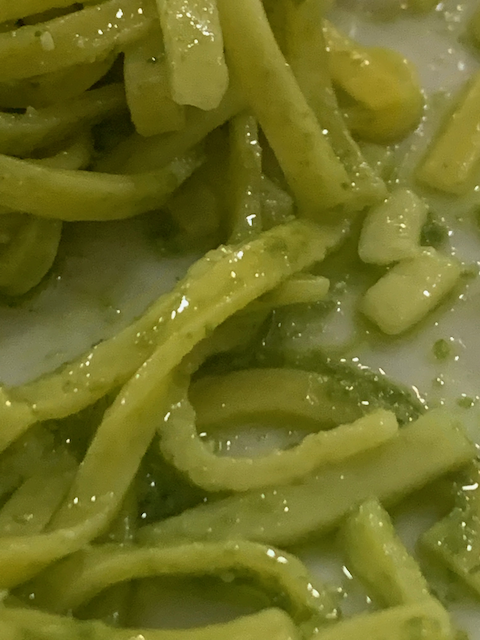 The covid practice of sanitizing tables between customers.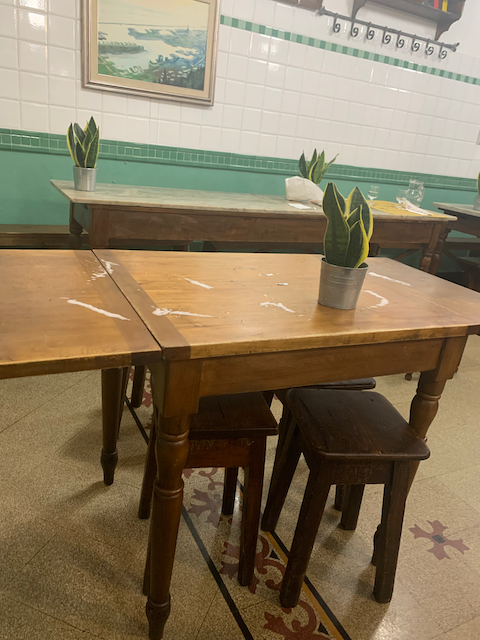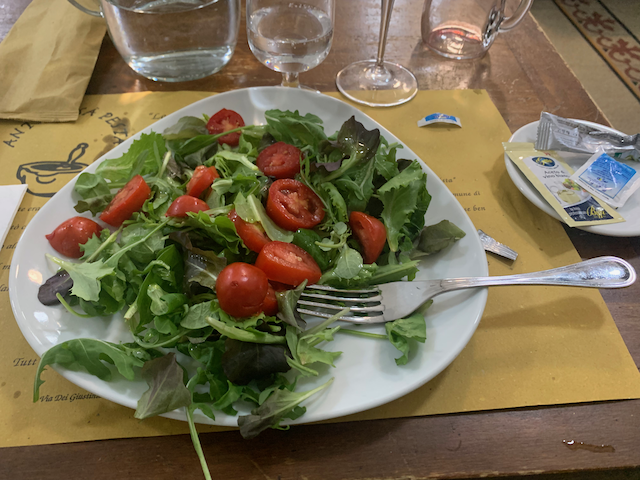 Post script: it might take a day or so but i will reply to all comments–except from Russian Trolls.