Genoa is incredibly! But it was not off to a good start. I arrived in Genoa Piazza Principe station. I took two metro stops to the new AirBNB but there was no up escalator only two escalators going down. I did not want to go up those steep steps with two bags, pne of which weighed about 50 pounds. So I saw an elevator. And I pushed the elevator and I saw a troubling sign: a picture sign with no words encouraging people not to use the elevator as a toilet. This was not promising. Even less promising is when the narrow elevator did open there were already 2 people in it of disheveled immigrant descent. They were not getting out (and it was only two floors to the elevator). They were encouraging me to come in and it was perfectly normal to get in with two rough looking people with your bags. I politely declined. I carried these massive bags up the stairs, I then went to the apartment I was staying but  I could not find the street I was going back and forth on a cobble stone street with heavy bags and unable to find the street. Because the street actually had a different name. I was furious and frustrated. 
But I forced myself to go out, and I was so glad I did. I was not prepared for the magical city of Genoa.
Just trudging along trying to find the restaurant (allegedly 8 minute away) I saw this: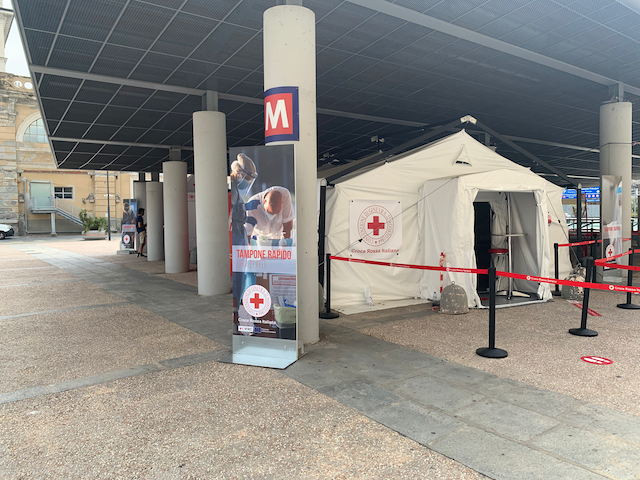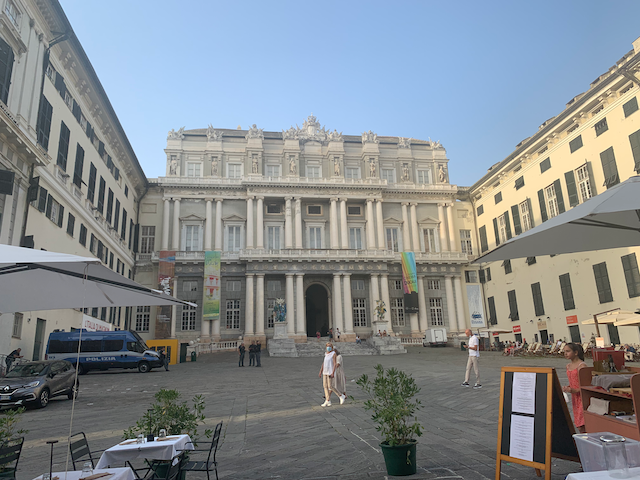 Then I made it to the restaurant. Diane highly recommended Trattoria Rosmarino so I went. Out door seating was booked but a seat in the sweltering indoors was available so I took it. Strange but the sweltering seemed to disappear without any clear air conditioning.
Across from Mystic table was a rather portly man, who I thought was many years my junior. The waitress brought me a bottle of sparking water and I accidentally poured it into the wine glass. "Wishful thinking" I quipped and the man laughed but responded in italian. I ordered the triofie pesto (of course) and a caesar salad that's was made with rabbit instead of chicken—apparently the caesar salad in Genoa is always made with chicken. When the fat gent, whose name was Vincenzo, got his meal he ordered the daily special which before he ate it gave me a little lecture on what it was: A type of spaghetti with anchovies (fresh not canned or under salt) with cherry tomatoes, black olives, and capers—but only the powder capers not actual fresh ones—and olive oil. I was worried his food was getting cold but he was glad to explain in english why this was such an amazing dish. The waiter came to agree. I then informed them this was my first time to genoa and I need to try the pesto and they all heartily agreed.
A breadbasket came next and it was filled with fresh baked bread and small squares of focaccia. Larry will be pleased to know the focaccia was surprisingly similar to the focaccia we made, but a little more delicate. The pesto was a surprise but not a surprise—it may look creamy but it has no cream the cheese would melt but not by heating the sauce directly that would damage the basil. So how did they do it? No idea. Why I said ti wasn't exactly a surprise, Minne and stopped in Genoa one night just for dinner and the pesto, I know recall, was very much like this.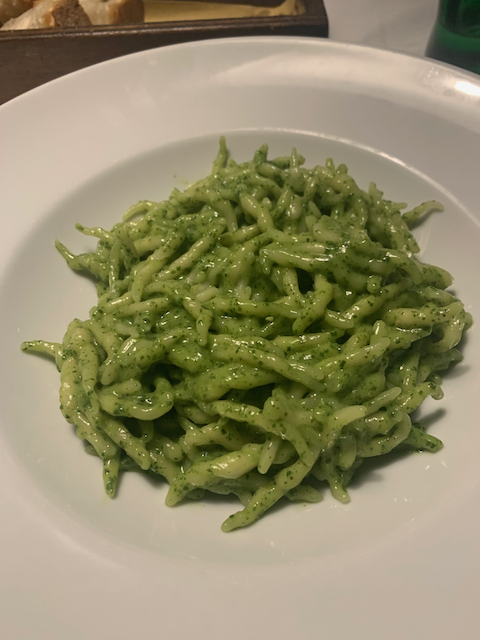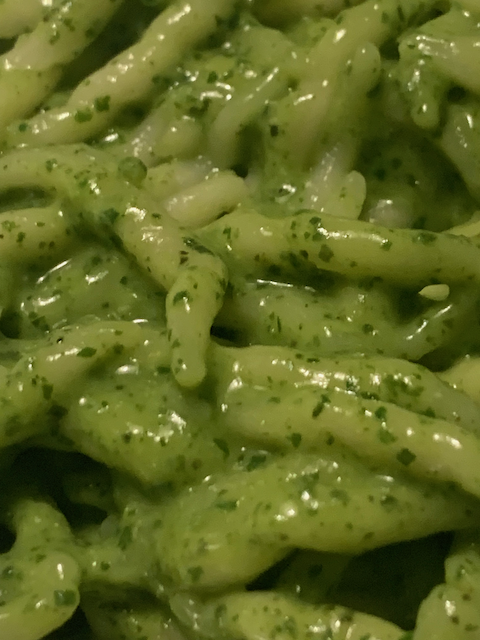 And here you can see I did not like this dish at all: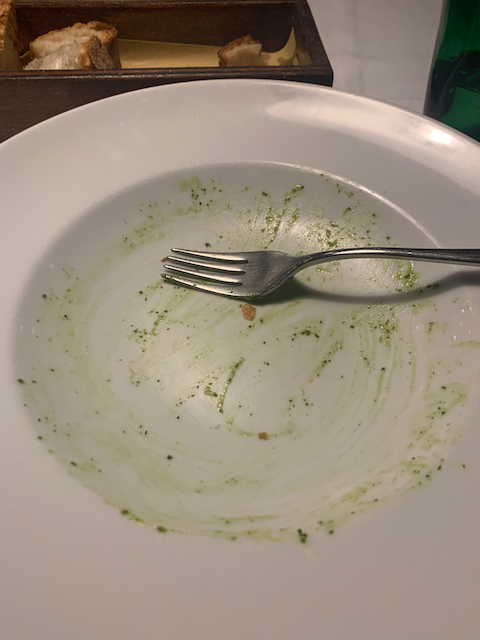 Thank the caesar salad through me for a loop. It was not salad in the dinner salad sense of the word but rather think of chicken salad. The dressing was soaking the rabbit and the lettuce but it was based on home made ingredients so it was surprisingly light despite what you see in the picture.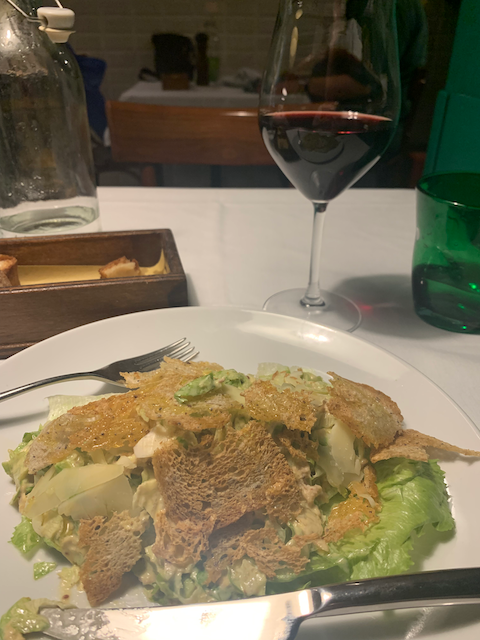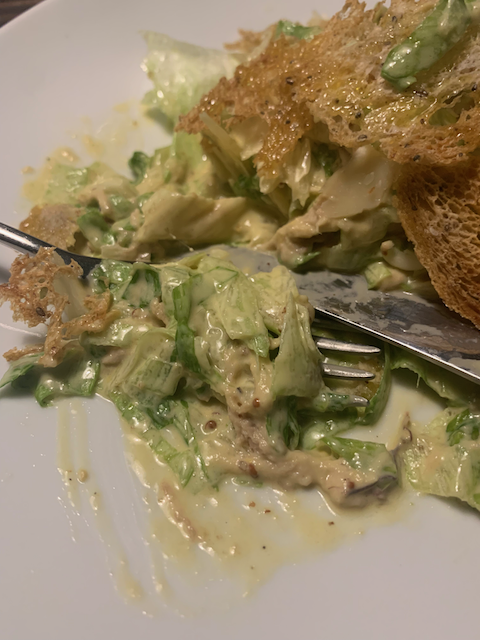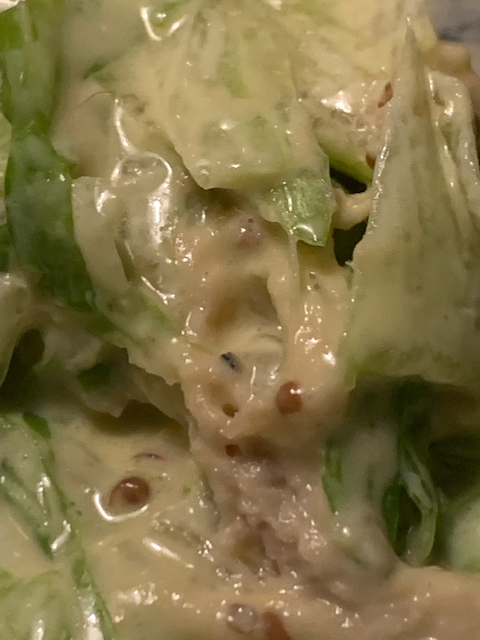 After dinner, Vincenzo and I spoke across our tables for about an hour. He giving me all sorts of tourist tips and background information. He was an extraordinarily sweet man and very giving of his time. It turns out he goes every Monday to Rosmarino for dinner. He works at a five star hotel in Santa Margherita as a manager . And it turns out he is almost the same age as I am.
The came the magical walk home and I will let the pictures speak for themselves since I have no idea what I was looking at: