My Last day in Italy for the summer! I will return in October/November to find my new home in Bologna. Early in the morning, Minne, Esther and I drove from Padua to Milano. Where I am staying at a very nice hotel. It took 3 hours to get there. Then Minne and Esther drove onwards home.  On the drive, outside of Milan, we came across this curious towering skyscraper in the middle of nowhere. No idea what it could be.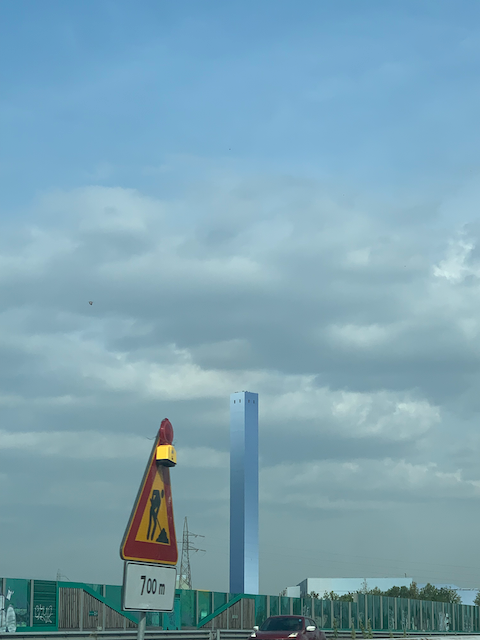 After settling into the room, I took the Hotel shuttle to the airport where I caught an express train to Milan Centrale. There, i took a metro to the Duomo.  I walked outside and voila!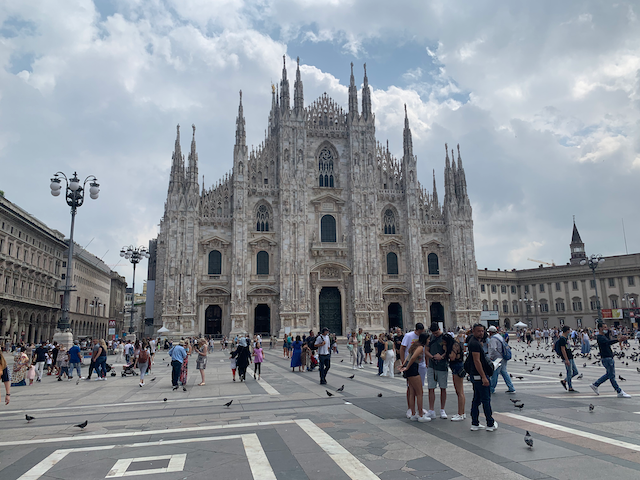 There were no more tickets to be had to go inside, so I'll have to wait another day. So I took a walk along a gallery and paid my respects to the Teatro alla Scala…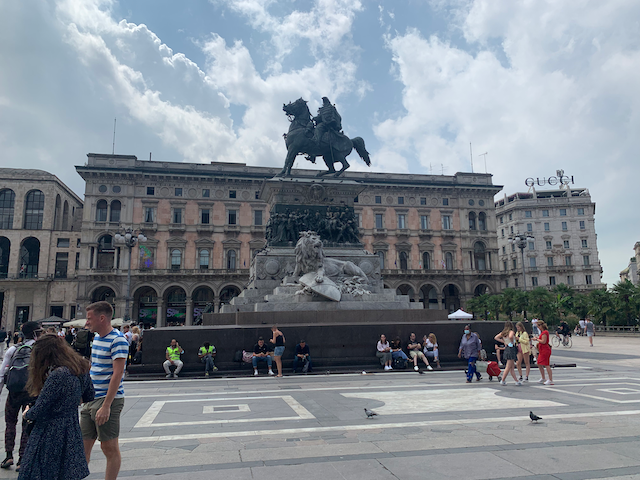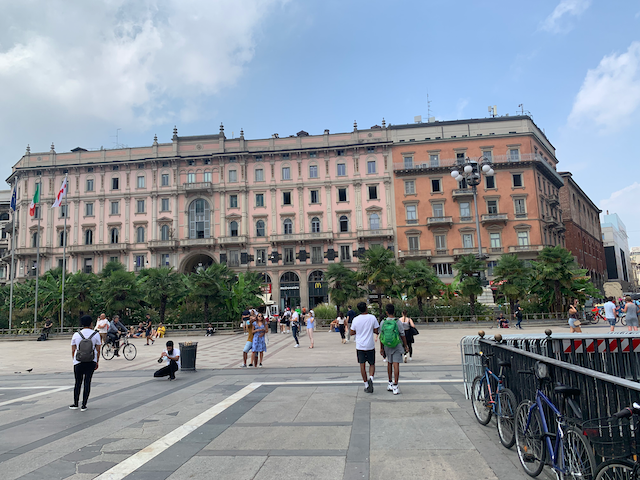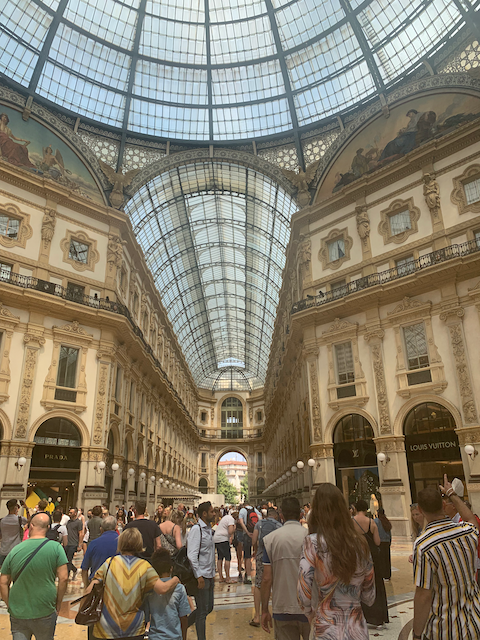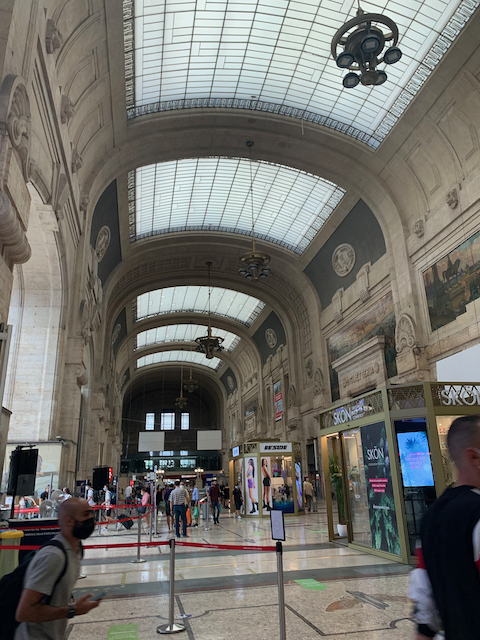 Eccola….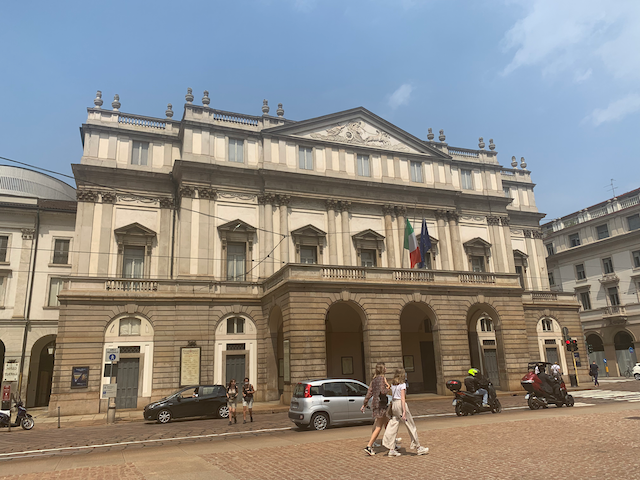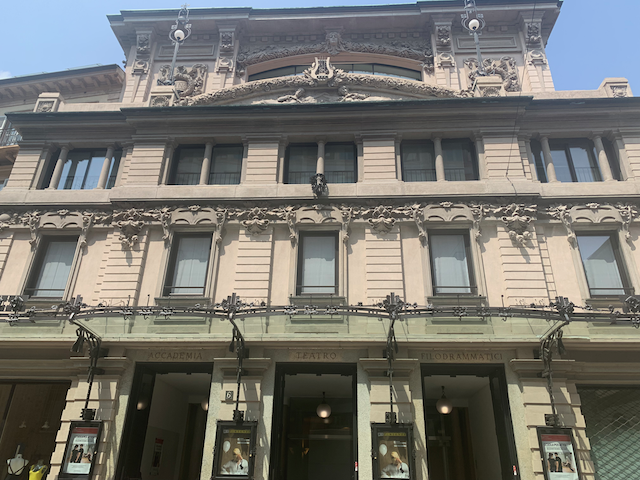 Time was of the essence so I needed to walk over to the Basilica Santa Maria di Grazie for my grand finale for this trip to italy: visiting The Last Supper by Leonardo da Vinci.
It started as a pleasant enough walk, despite being vey hot. The pace was noticeably much faster than any other city I had been in. In the extreme heat there were many younger and older men in business suits rushing to get lunch. Strange, but compared to me they didn't seem to be sweating at all.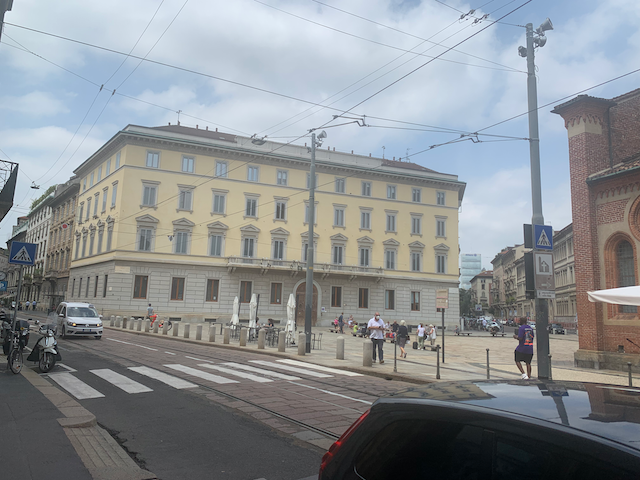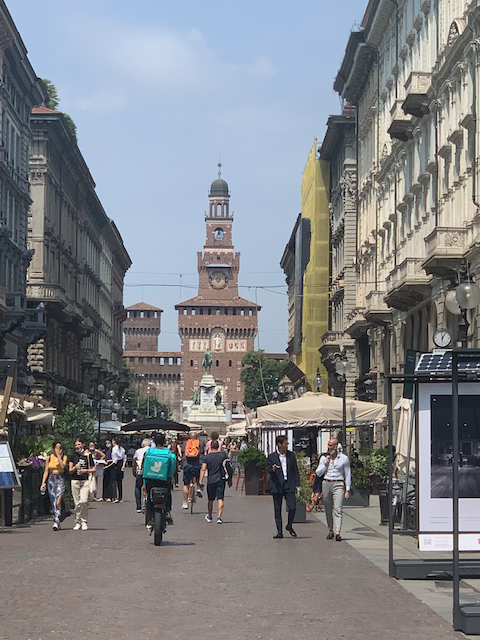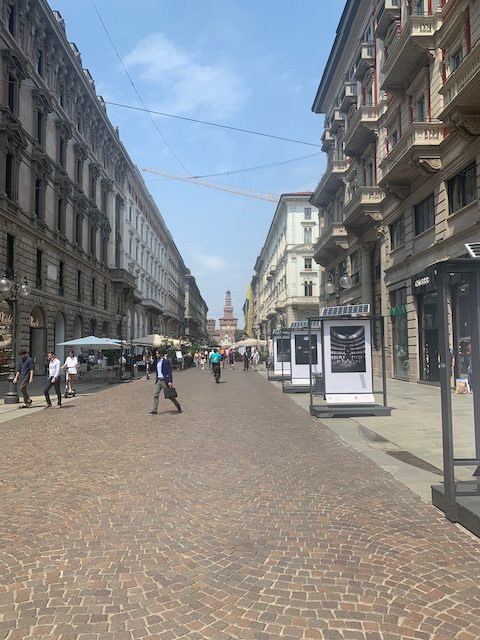 It was along walk–only about a mile but it seemed longer in the heat. But my gait increased noticeably when I sited my goal: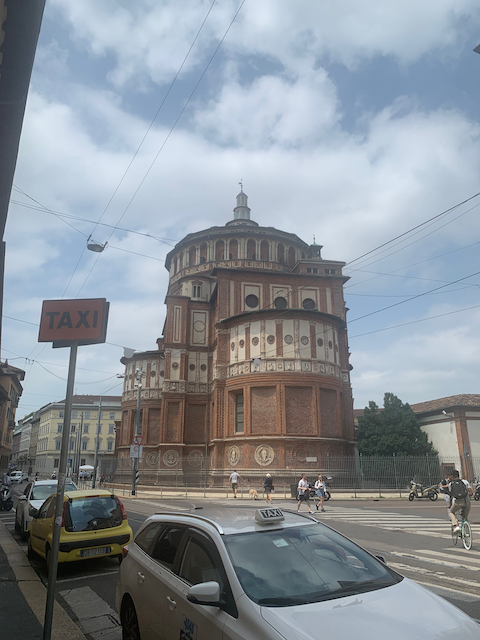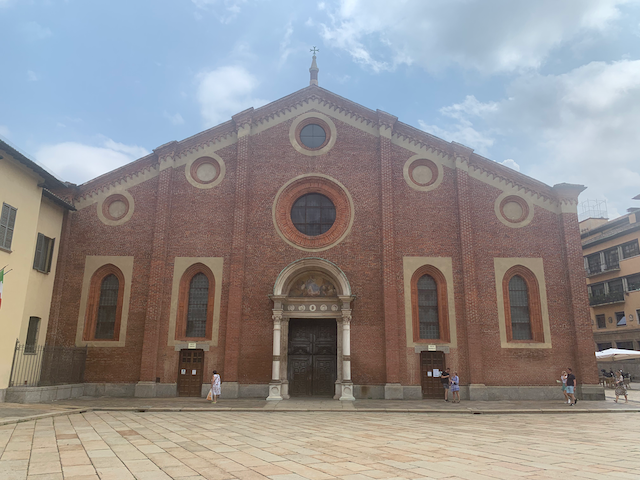 The small buidling next to the church is a foundation which runs access to The Last Supper. The doors of the basilica only permit entrance to the church proper. I showed up for my ticket at 1:30 (the slot I bought was 2 pm). The ticket clerk was outraged, how dare I not know to come back at 1:45 and "not a minute sooner." She was also miffed that I had a no show (the web site where you by your ticket does not permit you to enter a number of tickets you must choose between 2-8. So I bought an extra ticket for a baby at the cost of 2 euros, my ticket was 15. I told her my baby didn't want to go.)  Access to the Last Supper, like the Scrovegni Chapel was carefully controlled: 9 people (minus one baby) maximum for 15 minutes.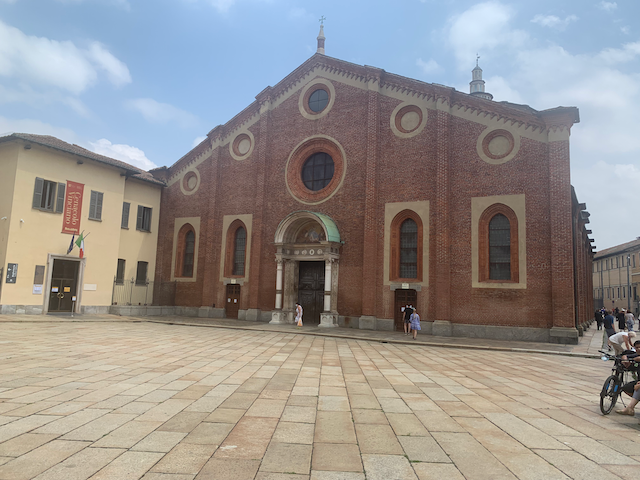 So we lined up outside and then walked through a passage way.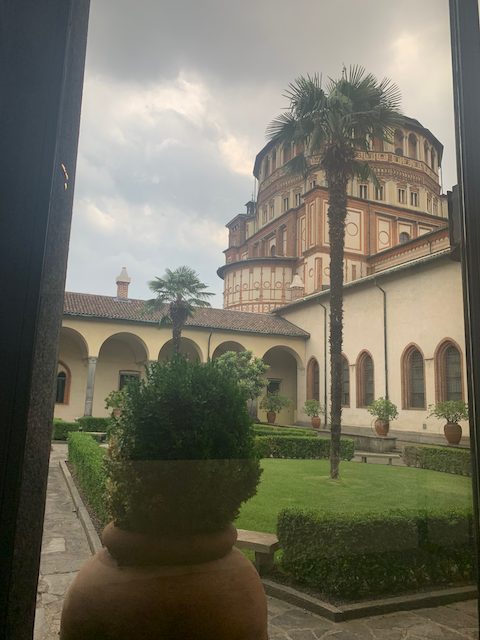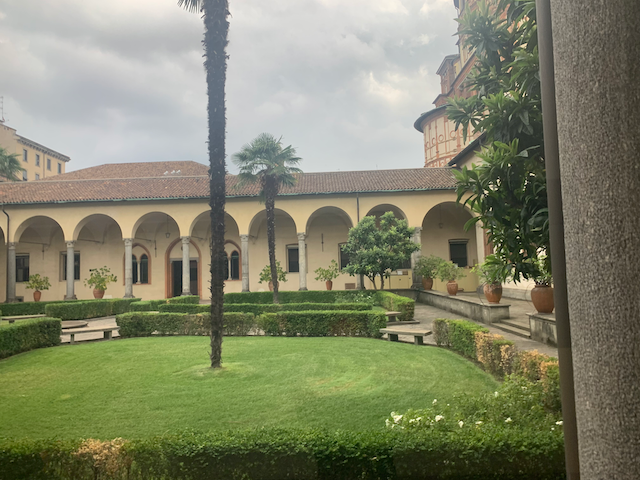 And then you enter a room and bang! There it is: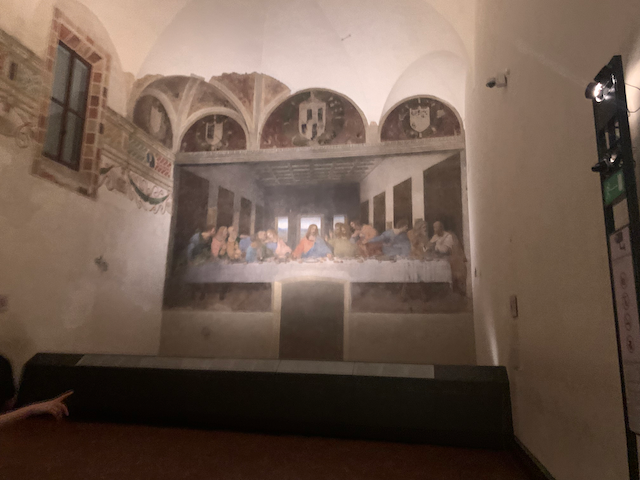 It is a great juxtaposition with the Scrovegni Chappel, Giotto starts us down this path in the proto-renaissance and this masterpiece is where it was leading us.  Here is a shot of a panel by Giotto to refresh your memories: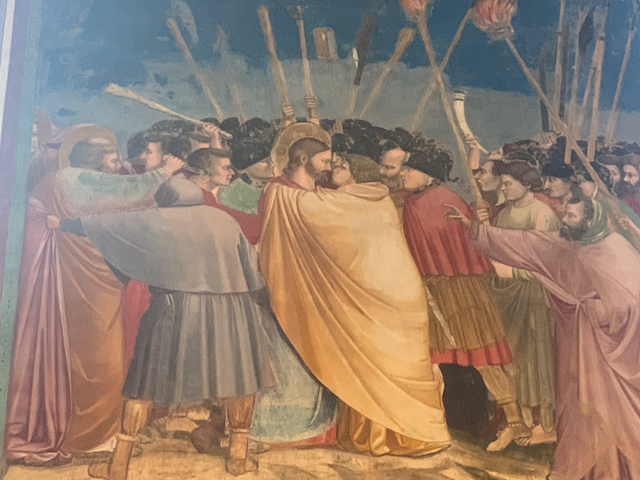 Compare this, still amazing awe-inspiring work, to the dramatic and perspective virtuosity of Leonardo. In many ways all the elements are in Giotto but they come to full flowering in The Last Supper. Da Vinci was extraordinarily detail oriented one can only imagine the exquisite beauty if the work could have been better preserved.
Look at the perspective of the room in which The Last Supper Takes place: you look up at it, and it looks down on you. (I took many similar pictures because I am not a good photographer but want to give you the perspective shifts as you look at it).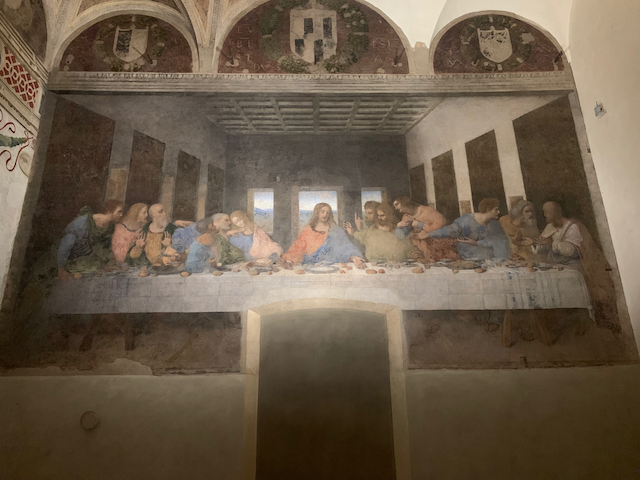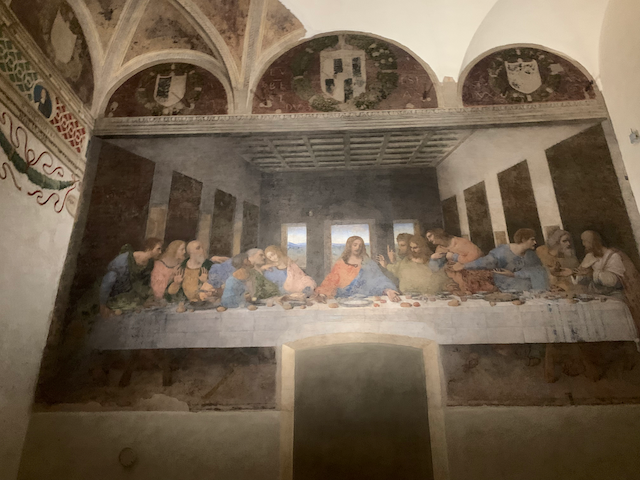 In the Giotto there is a central duet with a commenting chorus, here in The Last Supper it's a huge operatic ensemble, like from Aida or Don Carlos, with differing emotions and conflicting interactions heightening the central calm charisma of the Christ figure as it sadly but calmly announces he will be betrayed by someone at this dinner. Then an explosion of emotions erupts all around him.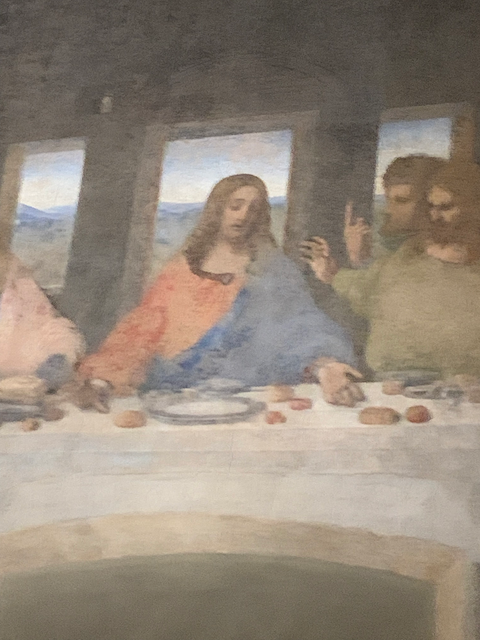 Some are angry he would even suggest such a thing. Some outrageously sad. Others fight amongst themselves over who could will such a thing.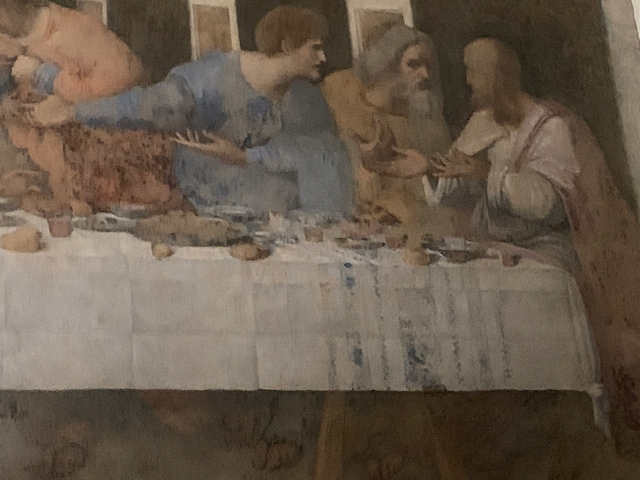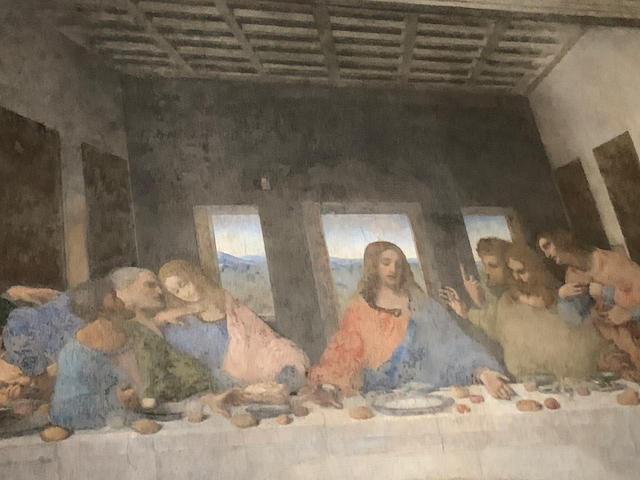 Only Judas is calm leaning with his arms on the table, looking away from us. He is depcted as a caricature of a man in the shadows.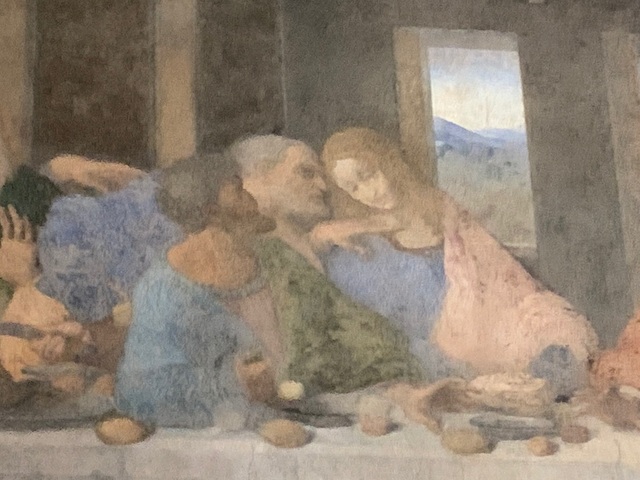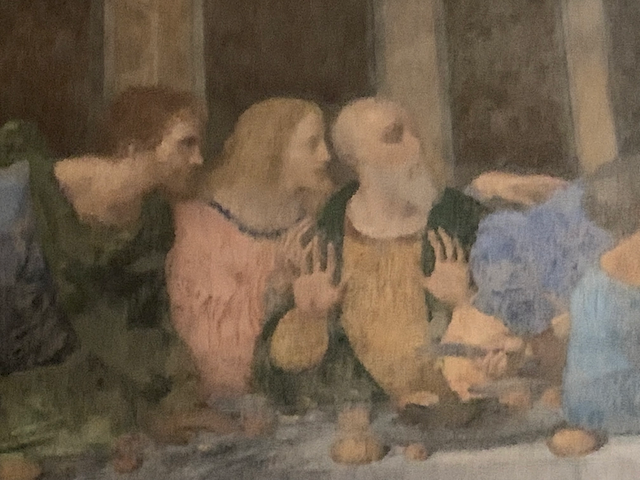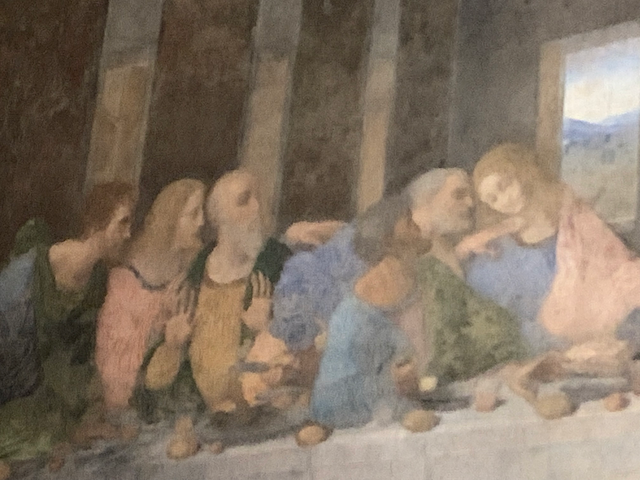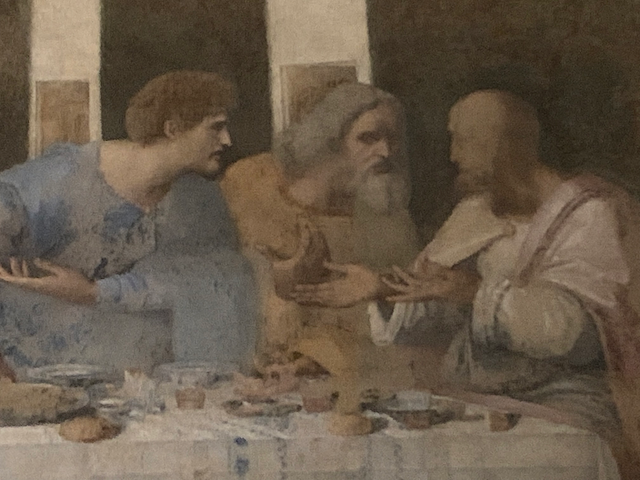 Now let's pull back and see how all the emotion, discussions into individual groups, how all this mayhem comes together into a harmonious whole.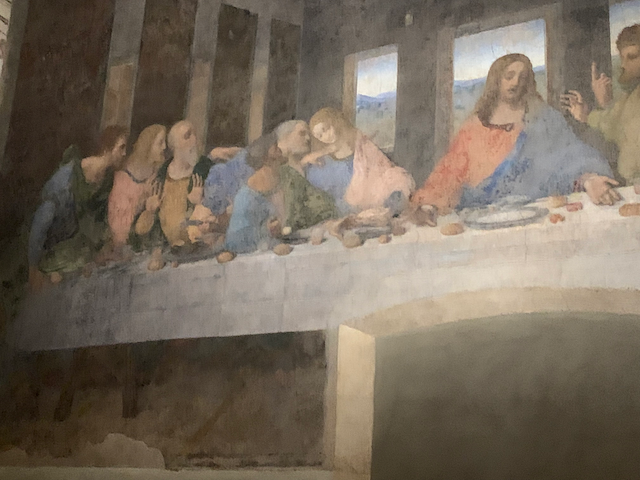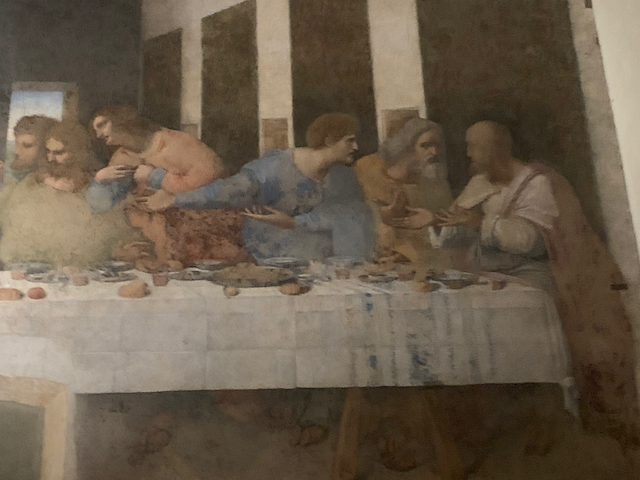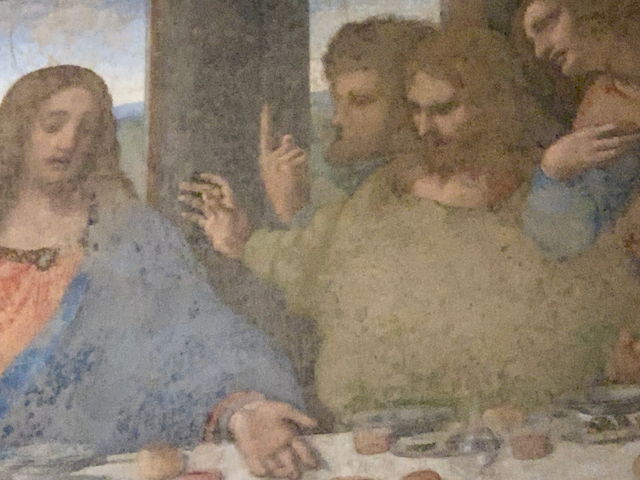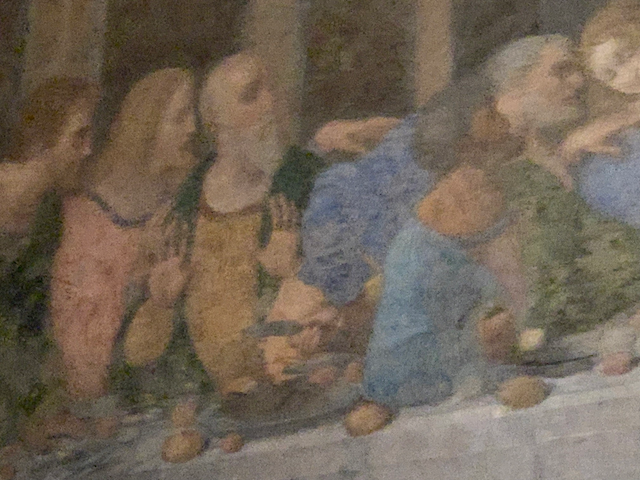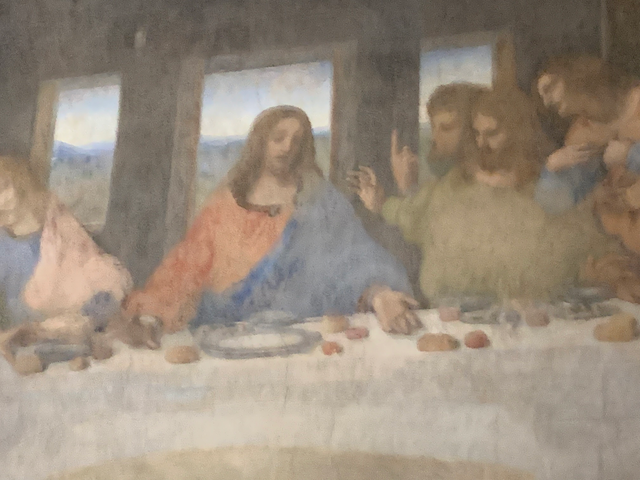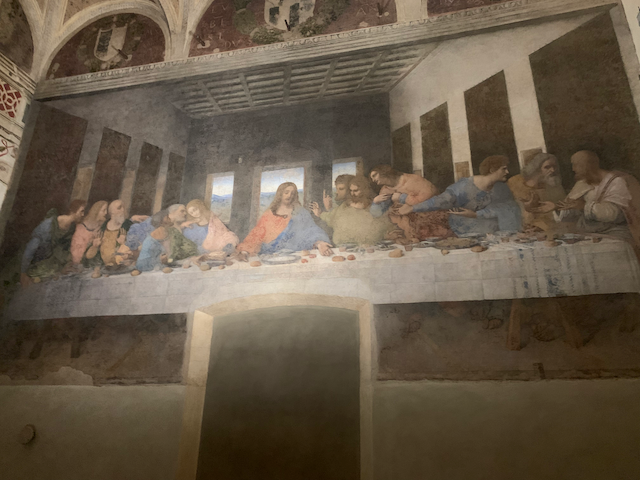 There are also some very familiar Leonardo touches in this epic landscape. As if the perspective rendering of the scene was not enough, behind the Christ figure is a window where a beautiful landscape is exquisitely rendered.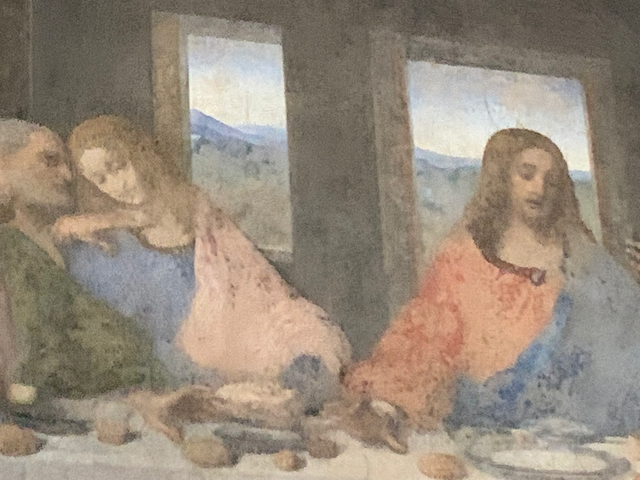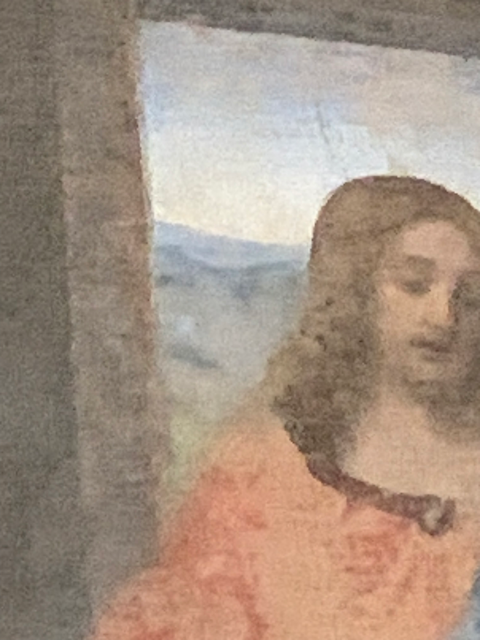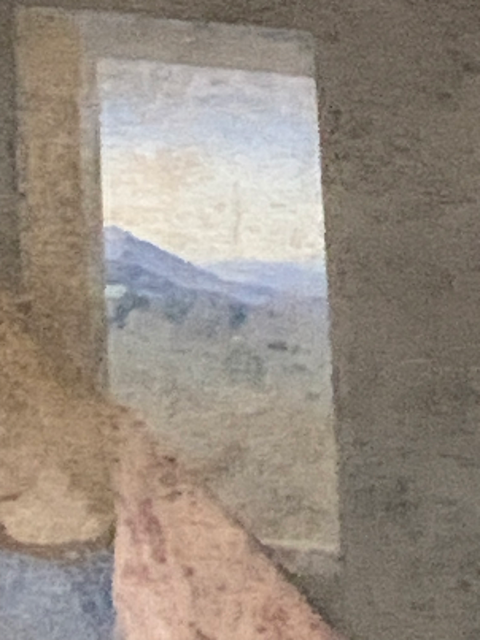 Another theme we associate with the Mona Lisa is the gender ambiguity. Much has been written of the enigmatic figure of the Mona Lisa (or La Gioconda as it is called in Italy). It has been written about in great depth how it seems sometimes a half self-portrait of Leonardo himself.  Well let's look at the depiction of the apostle Peter (correct me if i am wrong about who it is) but the figure looks remarkably like the Mona Lisa.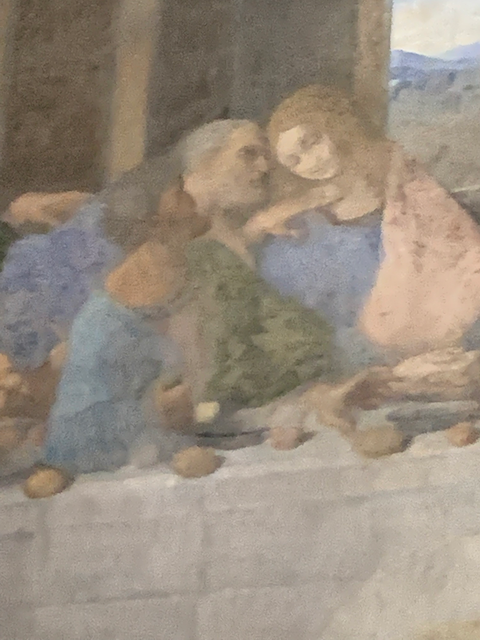 It's a truly a total work of art a masterpiece of virtuosity in every sense of the word. Morris would have said you could just see in your mind's eye Leonardo harvesting and harnessing all the genius of Giotto, Duccio, Botticelli, Michaelangelo into this one mighty work.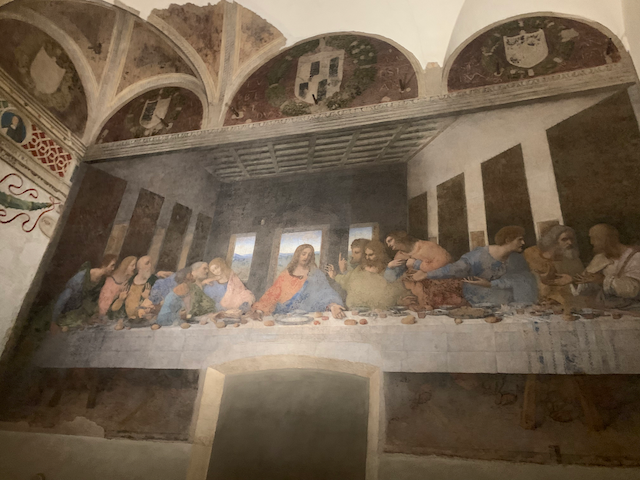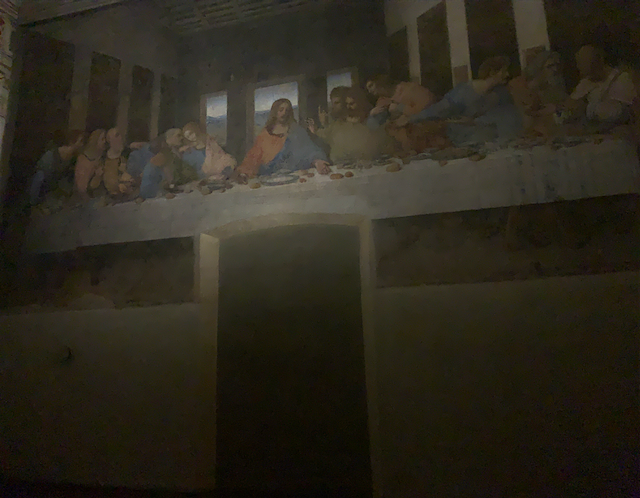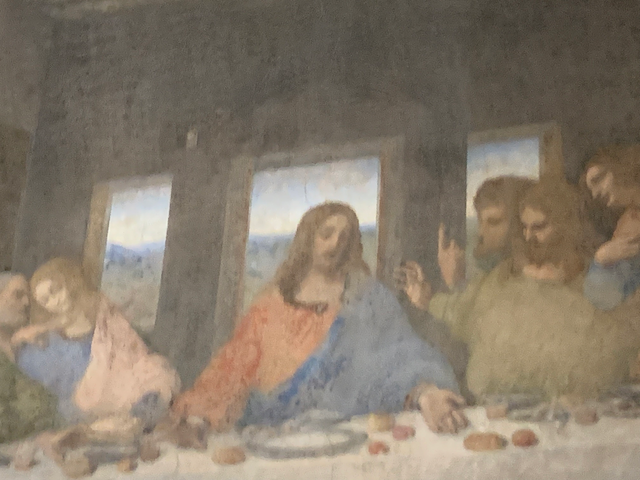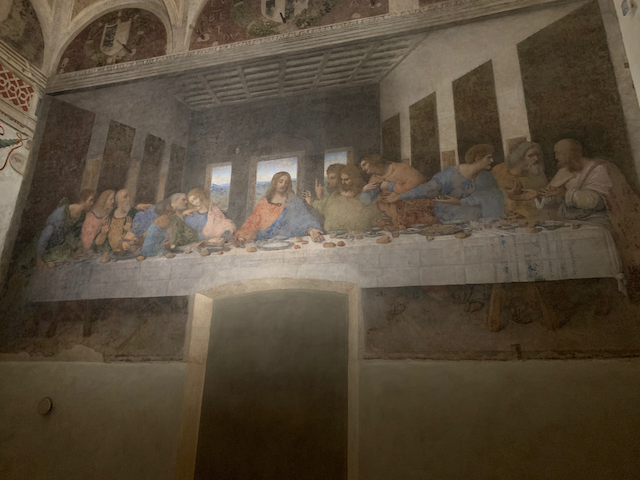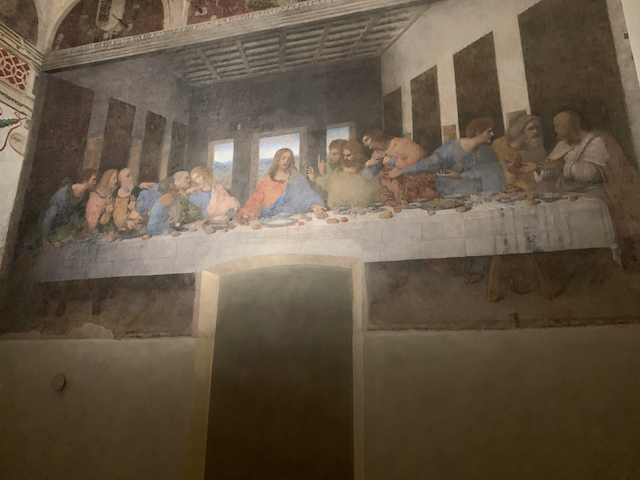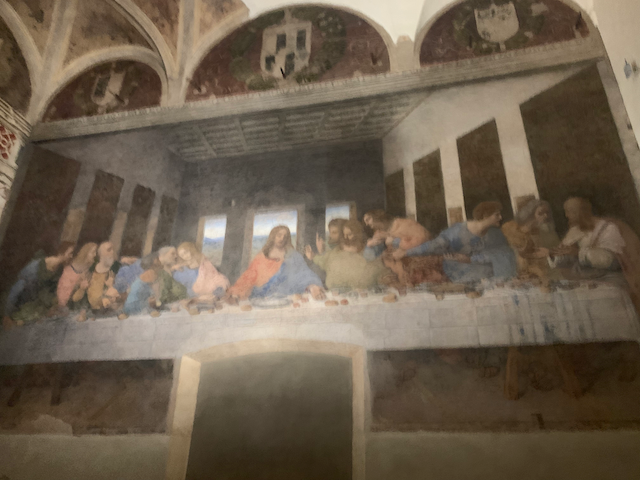 The movie link here pans across the painting.
After 15 minutes, chimes sounded and we had to leave. I walked back to the train station near the Basilica to catch the train back to the hotel. The experience was too overwhelming to think about anything else to do that day. Contrast to the Basilica, the train station was playfully modern.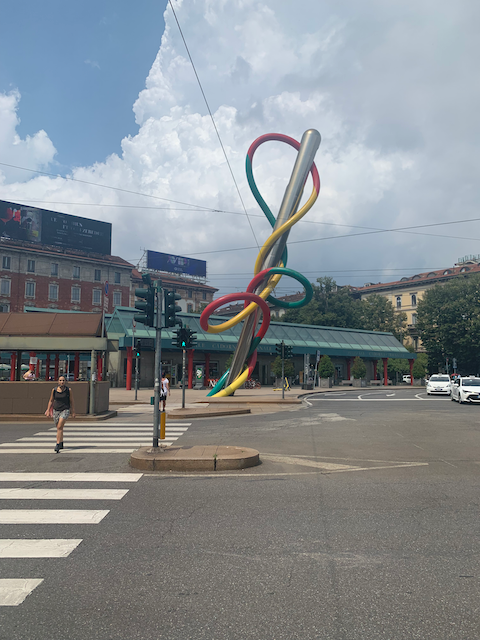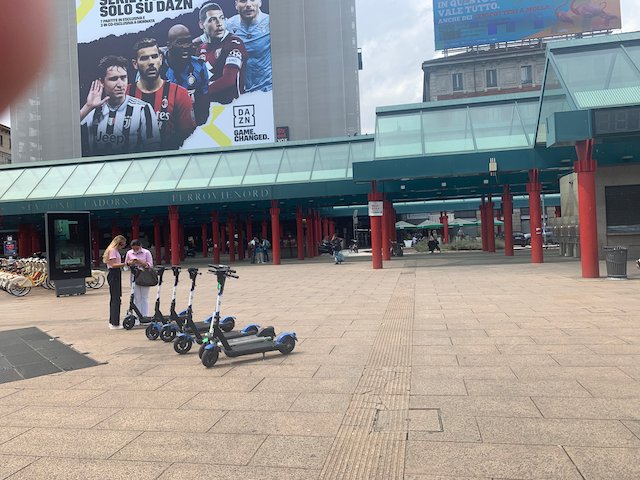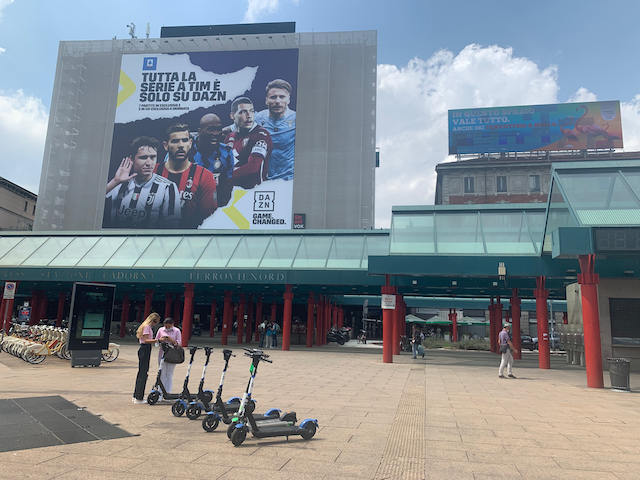 I stopped for my own last, not supper, but last aperitivo this summer in Italy. The bakery at the train station offered a 5 euro focaccia and Aperol or Campari Spritz.  It was Milan, the birthplace of Campari, so I felt compelled to get the Campari Spritz.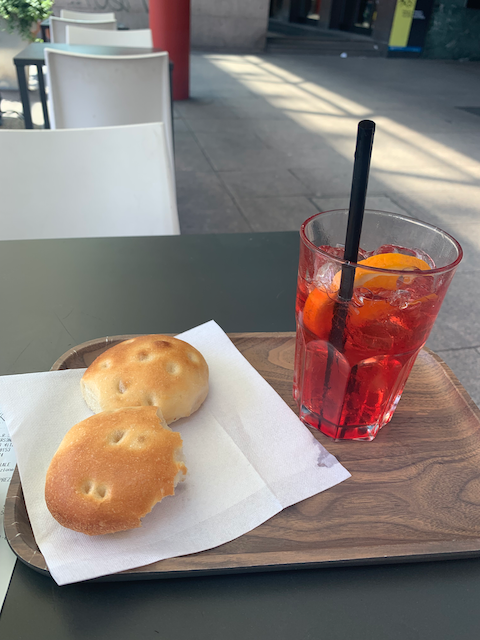 Then it was back to the hotel and prepare for my voyage home.