[Sorry the post numbering is getting as confused as the number of Schubert's Symphonies.]
The last two days had more a mixed bag of shows. 
Yesterday started off with a Chinese Dance interpretation of Berthold Brecht's Mother Courage and her sons. The music was surprisingly western in tonality despite its non-western mode. The narrative dancing was extremely effective. With the mother character towing her children and a symbolic representation of her cargo-wagon in the form a long pole with a tattered gray flag. The show was incredibly moving. There were the menacing characters wearing colored masks, indicating one side of a gruesome abstract war, Mother Courage and her troupe quickly adapted these masks to pass for the menacing troops's side. Nevertheless these troops still kill her children one by one. The entire performance was virtuosity in narrative dancing, what the director calls physical theater. Although directed by Chinese director, Zhoa Miao (I'll skip the cat joke here), the performance had a very western feel to it. Here is a link to another piece he did for the Avignon festival, so you get the idea: https://youtu.be/3VOMQvTfkUw
I don't think Berthold Brecht would be very happy with this excellent but sentimental interpretation. We leave having immense sympathy for mother courage and that was not Brecht's aim. The storyline more tells the travails of Mother Courage with her children, as opposed to telling the story of the corrupting power of war.
One other disturbing thing was the immense amount of cameras. I felt like the performance and the audience were being surveilled there were 3-4 ubiquitous cameramen—and i am sure others that could not be seen.  Nevertheless the performance was very powerful and both Eli and myself enjoyed it thoroughly (even as Mr. Brecht was turning over in his grave).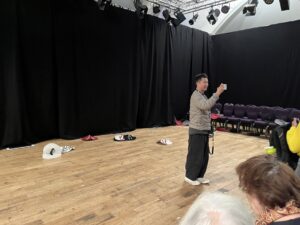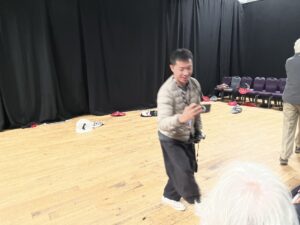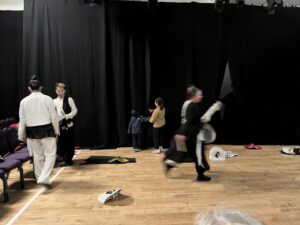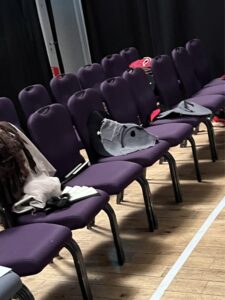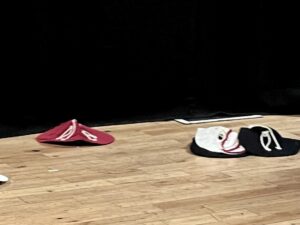 After that performance we had another show later in the day, the very funny Muppet Musical, Avenue Q. Since the next day was Morris's Anniversary of his death, this was play he saw a half a dozen times as the New Conservatory Theater, which we had season tickets to, did this every year. It was a great queer positive, diversity positive show. 
Before the show we did some shopping and I just gave Eli a budget and told hm to buy some clothes (we were at marks& spencer's) and unless he wanted my opinion he should get whatever he wanted. And he bought some amazing clothes and his beaming smiles tell the story of how happy he was free to choose his own clothes uncensored and unrestrined (except by the budget).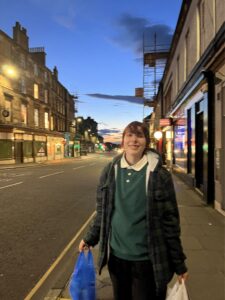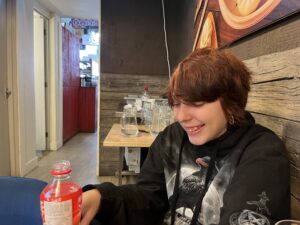 When we arrived to the theater where Avenue Q was playing we were almost  late but still got he last seats together albeit in the second row off the side. The play, like Rent, takes palce in the ghettos of new york city. Except where it is a tragedy, this one is more a comedy. There were a few very explicit sexual scenes (yes involving muppets) and my reflex was to cover Eli's eyes but he was quick to quip, "This isn't anything I haven't seen already." Unlike the other performances, which were short (60-90 minutes), this performance—like Rent—was the full length musical. However, this performance was under-cast as there were people who doubled up that clearly couldn't be doubled up. The actors also were less professional than their Rent cast counterparts but were still delightful. Unlike other productions of Avenue Q there was also no attempt to hide the real voices behind the muppets, the actors were allowed to share the spotlight and that wasn't too terrible until the doubled voices started speaking for other muppet voices than the muppet they were holding, which made it some moments very confusing. I knew this because i saw the play half a dozen times. I can safely say Eli could not have cared less, he loved it. When we walked home, it was quite late, we really enjoyed the evening scenery of Edinburgh.
The next day was another day of three shows but again shorter 1 hour shows but a lot of fun. The first show, too early in the morning, was a very curious adaptation of Rostand's play Cyranno de Bergerac—updated to world war two and telling the story of a gay romance of someone with a disfigured nose instead of Bergerac's long one. I thought it was going to be a playa bout Cyranno de Bergerac, and knew nothing of Mr. Rostand's play. The play was given in rhyme and was quite curious all young male cast—all looking like int he twenties at the most—afterwards i looked at the program and found it was given by the Westcliff Boys Theater, a drama and arts high school for boys. Well it was definitely not what I had expected, but Eli agreed it was still very moving.
We quickly crossed town to another theater for a performance of Party Ghost. Which was a circus, acrobatic, dance, horror comedy featuring 2 drag queens (though maybe the other wasn't one). It was a strange non-narrative fluff. Probably the weaker of the performances that we have seen. It was funny and well choreographed. But a lot of the dancing involved joke on the stage floor but the audience was not in raised seats so most, including us, could not see the floor. We were also warned of audience participation was going to be required yet precious little was actually involved. In fact aside from throwing things into the audience there was one person who ended up participating —albeit lamely. Eli was disappointed but i found it mildly amusing.
The finale late in the evening followed out second Indian dinner. This was remarkable because Eli does not like Indian food nor spicy food in general. The Indian food we had here was quite excellent. The first dinner was mild but this one, which was also amazing but spicier and Eli thought it wasn't. He really enjoyed it and realized he had not had very good quality indian food before. So a culinary breakthrough occurred in addition to all the emotional ones.
The final show on Thursday August 10, was "The Irish Experience" and is was a musical review show about Irish Pub Culture will lots of tap dancing and great music. The story was threadbare but no one cared the music and dance were central and we both just loved the show. What more can possibly be in store—my cup runneth over and spill all over everythingth.