Monday 7 August 2023
Today we went to a fringe show but in the evening went to the Edinburgh International Festival proper and saw a jazz concert.
The day started off with a one person show by a woman who suffered from ADHD. The show was amazing and frighteningly educational. She was talking about the unhelpful and almost abusive things she had to put up with from her parents and it read like a litany of things Minne scolded Eli and Sarah for. I was particularly horrified to hear her also replicating things i thought would be helpful to them and were not helpful at all. Eli was elated and felt so vindicated and rightfully understood for the first time. The short hour and 15 minute program was absolutely amazing. I remember how painfully the actress in the show recounted her teenage dream of being an actress being shotdown by her parents as "not being right for you" "you can't do that" "you need a plan b" "you can't even focus for dinner how can you focus for an entire show"? The iron of those comments not being lost on the me—or the audience—that here she was having her own show on stage. I could not help but think how beneficial this would have been had Sarah been there as well. The amount of personal growth i have witnessed in Eli in these passed four days has been incredible — and indeed I have grown tremendously from these experiences as well.
After the show, we went looking for a café to have a cup of coffee and talk about our experience we just had. We past the front of the theater and saw the show's performer. Full of enthusiasm and self-confidence Eli, the one who says he is always afraid of people, goes right up to the performer and we all have an animated conversation about her show and our own experiences.
After an afternoon break where we walked through Edinburgh where i bought some things for my kitchen—thing you can get cheaper in Britain, like things lie a teapot and a tea cozy.
Then at 7:30 we went to see a concert that is part of the Edinburgh International Festival. All the symphony concerts were already sold out so I bought tickets to a jazz concert just before it was sold out.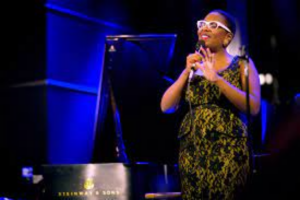 The concert was by Cécile McLorin Salvant, a young American Jazz composer and singer. She gave a great show with a mix of  laid back jazz, kurt weil, and her own compositions which were in french. The performance was fantastic. She had a smooth sharp voice that emphasized youthful power over soft-sensitivity. She had an avant garde ensemble supporting her and they were very much musical partners with long improvised solos integrated into most of her songs. Eli thoroughly enjoyed the performance as well. I was worried because he said jazz wasn't really his thing. But the charisma and artistry of Salvant was enough to win him over. This trip to Edinburgh conitnues to surprise.